SAY HELLO TO THE 2022 12 DAYS OF COZIES INSTAGRAM PHOTO CHALLENGES!
Choose Your Own Adventure!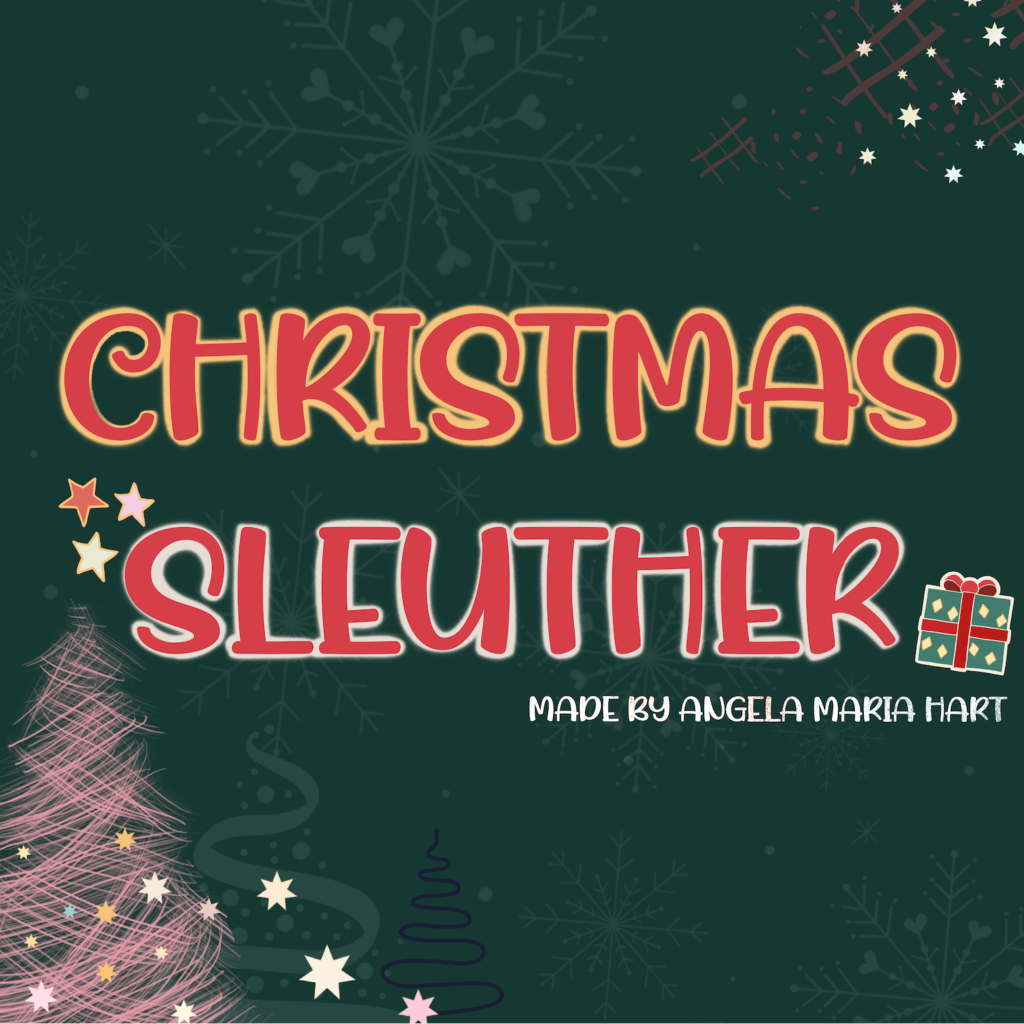 ---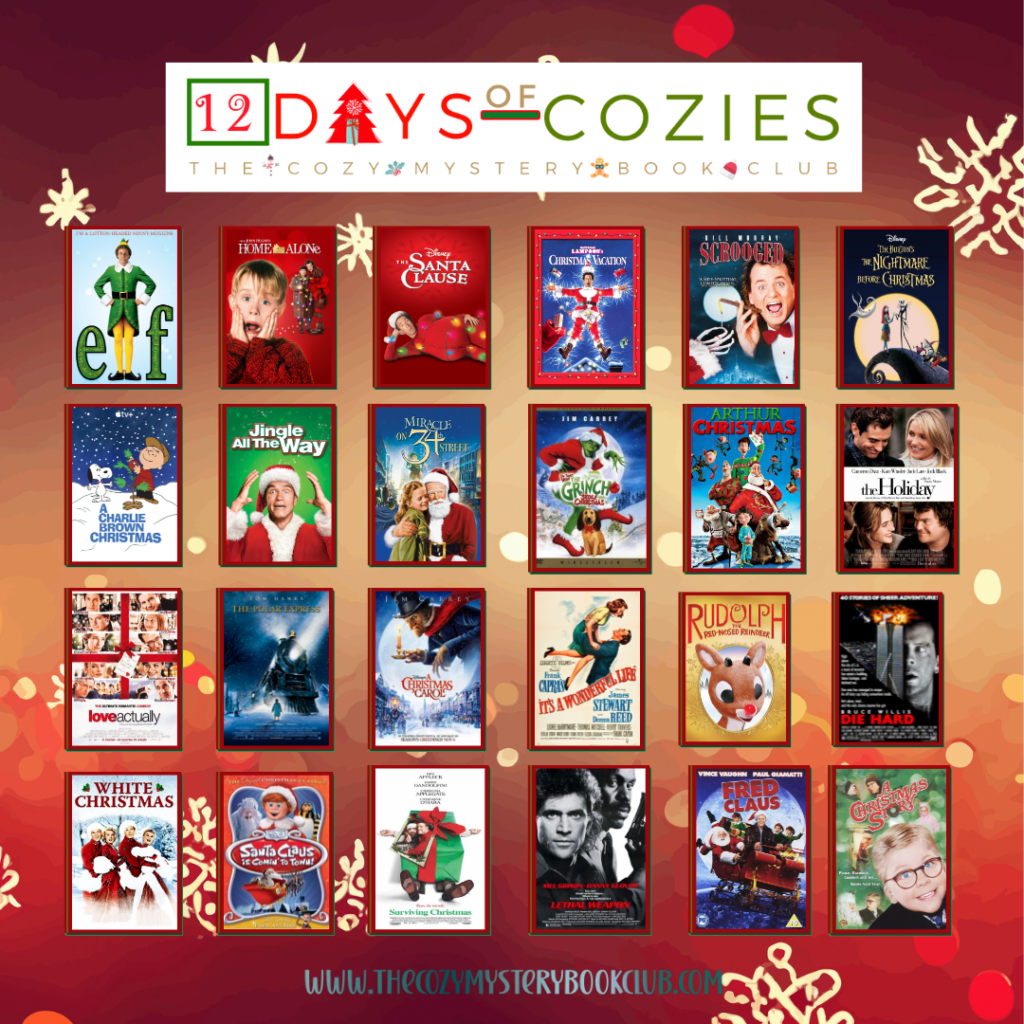 ELF: Christmas Explosion | Cozy Mystery Meets All the Christmas Decorations
HOME ALONE: The Lone Wolf | A Sleuther Who Doesn't Have Any Help Solving the Mystery
THE SANTA CLAUSE: Career Change | A Sleuther Who Takes on a New Profession
A CHRISTMAS STORY: When You Knew The Ending All Along (Like Shooting Your Eye Out) | The Killer Was an Obvious Suspect from the Beginning
SURVIVING CHRISTMAS: No Place Like Home for the Holidays | Feature a Cozy Mystery with a Sleuther who Returns Home After Being Away for Some Time
FRED CLAUS: Siblings | Is There a Cozy Mystery That Features a Brother-Sister, Brother-Brother, or Sister-Sister Relationship That You Enjoyed Reading?
NATIONAL LAMPOON'S CHRISTMAS VACATION: A Holiday Cozy Mystery that Features Classic Christmas Activities such as Sledding, Buying/Chopping Down a Christmas Tree, Decorating a Christmas Tree, Christmas Shopping, Wrapping Presents and or Putting Up Christmas Lights.
SCROOGED: Laugh Out Loud | Is There a Cozy Mystery that Made You Laugh?
THE NIGHTMARE BEFORE CHRISTMAS: Feature a Dark Colored Cozy Mystery Book Cover
CHARLIE BROWN CHRISTMAS: SNOOPY! | A Cozy Mystery Book Cover that Features a Cozy Companion
JINGLE ALL THE WAY: Goal-Oriented | Feature a Sleuther Who Has a Quest Outside of Solving the Mystery
MIRACLE ON 34TH STREET: There's Santa | Santa is a Character in the Cozy Mystery
THE GRINCH: Going Green | Showcase Your Green Cozy Mysteries
ARTHUR CHRISTMAS: Reading Letters to Santa | Feature a Cozy Mystery that Highlights a Unique Job
THE HOLIDAY: International Cozy Mystery | Feature a Cozy Mystery That is Set Outside of the United States
LOVE ACTUALLY: Love Triangles Galore | Feature a Cozy Mystery that has Two Love Interests for the Main Sleuther
THE POLAR EXPRESS: Road Trip | Highlight a Cozy Mystery Where the Protagonist Goes Out of Town to Sleuth
A CHRISTMAS CAROL: Senior Sleuther | Everyone can change and solve a mystery
IT'S A WONDERFUL LIFE: Cozy Community | Cozy Mystery with a Wonderful Community of Characters
WHITE CHRISTMAS: Feature a Cozy Mystery with a White Book Cover/Spine
SANTA CLAUS IS COMIN' TO TOWN: Favorite First Book in a Cozy Mystery Series
RUDOLPH THE RED-NOSED REINDEER: Feature a Cozy Mystery with a Red Book Cover
DIE HARD: So Memorable | A Cozy Mystery with a Pun for a Title
LETHAL WEAPON: Adoptive Family | Showcase a Cozy Mystery that Features a Chosen Family
---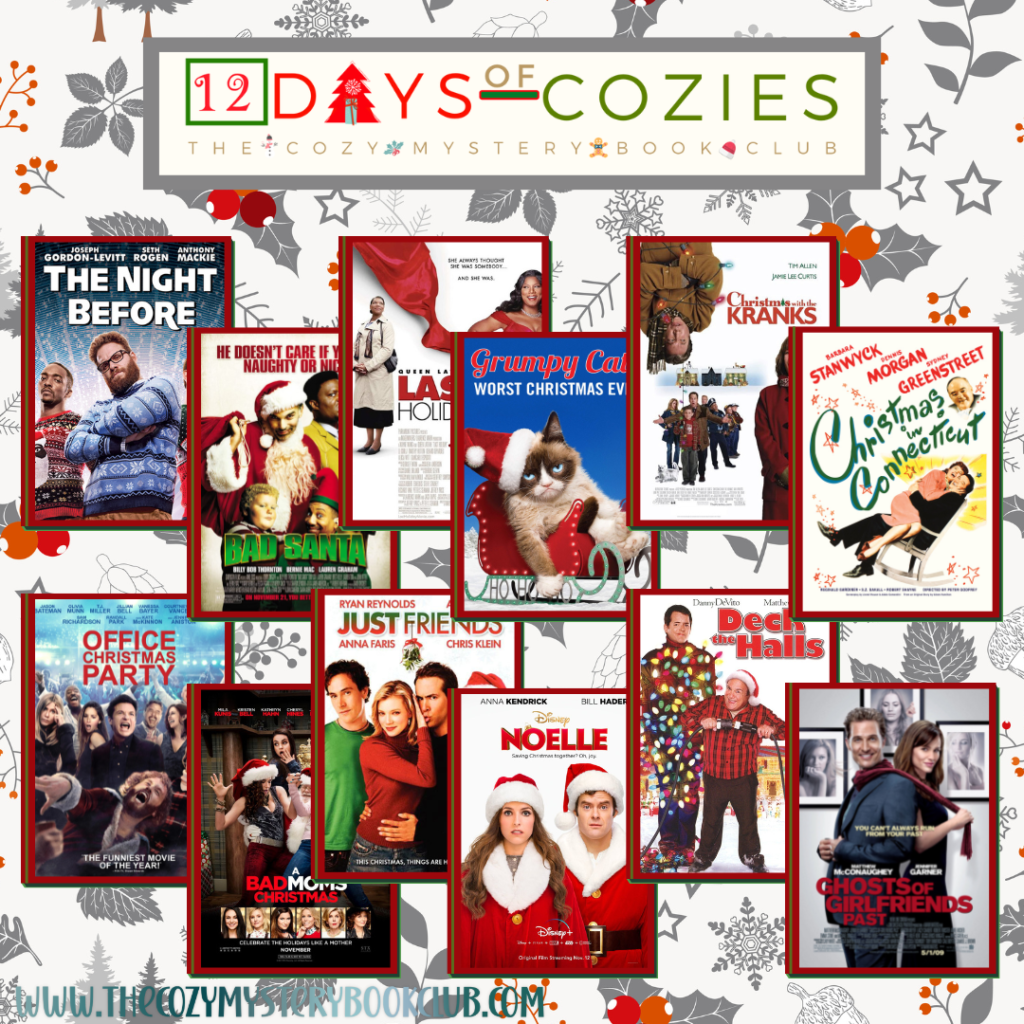 Bad Santa | Complex/Multi-Dimensional Sleuther
A Bad Moms Christmas | Favorite Cozy Mother and Daughter
The Night Before | Favorite Group of Sleuthers
Office Christmas Party | Sleuther at Work
Last Holiday | International Cozy
Just Friends | Going Back Home/Return to Hometown
Grumpy Cat Christmas | Cozy Companion on the Book Cover
Noelle | Cozy Mystery Adaptation/Clever Twist on a Classic
Christmas with the Kranks | A Big Party/Gala Occurs in the Book
Deck the Halls | All the Christmas Decorations on the Cover
Christmas in Connecticut | Sleuther Who Writes/Author
Ghosts of Girlfriends Past | Reconnects with Old Friends and or Love
---
HALLMARK AT CHRISTMAS
The Snow Bride | Favorite Sleuthing Couple
The Nine Lives of Christmas | Cozy Christmas Companion
Christmas Next Door | Christmas Decorations on the Cover
Christmas Under Wraps | Moving to a New Town
Switched for Christmas | From Corporate to Small Town
A Christmas Detour | Snow Storm
A Bride for Christmas | Favorite Sleuthing Couple
A Princess for Christmas | International Cozy
A Christmas Melody | Returning to the Hometown
The Christmas Ornament | Baking Cozy
The Christmas Spirit | Journalist
A Royal Christmas | Crafting, Sewing, and Knitting
The Christmas Card | The Power of the Written Word
Christmas at Pemberley Manor | Jane Austen Reference/Inspired
---
(IT'S A WONDERFUL) LIFETIME
12 Men of Christmas | New to Town
The Spirit of Christmas | Paranormal Cozy
Grounded for Christmas | Pun in the Title
Staging Christmas | Christmas Decorations on the Cover
Homemade Christmas | Crafting Cozy
Christmas on the Bayou | City to Small Town
A Very Nutty Christmas | Baking Cozy
Santa's Boots | Family Business
Christmas in the City | Single Parent
Christmas Unleashed | Cozy Companion
My Christmas Inn | Bed & Breakfast Cozy
Mistletoe & Menorahs | Hannukah Cozy
Jingle Bell | Musical Cozy
Holiday High School Reunion | Back to School
Christmas a la Mode | Farming Cozy
Sweet Mountain Christmas | Return to Hometown
---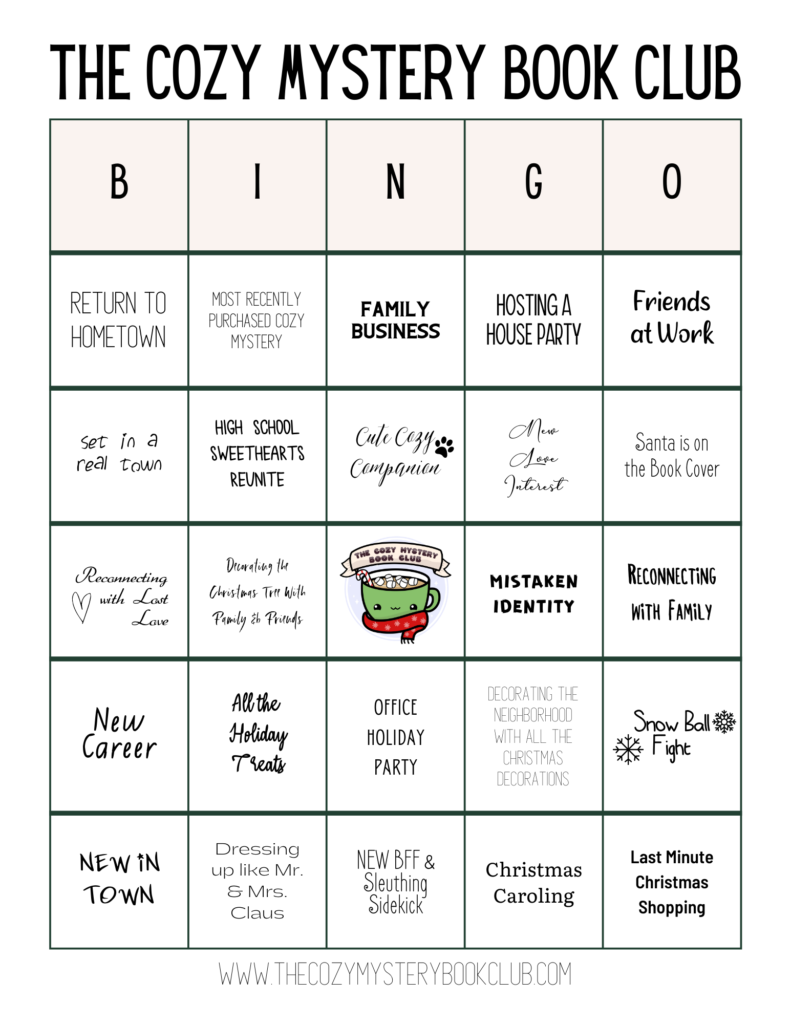 ---
Christmas Caper | Returning to the Hometown
12 Dates of Christmas | New Love Interest
Snowglobe | Christmas Tree on Fire (Eggnog and Cinnamon Schnapps) All the Holiday Treats
Holiday in Handcuffs | Snow Ball Fight, White Book Cover
Snow | Moving Somewhere New/New to Town
Santa Baby | High School Sweethearts/First Love Reunite
Mistle-tones | Friends at Work
Christmas Cupid | Reconnecting with Lost Love
Desperately Seeking Santa | Family Business
Christmas Bounty | Most Recently Purchased Cozy Mystery
Christmas Do-Over | Reconnecting with Family
Christmas in Boston | Location, Location, Location; A Real Location (Non-Fictional) Setting
Stealing Christmas | Santa is on the Book Cover
Call Me Claus | New Career
Unaccompanied Minors | Making New Friends
The Star | Cozy Companion
Please visit the next page to view all sorts of cozy extras. Thank You!