by Amy Patricia Meade

This lovely, warming, seasonal stew comes courtesy of THE CHRISTMAS FAIR KILLER, the third in the series, which finds Tish Tarragon being plunged into a deadly puzzle when a young actress is murdered at the Hobson Glen Holiday Fair.
Inspired by the Elizabethan recipes of Shakespeare's time, this stew can be easily made vegetarian by omitting the beef and bulking up the vegetables by adding parsnips and turnips and substituting the beef stock with vegetable stock. It's a festive winter warmer!
TRISH'S SPICED BEEF STEW RECIPE
Ingredients:
1 Tablespoon Vegetable Oil
1 large onion, chopped
1 ½ lb/750g stewing beef
1 Tablespoon plain flour
½ Teaspoon ground nutmeg
½ Teaspoon ground cinnamon
½ Teaspoon ground ginger
½ Teaspoon ground cumin
½ Teaspoon ground coriander
1 tablespoon honey
2 ½ cups/600 ml beef stock
2 stalks celery, without leaves, cut into chunks
3 large potatoes, peeled and cubed
3 carrots, peeled and cut into chunks
1 cup/100g dried pitted prunes
½ cup/50g cooked & peeled chestnuts
Salt and pepper to taste
On a burner set to medium, heat the oil in a large Dutch oven until it shimmers. Add the onion and gently sauté for 8 to 10 minutes until soft and translucent.
Combine the flour with the nutmeg, cinnamon, ginger, cumin, and coriander.
Toss the cubes of beef in the seasoned flour mixture and add them to the pot with the onion.
Brown the beef cubes on all sides.
Stir in the honey and beef stock and cook for another minute, until honey is dissolved.
Add the vegetables and prunes and cover. Simmer over low to medium heat for approximately 2 to 2 ½ hours. The beef should be fork tender and the prunes plump.
Add the cooked chestnuts during the last 10 minutes of cooking.
Serve with fresh bread and, if desired, a side of cooked red cabbage.
Then Enjoy!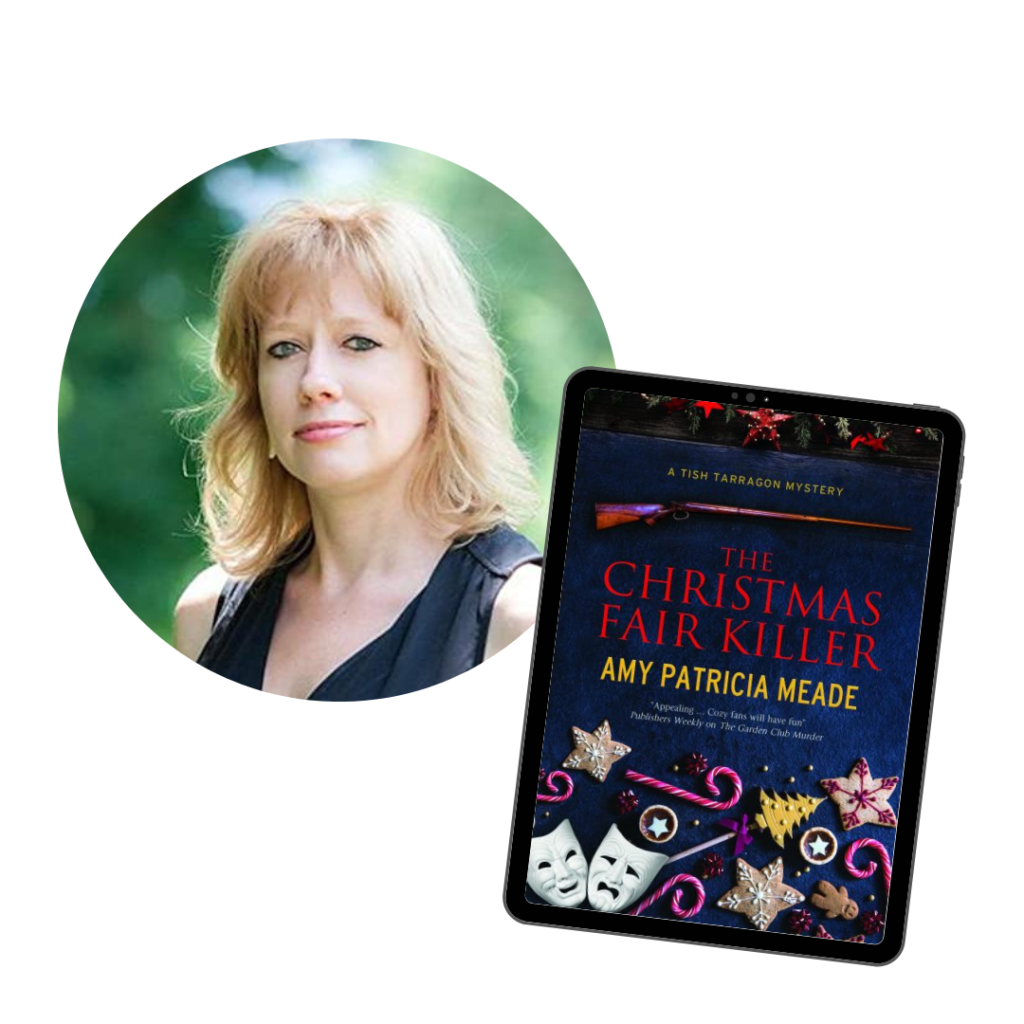 ABOUT AMY PATRCIA MEADE
Author of the critically acclaimed Marjorie McClelland Mysteries, Amy Patricia Meade is a native of Long Island, NY where she cut her teeth on classic films and books featuring Nancy Drew and Encyclopedia Brown.
After stints as an Operations Manager for a document imaging company and a freelance technical writer, Amy left the bright lights of New York City and headed north to pursue her creative writing career amidst the idyllic beauty of Vermont's Green Mountains.
Now residing in Bristol, England, Amy spends her time writing mysteries with a humorous or historical bent.  When not writing, Amy enjoys traveling, testing out new recipes, classic films, and exploring her new home.