by Michele Pariza Wacek
Welcome to the 12 Days of Cozies! I'm so excited to be a part of it, as I'm officially a cozy mystery author!
I just released The Murder Before Christmas, the first book in my first-ever cozy mystery series, The Charlie Kingsley Mystery series.
It takes place in Redemption, Wisconsin, and is a spin-off of my Secrets of Redemption series, which is more psychological suspense/romantic mystery than cozy.
Wait, did I say "psychological suspense"? Yes, but it's not as confusing as you might think. Below, you'll find a collection of behind-the-scenes details around the Charlie Kingsley mysteries and Redemption to help clear up any questions:
1. Redemption, Wisconsin is a fictional world loosely (very loosely) based on Reedsburg, Wisconsin, where my dad has a cabin. Reedsburg is near Wisconsin Dells, and if you've ever seen the Wisconsin Dells area, you know how gorgeous it is. Redemption is equally beautiful, as it's surrounded by acres of lakes and forests.
2. Redemption is a haunted town. In 1888, all the adults disappeared, leaving the children behind. No one knows what happened to them, nor does it end there—Redemption has a long history of strange things that have happened there over the years.
3. Redemption's history is loosely based on real-life history. There were terrible blizzards in 1888, including what is now known as The Children's Blizzard that hit the Midwest, which resulted in the death of a lot of children, not adults (hence the name). There is also a book called Wisconsin Death Trip that chronicles a five-year span of time around 1888, during which a town called "Black River Falls" was plagued by a series of terrible events—murders, arson, madness, and more. The book is full of newspaper articles from the time that detail this strange and unusual period of Wisconsin's past.
4. Because of Redemption's troubling past, I've come to think of my two series as "the light and dark sides of Redemption." If you want more of a light-hearted peek at the ghosts, disappearances, murders, and more, the Charlie Kingsley Mysteries series is perfect for you. You'll enjoy some humor, quirky characters, and a twisty mystery in those books. If you want a little more edge to your mysteries (maybe even just a hint of darkness), check out Secrets of Redemption.
5. However, whichever series you choose, both are clean—no swearing, on-page sex or gore. And, in term of the ghosts and haunting, I keep them realistic—nothing you couldn't imagine happening in real life. (After all, we've all experienced the occasional odd happening we couldn't completely explain away with logic, right?)
6. I personally never thought I'd ever write a cozy mystery. I always had a love for the psychological thriller/psychological suspense stories. And I loved exploring the "Things are never as they seem" theme. But, here we are. Never say "never," eh?
7. I also never thought Charlie Kingsley would turn into my most enduring character to date. I was in my twenties when the idea for It Began With a Lie (the first book in my Secrets of Redemption series) came to me. I had no names for any of the characters then … just a shadowy idea of the aunt who had willed her haunted house to the main character.
I had set the idea aside because I was focusing on other writing projects (mainly, my freelance copywriting career). It wasn't until five years ago, when my mother was dying of cancer, that the idea returned to me.
And honestly, I thought it completely ridiculous to be starting a novel. I already felt stretched too thin between my copywriting company and seeing my mother. But the idea persisted, and finally, I sat down and started to write it.
I had assumed it would be a standalone book, but the initial story was so complicated, I decided to turn it into two. Of course, if I was going to have two books, why not add a third, so I could turn it into a series?
While mapping out the plot of the third book, Charlie's story started to come into focus, and it was so rich, I decided it needed its own book. Of course, it was too long for one book, so it became two, as well.
A few months after those two books were published, Charlie nudged me again to write a Christmas mystery, which is something I've been wanting to do for some time. And because everything that has to do with Charlie is always more involved than I originally think, I now have the new spin-off series.
8. My mother loved cozy mysteries. She was an avid reader, and mysteries were her absolute favorite. Now, looking back at the twisted path I took to get here, is it that much of a surprise that a book I started when my mother was dying would contain the seeds of a spin-off cozy mystery series?
9. It's amazing to me how effortlessly the two series came together. Pat, Charlie's best friend, first appears in This Happened to Jessica, Book 2 of the Secrets of Redemption series. Claire (who is in Ice Cold Murder, Book 2 in the Charlie Kingsley Mysteries series) first appeared in Book 4 of the first series, The Summoning. God is definitely in charge here, as I certainly had no clue where it was all going to end up.
10. The Charlie Kingsley Mysteries take place in the early 1990s, which I'm enjoying writing far more than I ever thought I would, especially when I imagine what my twenty-year-old self living in the 90s would say. Although, in my defense, I never even dreamed that 2020 would ever happen …
But, even without the last two years, there's something refreshing writing a mystery where the characters don't have access to cell phone, social media or the Internet. Hopefully if you choose to give the series a try, you'll enjoy reading it as much as I enjoy writing it.
ABOUT MICHELE PARIZA WACEK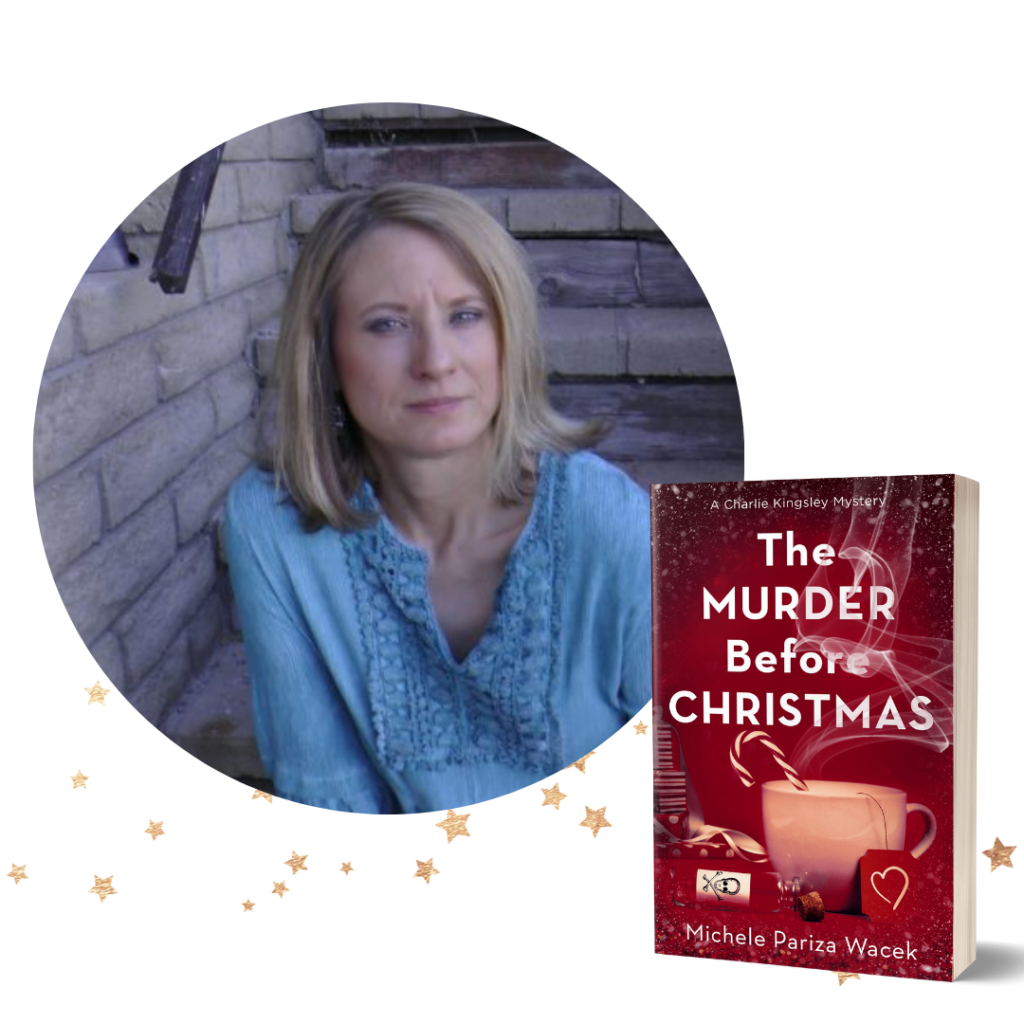 When Michele was three years old, she taught herself to read because she wanted to write stories so badly. It took some time (and detours), but now, she does spend much of her time writing stories—mysteries, to be exact—ranging from psychological thrillers to cozies, with a dash of romance and supernatural thrown into the mix. If that wasn't enough, she also hosts a virtual book club you can check out and join (for free!) at MPWNovels.com.