by Sybil Johnson
I love Christmas ornaments. I love making them, shopping for them, receiving them as gifts. I have boxes and boxes of them, all carefully put away, waiting for the holidays to roll around.
For me, half the fun of decorating the tree is unwrapping each one and remembering where it came from. Even though I only see them once a year, they bring back memories every time I look at them.
Here are 12 of my favorite ornaments and the stories behind them:

1) Green Painted Bell – Like the main character in my Aurora Anderson mystery series, I enjoy tole painting (or decorative painting as it's usually called these days). I started painting in the early 90s when a group of us at work gathered in a conference room once a week or so, ate lunch, and worked on various projects. The experienced painter in the group taught us newbies the basics. This is one of the projects we worked on. Every time I look at this bell, it reminds me how we learned to read a pattern, prepare the surface, transfer the pattern and paint the project.
2 & 3) Santa Stars – I painted these two pieces in a class at the Creative Painting convention in Las Vegas. Pretty much every year for the last 20 non-Covid years, my sister and I have attended this convention. Each time I see these, I remember the fun we had painting them and the camaraderie of the class.
4) Meowy Christmas Cat –This is one of my favorite ornaments. A painting pal of mine made this one for me not long before she unexpectedly passed away. Every time I see this cat I remember what a wonderful painter and person she was and what a joy she was to know.

5) Counted Cross-stitch Penguin – I do other crafts besides painting. Ever since I was a kid I enjoyed trying my hand at all kinds of things. I remember checking out issues of the magazine Pack-O-Fun and doing some of the projects inside. This particular ornament is one of a set of five penguins. Sometime after college, I decided I wanted to learn how to do counted cross-stitch. So I got a kit and taught myself. Since then I've completed all kinds of counted cross-stich projects.
6) Angel – My mother made this one many years ago now. She's a seamstress and a quilter and enjoys doing all kinds of crafts. A shoulder pad serves as the base. I don't remember where she got this pattern, but it was popular at the time. It's a fun one to put on the tree each year.
7 & 8) Cat Ornaments – These ornaments were gifts for our cats from my sister. If you look in the driver windows you'll see pictures of them. The black cat in the red car is Maleficent and the orange tabby in the blue truck is Maxwell.

9) Green Monster Wreath – I love, love, love Disneyland and I particularly love the Haunted Mansion when they change it to the Nightmare Before Christmas for the holidays every year. I try to go in December every year. This is one of the many ornaments I've purchased there.
10) Macramé Snowflake – This is the newest ornament of the bunch. I first learned how to do macramé in art class in the 7th grade in the 1970s. During the pandemic, I decided to pick it up again. Here's one of the macramé snowflakes I made from a kit I bought online. It took a bit of trial and error and a visit to YouTube to remember how to tie the knots. Now that I've got the hang of it, I find macramé very calming.
11) Chill ornament – I painted this one not long ago. I've spent a lot of time in the last couple years catching up on painting projects. It's fun to look through all of the wood and patterns I've collected over the years. I found a lot I'd forgotten I even had. The unpainted wood and patterns in my closet will last me for many, many years.
12) Beaded Candy Cane – I don't remember where I got the directions to make this one. It's an easy project made from plastic tri beads and a pipe cleaner. Fun to make and nice to hang on the tree.
Those are twelve of the many ornaments I have in my collection. I would love to see some of yours.
Happy Holidays!
ABOUT SYBIL JOHNSON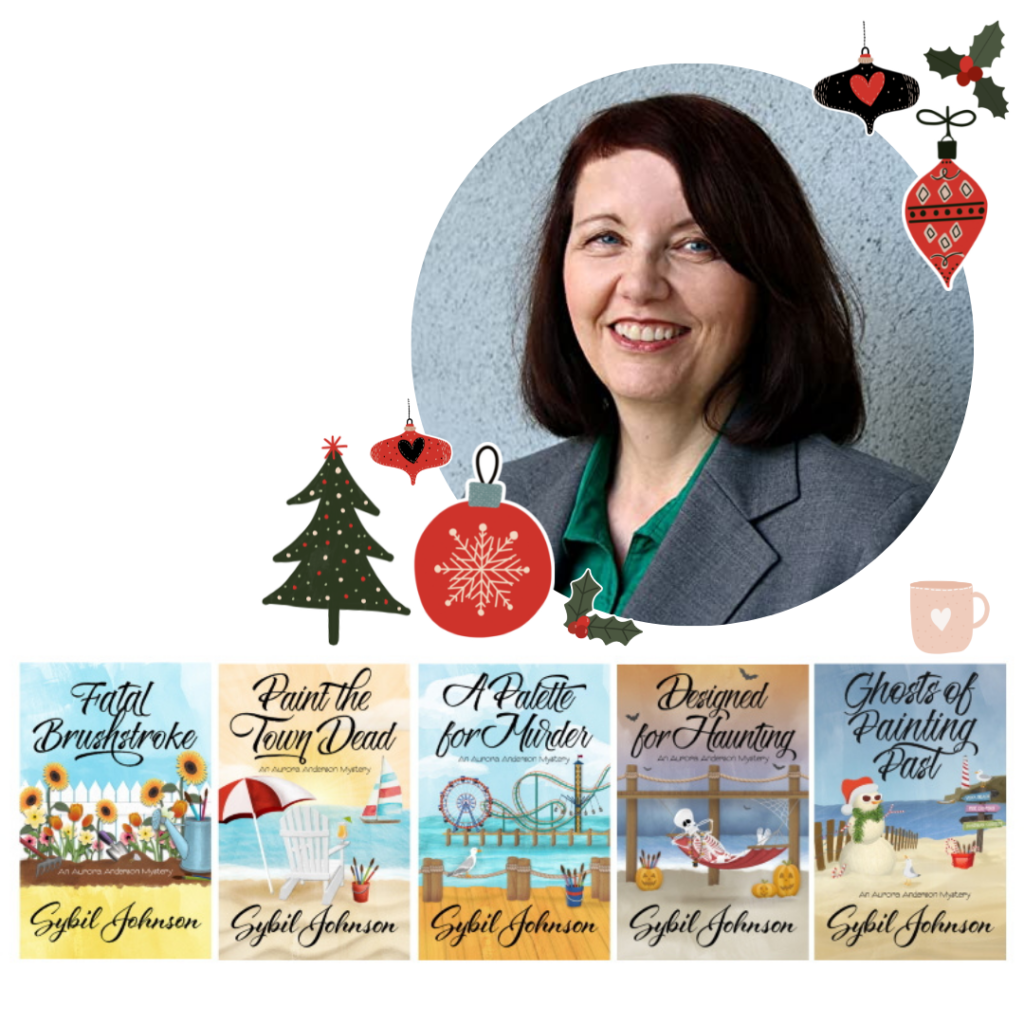 Sybil Johnson's love affair with reading began in kindergarten with "The Three Little Pigs." Visits to the library introduced her to Encyclopedia Brown, Mrs. Piggle-Wiggle and a host of other characters. Fast forward to college where she continued reading while studying Computer Science. After twenty years in the computer industry, Sybil decided to try her hand at writing mysteries. Her short fiction has appeared in Mysterical-E and Spinetingler Magazine among others. Originally from the Pacific Northwest, she now lives in Southern California where she enjoys tole painting, studying ancient languages and spending time with friends and family.
Learn More About Sybil Johnson on Her Website!