by Darci Hannah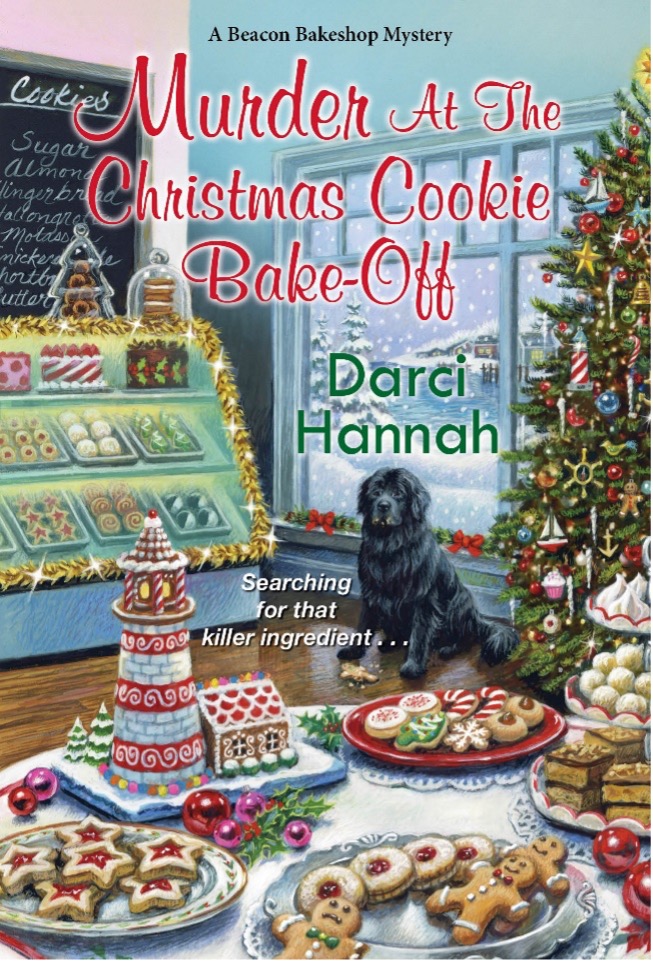 As a lifelong amateur baker and lover of lighthouses, I consider myself blessed to be writing the Beacon Bakeshop Mysteries. The entire series is set in a bakeshop in a lighthouse on the beautiful shores of Lake Michigan. When I set out to write MURDER AT THE CHRISTMAS COOKIE BAKE-OFF, I really wanted to capture the spirit of Christmas and bring it to my fictional town of Beacon Harbor, Michigan. I remember when I was thinking up this story that I wanted the perfect baked good to highlight this charming Christmas mystery. Since I write about a bakeshop, there's always some delicious treat that Lindsey Bakewell and her crew are focusing on. It didn't take me long before I embraced Christmas cookies. The beauty of the Christmas cookie is that the possibilities are endless. There are so many to choose from, and each person has their favorite. Needless to say, I baked a lot of cookies during the writing of this story!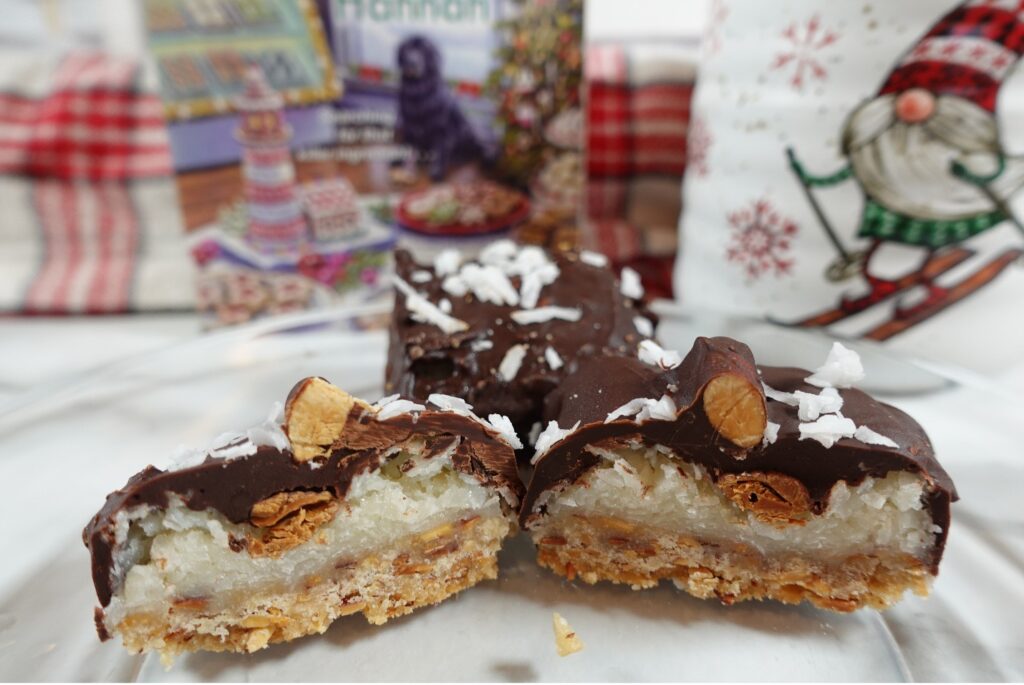 In the spirit of the holidays and cookies, I'd like to share one of my favorite new cookie recipes with you. It's a recipe for Almond Joy Cookie Bars, and if you like the candy bar, you're going to love these cookies! It's like a candy and a cookie all rolled into one. Best yet, they're super easy to make!
Here's what you're going to need:
Ingredients:
½ cup (1 stick) unsalted butter at room temperature
½ cup light brown sugar
½ teaspoon salt
1 ½ cups all-purpose flour
2 cups whole almonds, toasted. (1 cup finely ground, 1 cup whole)
1 can (14 oz) sweetened condensed milk
1 bag (14 oz) shredded coconut (more for sprinkling on top if desired)
12 oz bag of milk chocolate chips or dark chocolate chips, whichever you prefer
Parchment paper (for baking)
Directions:
Preheat oven to 350° F.
Place all the almonds on a baking sheet and bake in preheated oven for 10-15 minutes, until toasted, being careful not to burn almonds. Cool completely. Using a food processor, chop 1 cup of the almonds until somewhere between coarse and fine.
Line 9x 13 pan with parchment paper, letting the parchment hang over the sides for easy removal
Make the crust:
Using a mixer, blend the butter and the sugar until combined. Next, blend in the flour and the salt until a nice dough forms.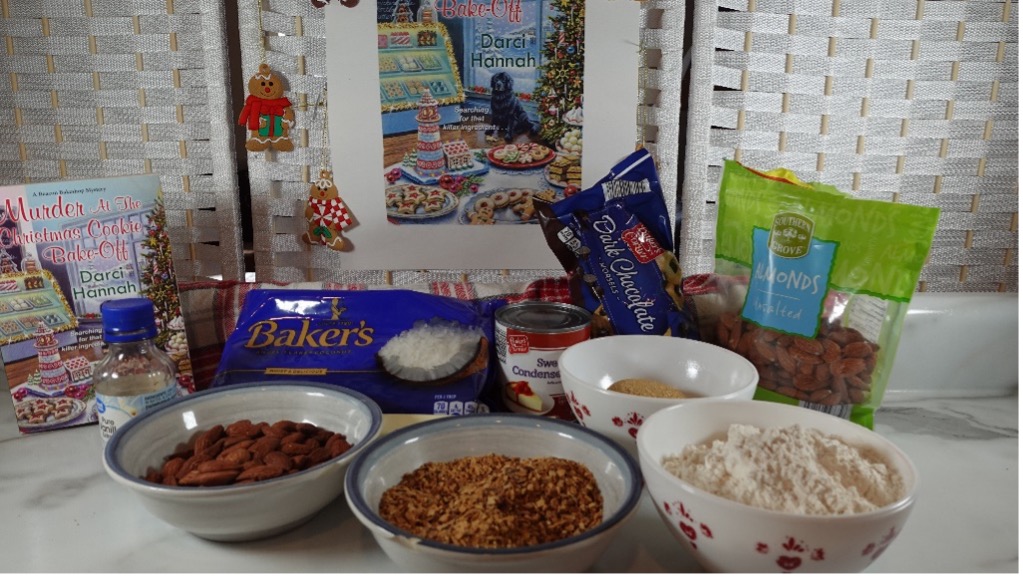 Add in the 1 cup of chopped, toasted almonds, and mix until just combined.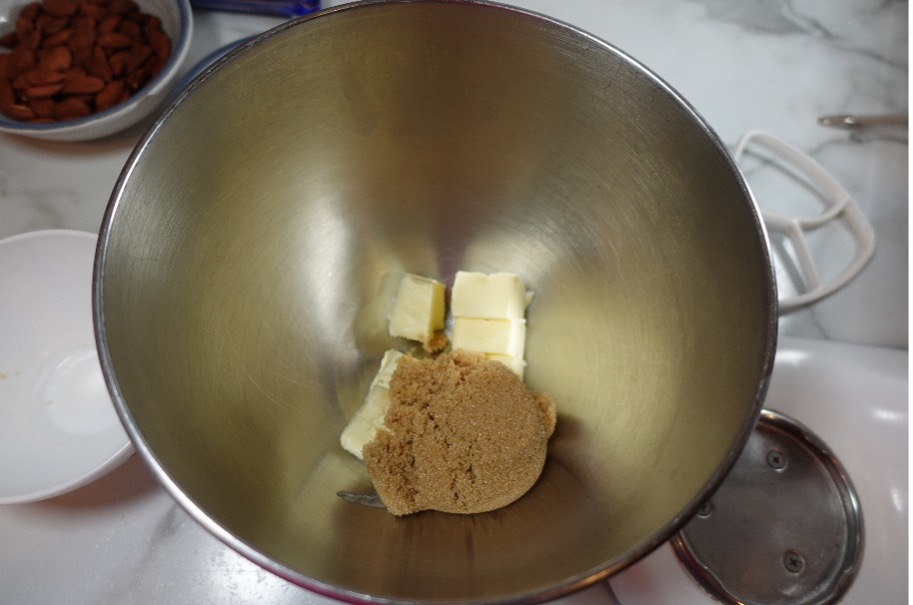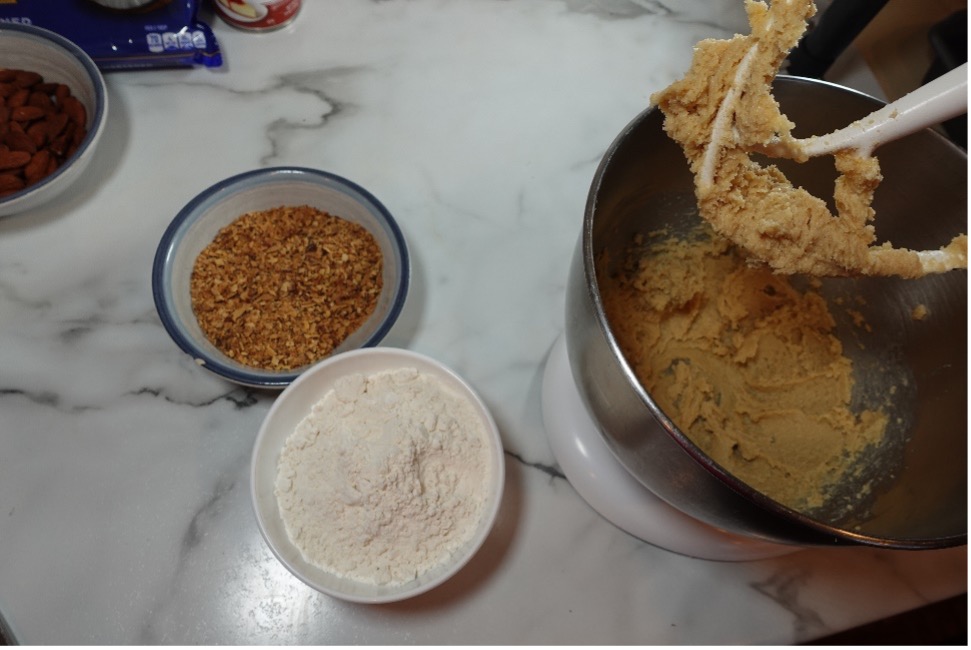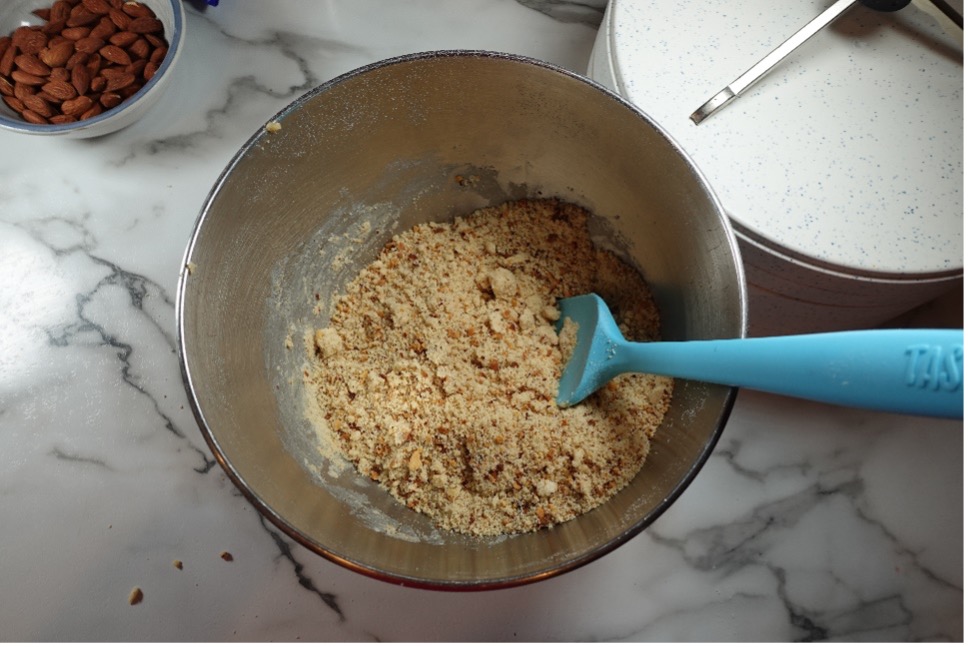 Press in bottom of a 9 x 13 pan.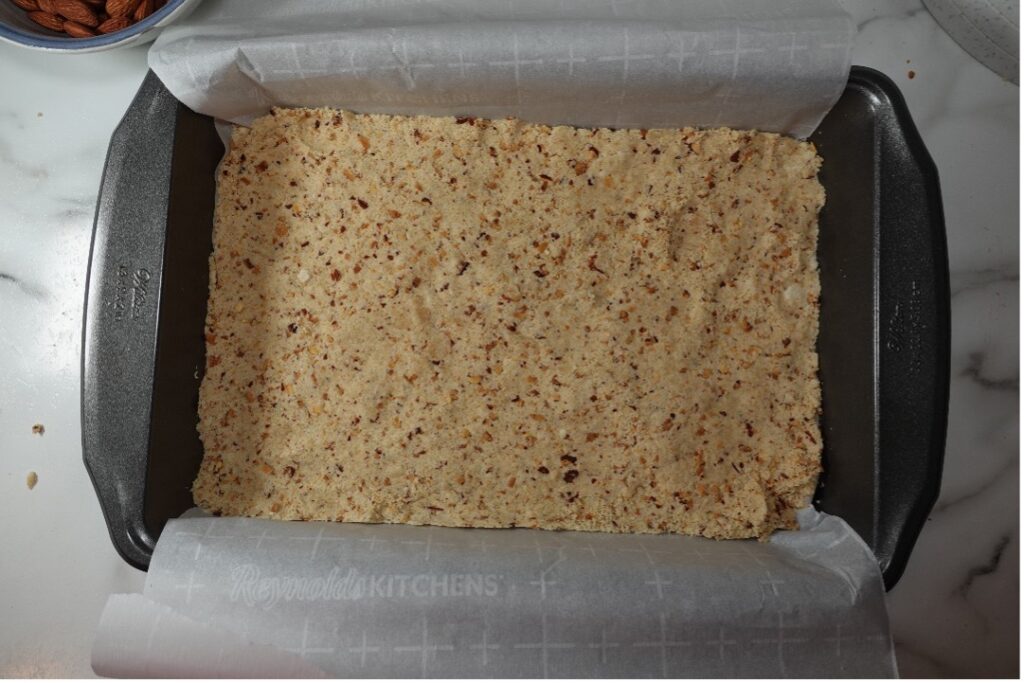 Bake in the preheated oven (350℉) for 5-6 minutes.
Make the filling:
While the crust is baking, combine the bag of coconut flakes with the can of sweetened condensed milk in a mixer and mix until well blended.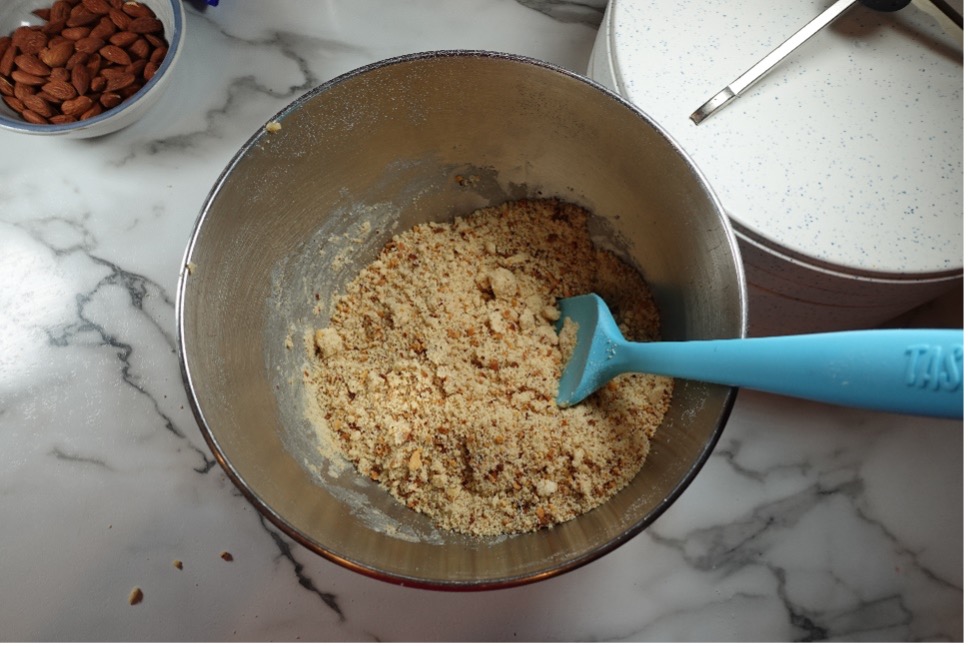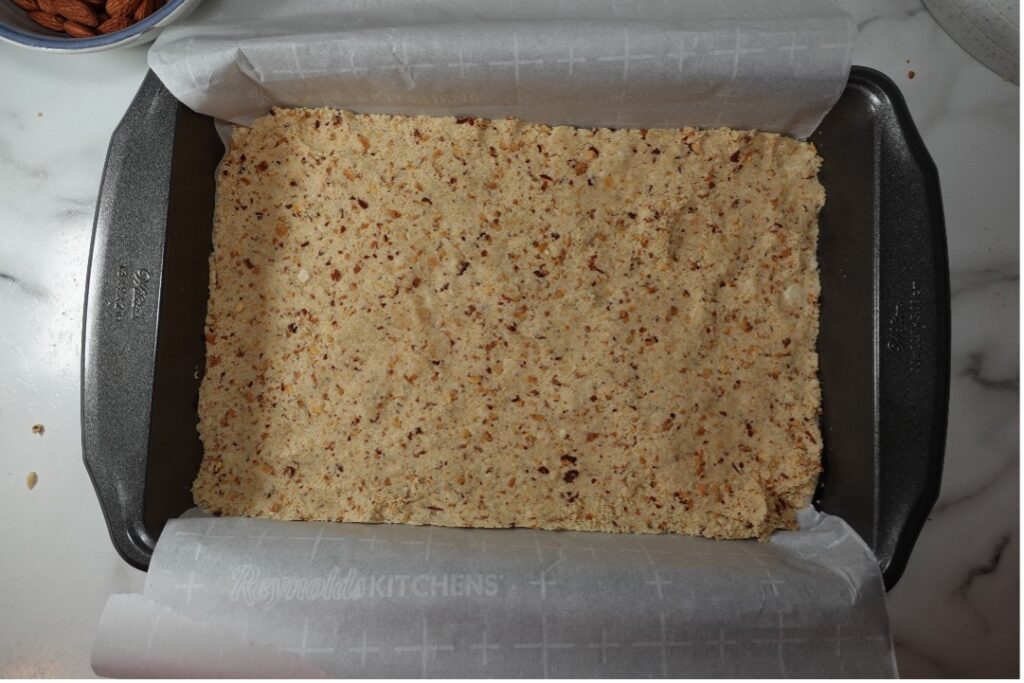 Gently spread the coconut mixture on top of the crust, being careful not to disturb the crust.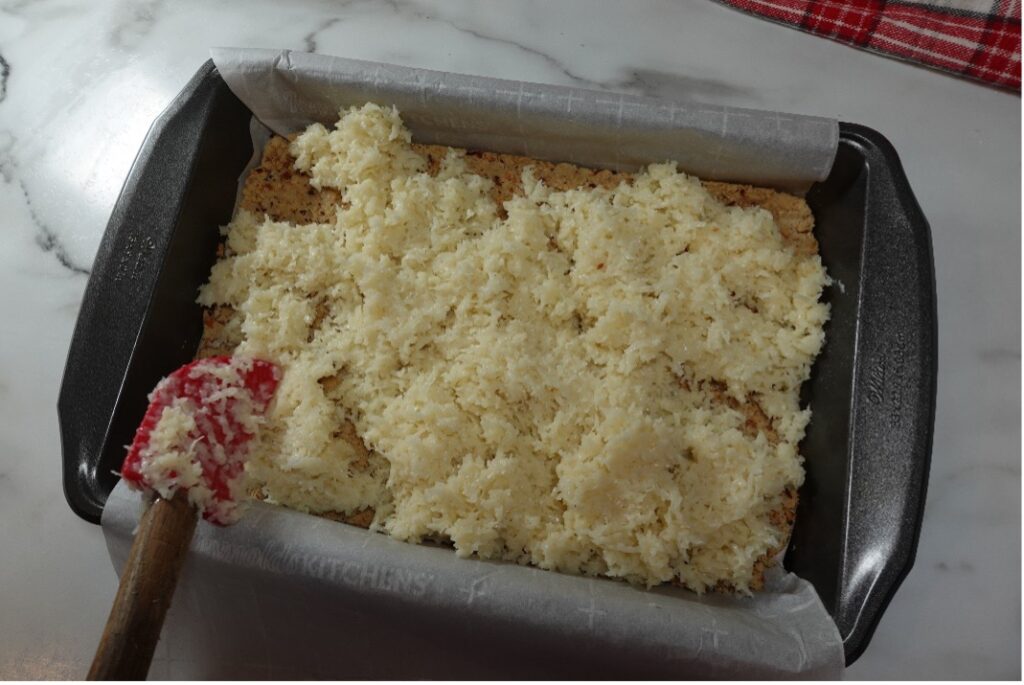 Put the oven and bake for 20-25 minutes, or until the edges begin to brown. Remove from the oven.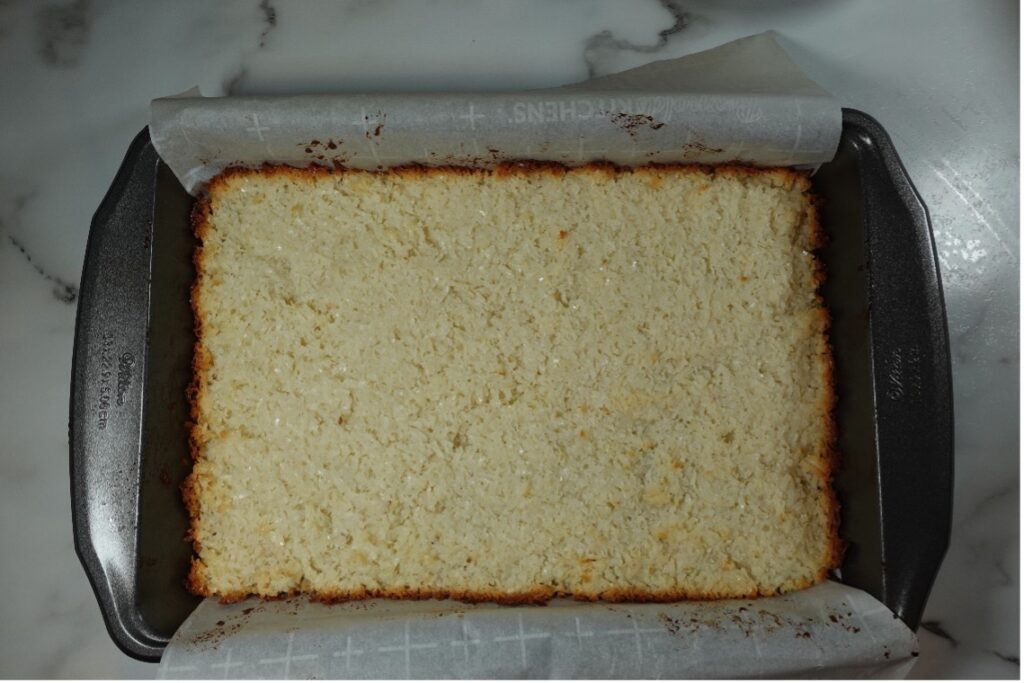 Gently score the cookie into 24 squares.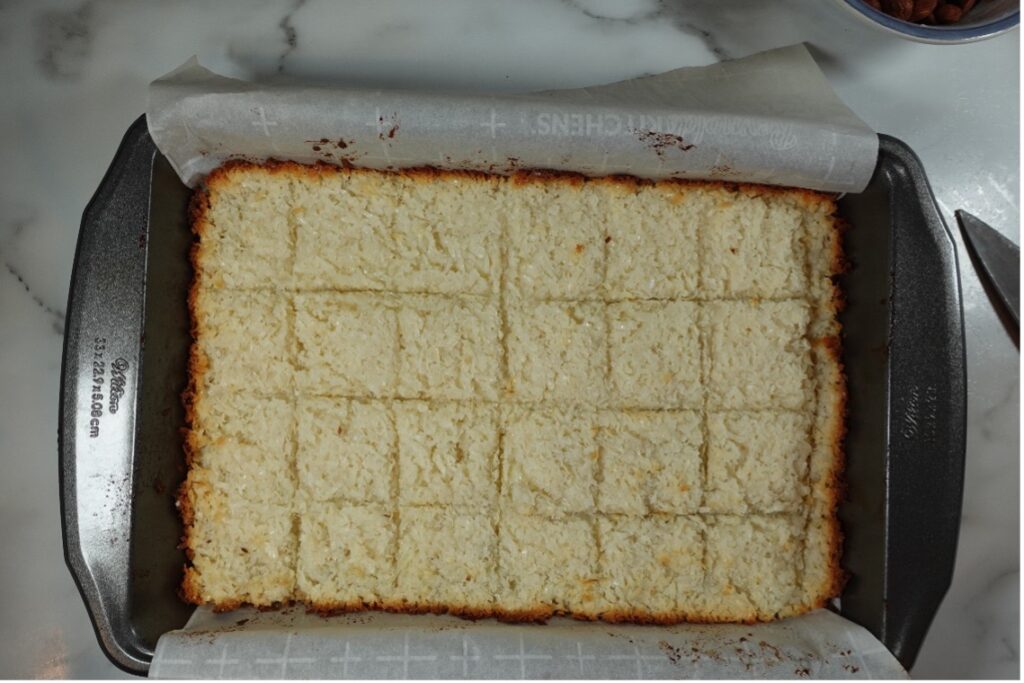 Place a whole almond on each square.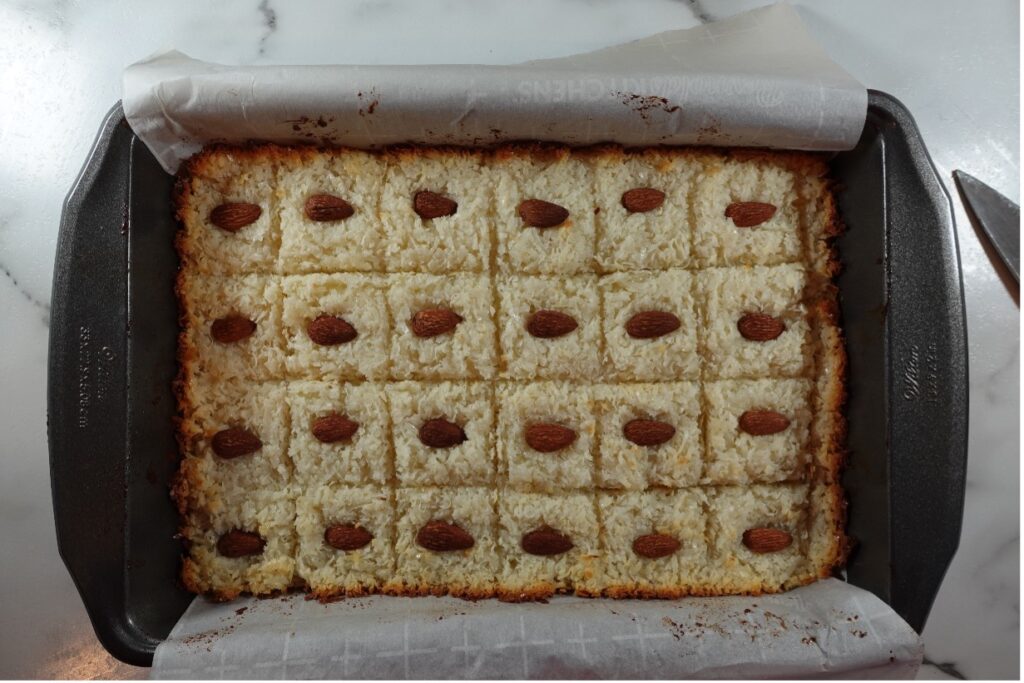 Once the cookies have cooled, cut them and place them on a baking rack with more parchment paper under them.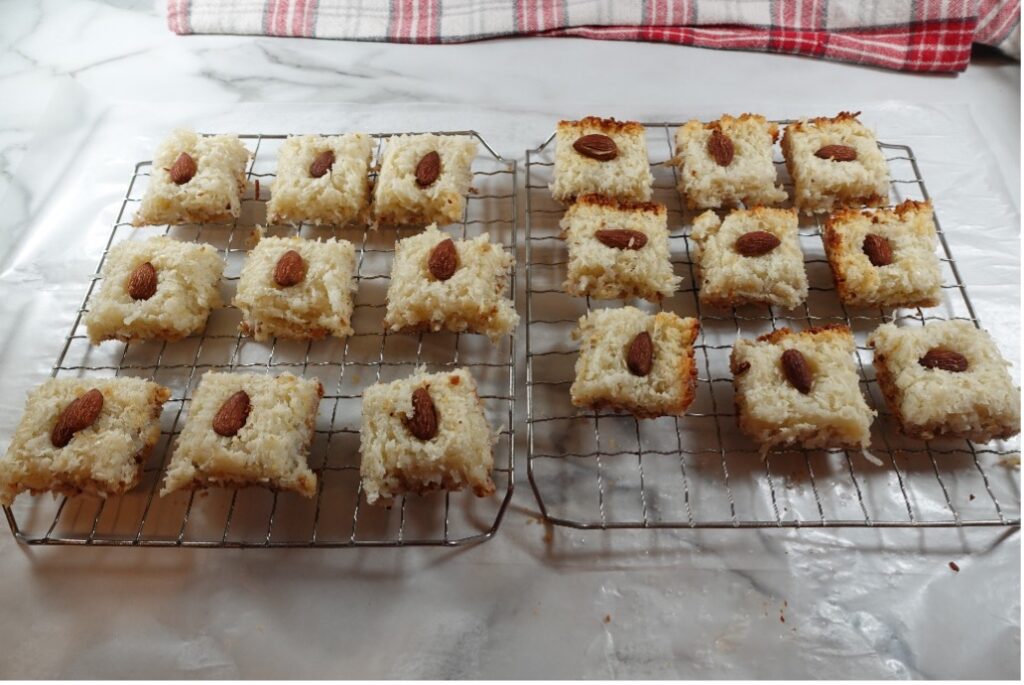 Using a microwave or double boiler, melt the chocolate. If using a microwave, use short intervals of 30 seconds and stir well after each time to safely melt the chocolate.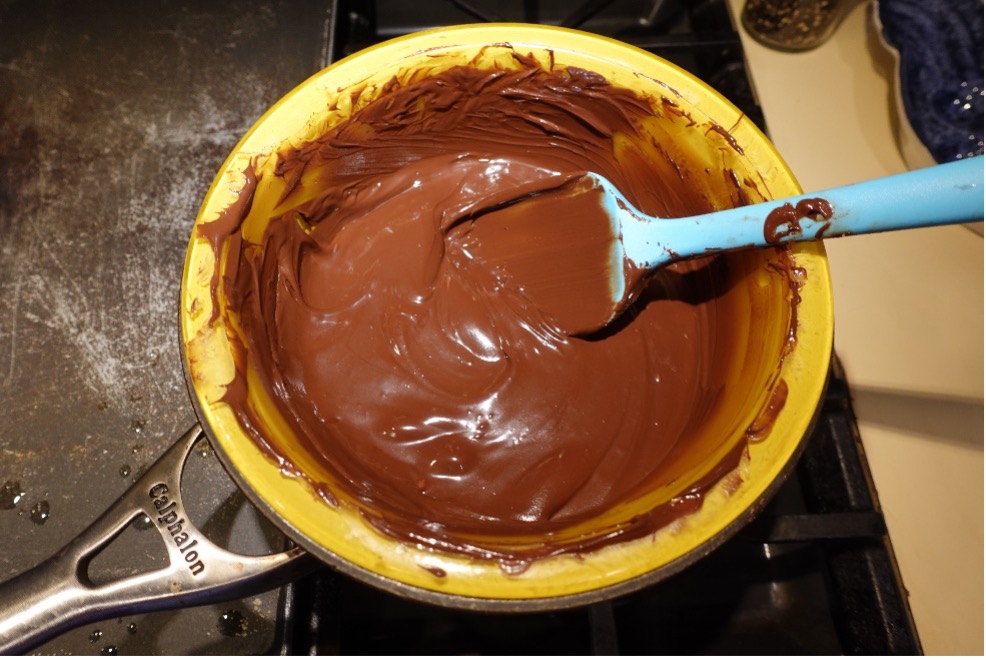 Spread each cookie with the melted chocolate. If you'd like you can sprinkle some extra shredded coconut on each cookie to give it a more festive look. If you have any extra almonds, you can decorate the cookies with those too. Be creative!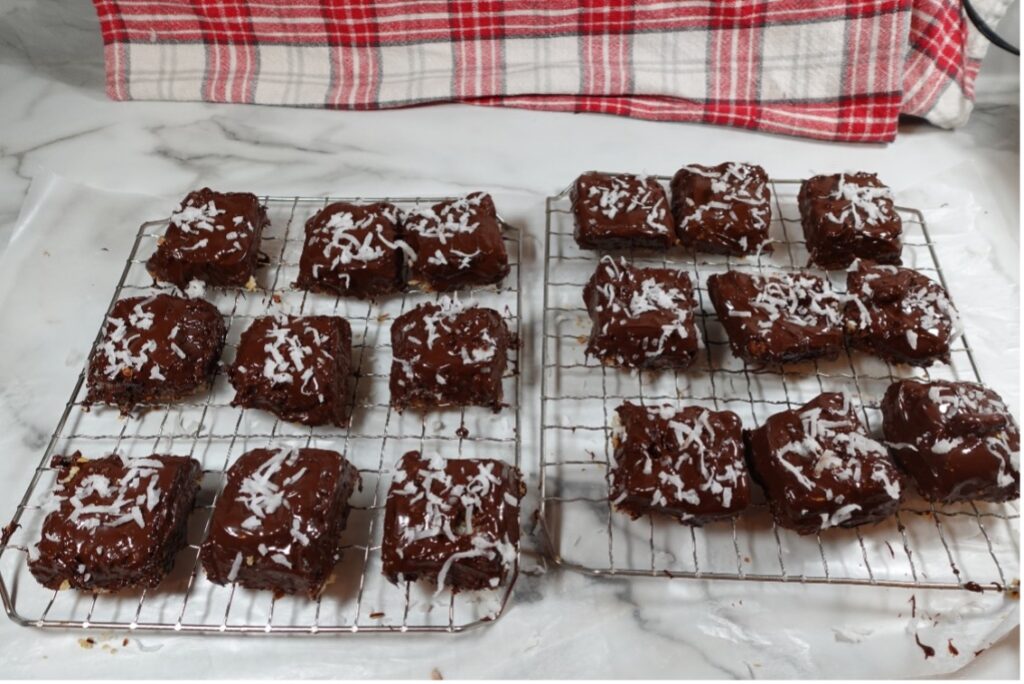 Cool completely. Enjoy!
If you'd like to print a copy of this recipe, click HERE!
ABOUT DARCI HANNAH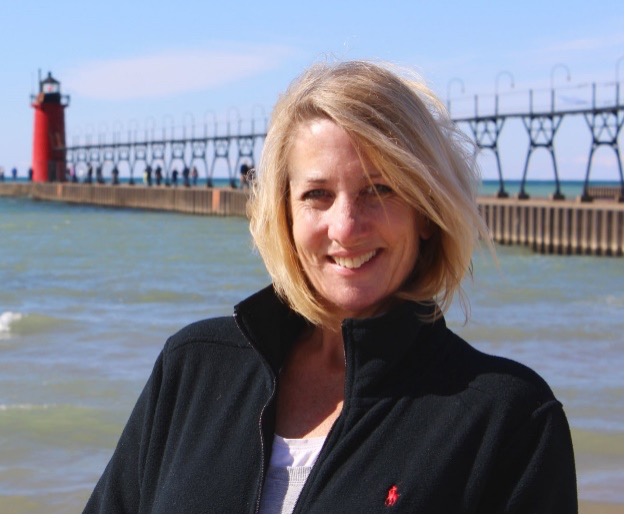 Darci Hannah is the bestselling author of the Beacon Bakeshop Mystery Series (Kensington Cozies), the Very Cherry Mystery Series (Midnight Ink), and two works of Scottish historical fiction, The Exile of Sara Stevenson, and The Angel of Blythe Hall (Ballantine Books). Darci is a native of the Midwest and currently lives in a small town in Michigan. She is a lifelong lover of the Great Lakes, a natural wonder that inspires many of her stories. When Darci isn't baking for family and friends, hiking with her furry pals, Ripley, and Finn, or concocting her next cozy mystery, she can be found wandering through picturesque lakeside villages with her hubby, sampling baked goods and breaking for coffee more often than she should.
For more information on Darci and her books, and more printable recipes, please visit her website:
You can also find Darci on your favorite social media platforms: