by By Elle Wren Burke
Let's face it, not everyone loves Christmas as much as us cozy readers! Do you find yourself desperate for someone to watch Hallmark movies with you and help bake all those scrumptious holiday cookies? You've come to the right place! So, cozy reader, what can you do to get your loved ones involved in our favorite holiday?
Set a theme for your Christmas celebration. Do they love Star Wars? Make some Yoda Christmas cookies! Do they love board games? Get a Christmas-themed game! Do they love dogs? Give them a puppy every day for 12 days!
Throw cookies at them until they put on their Christmas sweater. Tip: Perfect for that burnt batch or that "What was I thinking with this recipe?" batch.
Replace your toilet paper with tinsel. This will bring them Christmas cheer throughout the day.
Make ornaments with their face on them. Use only these ornaments on your tree. When they see the tree, they'll know that Christmas loves them and that they love it too.
Read at them from your favorite holiday cozy mystery. By read, I mean yell very loudly!
Put bells on all your pets. The constant jingling will put your disinterested loved one right in the mood for Christmas!
Got extra Christmas tree decorations? Decorate your loved one! Wrap them in lights and hang your leftover ornaments on them. I recommend going for the ears. Everyone loves heavy ornaments hanging from their ears.
Replace their phone ringer with "Grandma Got Run Over By A Reindeer."
While they sleep, whisper Christmas mantras into their ear, such as, "You love Christmas. You want to make a gingerbread house. You want to go caroling. You want to buy my gifts ahead of time and not from the gas station."
Remove all non-red-or-green clothing from their closet. Wrap it up and give it back to them on Christmas day! People love receiving their own stuff as presents.
Play your favorite holiday movie on loop all month. The holiday spirit will slowly seep into their brains.
If all else fails, resort to begging. I recommend the following, "Please, please participate in Christmas with me! I'm so lonely."
I hope this list helps brighten your holiday.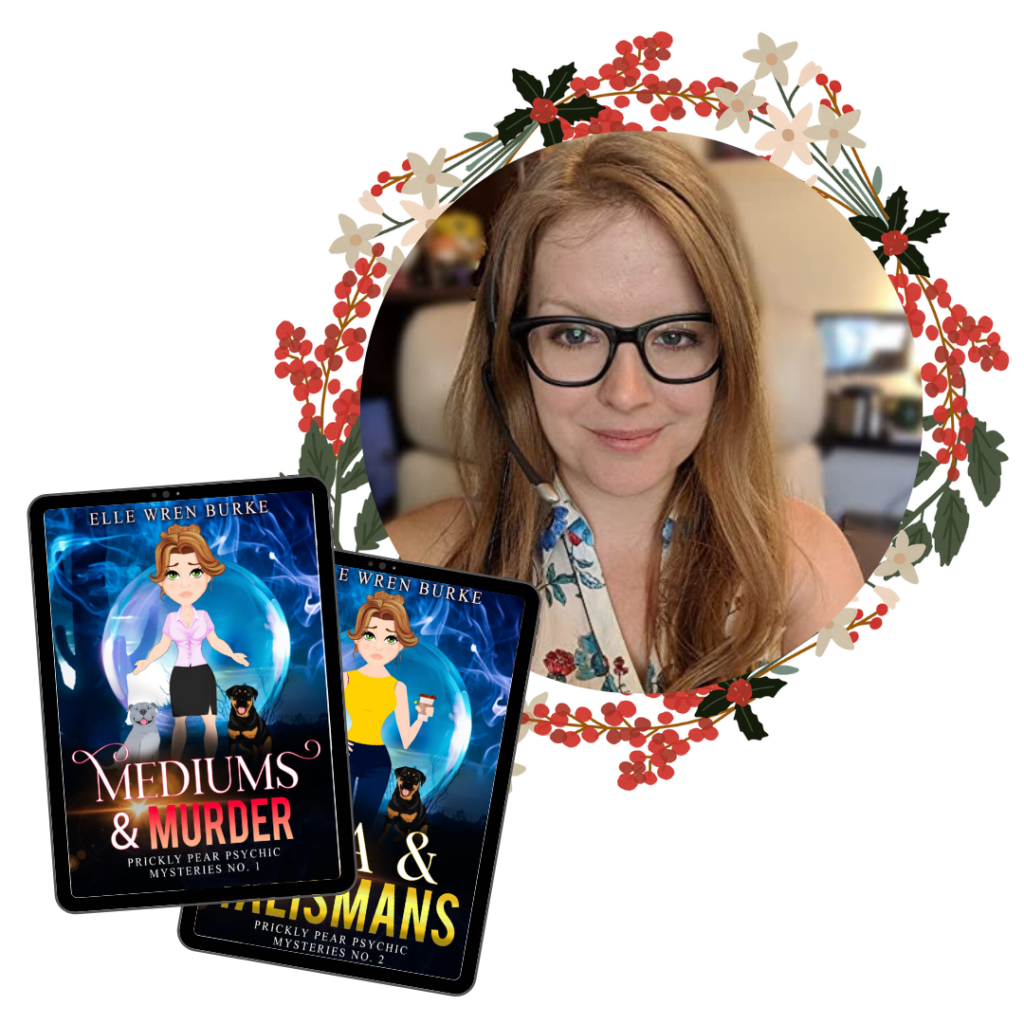 ABOUT ELLE WREN BURKE
Elle Wren Burke is a paranormal cozy mystery author who writes witty, fun books with strong females as protagonists.
Elle has Master's degrees in Geography and Business. She lives in Arizona with her husband and fur baby. She enjoys puzzles, baking, and bubble baths.
For More Information About Elle, Visit Her Website!