Aired August 31, 2021
📚📚 𝗕𝗢𝗢𝗞𝗦 𝗖𝗔𝗡 𝗕𝗘 𝗗𝗘𝗖𝗘𝗜𝗩𝗜𝗡𝗚 📚📚
𝗟𝗶𝗻𝗱𝘀𝗲𝘆 𝗶𝘀 𝗴𝗲𝘁𝘁𝗶𝗻𝗴 𝗶𝗻𝘁𝗼 𝗵𝗲𝗿 𝗴𝗿𝗼𝗼𝘃𝗲 𝗮𝘀 𝘁𝗵𝗲 𝗱𝗶𝗿𝗲𝗰𝘁𝗼𝗿 𝗼𝗳 𝘁𝗵𝗲 𝗕𝗿𝗶𝗮𝗿 𝗖𝗿𝗲𝗲𝗸 𝗣𝘂𝗯𝗹𝗶𝗰 𝗟𝗶𝗯𝗿𝗮𝗿𝘆 𝘄𝗵𝗲𝗻 𝗮 𝗡𝗲𝘄 𝗬𝗼𝗿𝗸 𝗲𝗱𝗶𝘁𝗼𝗿 𝘃𝗶𝘀𝗶𝘁𝘀 𝘁𝗼𝘄𝗻, 𝗰𝗿𝗲𝗮𝘁𝗶𝗻𝗴 𝗾𝘂𝗶𝘁𝗲 𝗮 𝗯𝘂𝘇𝘇. 𝗟𝗶𝗻𝗱𝘀𝗲𝘆'𝘀 𝗳𝗿𝗶𝗲𝗻𝗱 𝗕𝗲𝘁𝗵 𝘄𝗮𝗻𝘁𝘀 𝘁𝗼 𝘀𝗲𝗹𝗹 𝘁𝗵𝗲 𝗲𝗱𝗶𝘁𝗼𝗿 𝗵𝗲𝗿 𝗰𝗵𝗶𝗹𝗱𝗿𝗲𝗻'𝘀 𝗯𝗼𝗼𝗸, 𝗯𝘂𝘁 𝗕𝗲𝘁𝗵'𝘀 𝗯𝗼𝘆𝗳𝗿𝗶𝗲𝗻𝗱, 𝗮 𝗳𝗮𝗺𝗼𝘂𝘀 𝗮𝘂𝘁𝗵𝗼𝗿, 𝗴𝗲𝘁𝘀 𝗶𝗻 𝘁𝗵𝗲 𝘄𝗮𝘆. 𝗪𝗵𝗲𝗻 𝘁𝗵𝗲𝘆 𝗴𝗼 𝘁𝗼 𝗰𝗼𝗻𝗳𝗿𝗼𝗻𝘁 𝗵𝗶𝗺, 𝗵𝗲'𝘀 𝗳𝗼𝘂𝗻𝗱 𝗺𝘂𝗿𝗱𝗲𝗿𝗲𝗱—𝗮𝗻𝗱 𝗕𝗲𝘁𝗵 𝗶𝘀 𝘁𝗵𝗲 𝗽𝗿𝗶𝗺𝗲 𝘀𝘂𝘀𝗽𝗲𝗰𝘁. 𝗟𝗶𝗻𝗱𝘀𝗲𝘆 𝗵𝗮𝘀 𝘁𝗼 𝗮𝗰𝘁 𝗳𝗮𝘀𝘁—𝗯𝗲𝗳𝗼𝗿𝗲 𝘁𝗵𝗲𝘆 𝘁𝗵𝗿𝗼𝘄 𝘁𝗵𝗲 𝗯𝗼𝗼𝗸 𝗮𝘁 𝘁𝗵𝗲 𝘄𝗿𝗼𝗻𝗴 𝗽𝗲𝗿𝘀𝗼𝗻.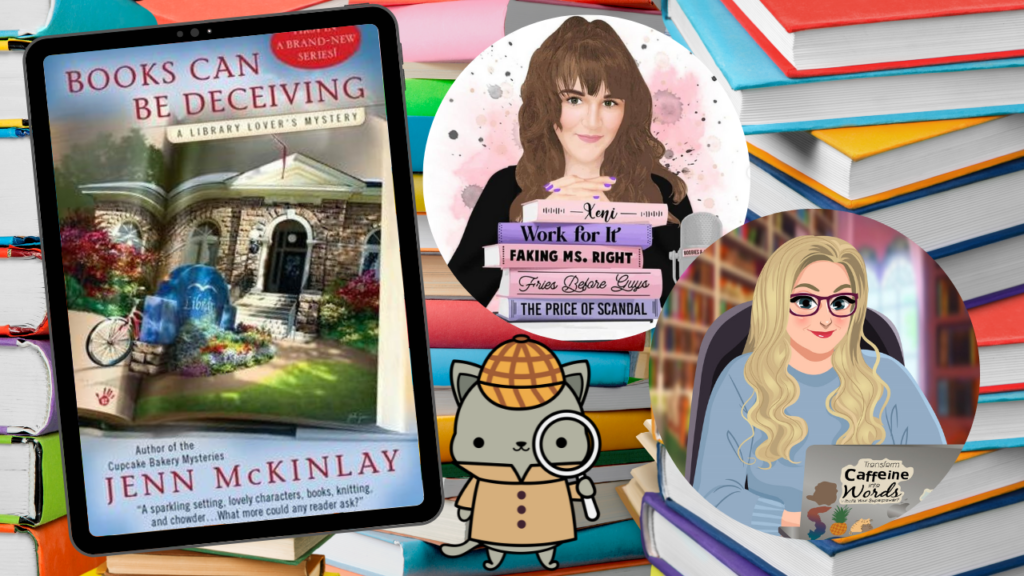 YouTube Livestream Hosted by Angela Maria Hart and Kelly Reynolds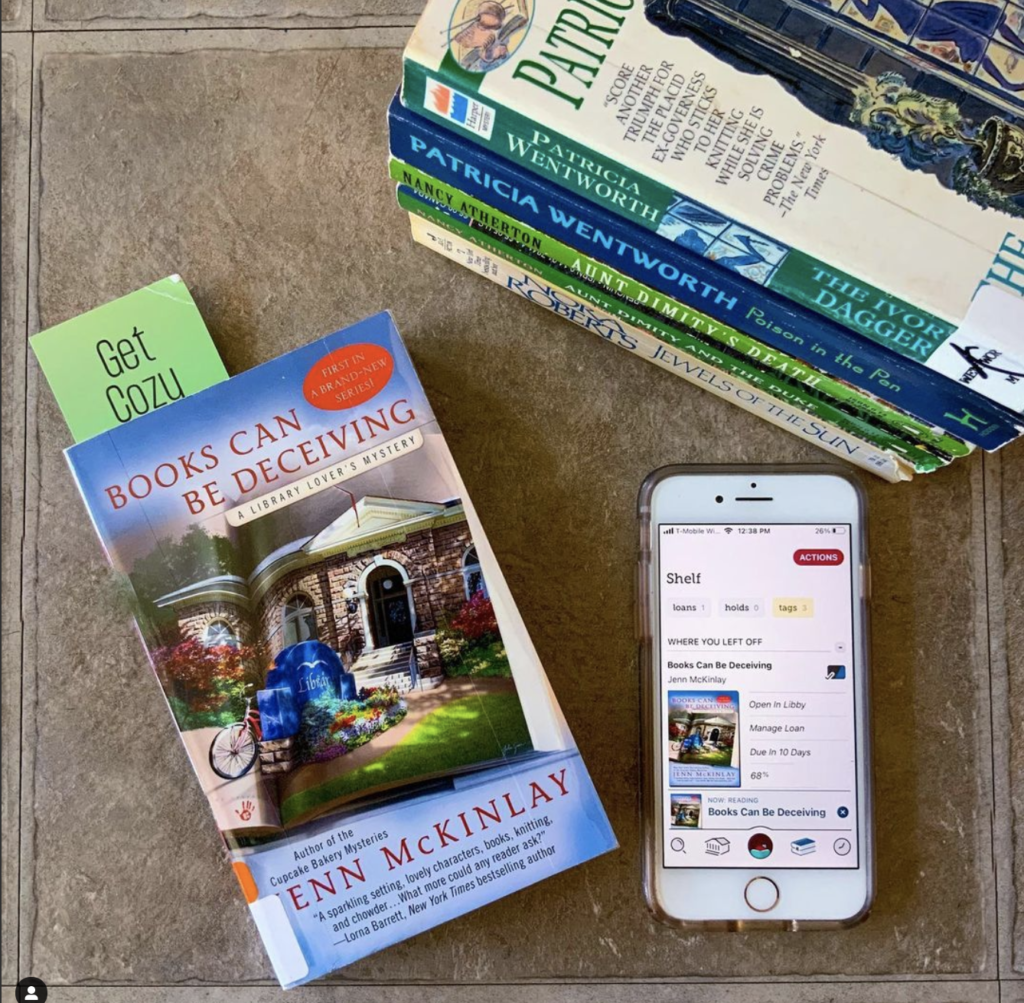 Angela: And it says we are live, hopefully that is true
Kelly: I can't do it as cute as you.
Angela: So it's so funny when it comes to our book club picks, because I ended up purchasing the book as a paperback copy, as an audio book, if it's available and I also get the eBook because I want to be able to highlight and like send myself passages; so whenever we have an author that we have selected like I give them a lot of business.
Kelly: Yes, yes, I usually go, I usually go for the Kindle one, just so I can have the opportunity to do like a digital highlight, but there is nothing like holding a real book in your hands.
Angela: Well I think at some point, I don't know, I have most of them over there, I am pretty sure I have all of the paper back copies from the beginning of the Cozy Mystery Book Club; sometimes I have to do one of those posts like, and this is where we started and this is where we are at.
Kelly: You should you totally should.
Angela: I think, because right now I have, it's a vertical just going upward, it just goes that way for the bookcase. I got it on Amazon, like right now like that's all Cozy Mystery Book Club stuff. So I am happy to be here, you guys I love chatting and we have not introduced ourselves just so excited to be here oh my goodness. Let's can we just see if any of the club of the month; welcome to the Cozy Mystery Book Club, I am Angela and I am so excited to introduce to you my guest Kelly Boobies and Noobies podcast. Creator, hostess, genius of she is awesome, she has been on this, she has been on the YouTube channel before she's done. I want to say at least three other live streams with us and you guys love her, I love her too.
Kelly: And to check, this is either three or four, so but it's been a while. Like last time we did this, I was doing it out of a hotel room in like Iowa or Nebraska on my way to move to Minnesota and here I am a month after having left Minnesota and moved to Oregon.
Angela: I remember that live stream because the friend that you were traveling with was adorable. She literally got down on the floor [inaudible02:06] now she's got this new background that is adorable. I can see the doughnut in the background like that's perfect [inaudible02:11].
Kelly: Yeah look, we have got all sorts of books and pictures and I don't know my creepy statue that's from a restaurant called the Hamburger Mary's but yeah, and then donuts obviously, because that's my esthetic.
Angela: I tried to really go for it today to make sure that I had the books for our TBR so we have next month Class Ratings for Murder, we have for, I love how like that is September for then we have One Poison Pie, then we have Death at the Kitchen Diva and then Peppermint Peril for our December buddy read, plus I don't have a statue that I have just a Fletcher's Funko Pop.
Kelly: Oh my God what, that's a thing?
Angela: Yes, I have my Jessica Fletcher, so I don't know what happened the first time so she lost a leg with the first Funko pop. I had to go buy a second one so now I have a legless Jessica Fletcher, so it's just from that waste, just the raincoat up and so this time I left her in the box, because I didn't want anything to happen to her.
Kelly: So that's really funny though I used to have these little statuettes from the show psych I had Shawn and Gus and they are like bumping fists and everything and when I moved one of I think it was Shawn's like hands like fell off and I think Gus lost a piece of his bottom so it was, they had problems but yeah, it is pretty great.
Angela: You are saying psych and I'm like yeah, I love that show so much. I've seen every episode, like Times I've seen it
Kelly: Talk about like one of the best like mystery shows, but also like one of the best shows with like friendship, like oh, so good.
Angela: I feel like that's, I think that's something with cozy mysteries like you need to have your Watson or you need to have your Craft or Noon people like you need the friendship, the continuity.
Kelly: I loved that.
Angela: Like [inaudible04:10], it's not just him and guys it's him, the father, its Juliet lasts or like you have some gang, like you need the cozy mystery community, the little gang, the Scooby gang.
Kelly: I think of when I think of cozy mystery, I mean to me that's like what differentiates it from like a different mystery is just sort of like, it's not just the one person solving crime, it's their community and it's, you know, the nosy old lady and the, you know, a local baker or, you know in this case, the smoldering sea captain who I'm just like, oh yes okay, so.
Angela: Let's talk about our leading man Sully at some point definitely a whole conversation topic unto itself, like Sully, oh my gosh, official book boyfriend material; he's on the list, if there was a list he's on the list.
Kelly: And if you want like the steamer version of this book that has a sea captain, Tessa Bailey's new release "It happened one summer".
Angela: [inaudible05:06] Schitt's Creek, yeah.
Kelly: And it takes place in a small coastal town, just like this one and so basically if you were like reading this and you're like, you know what? This is missing hot, steamy kisses, then you can go read "It happened one summer"; I think that's what it is right, "It happened one summer?".
Angela: I know it happened I know the start of it [inaudible05:25]
Kelly: And yeah, and there you go there's your steamier version with another sea captain, but it just happens to be more romantic.
Angela: I'm just pulling up the comments with the, you guys are so sweet, I'm so happy to see everybody. Oh, I love this. you guys are the best and I love how everyone knows the exact same references in regards to Psych and Jessica Fletcher, oh we really are on the same wavelength; this is our group for a reason.
Kelly: I love this group, this group is so great.
Angela: Oh my gosh you guys are so, I'm so happy you're joining for the first time; oh my gosh Sweden, that is so cool welcome. Oh my gosh I just got, you just getting all the warm, fuzzy feelings. I think I just got like a little rush of oh my gosh that is so cool, welcome. I heard a couple of people on Instagram saying this was their first time, so I am so excited if it is welcome to The Cozy Mystery Book Club; you are a sleuth here with us and also again, if you put, this is a random little reference but, if you posted a photo of books and [inaudible06:24], let me know and I will send you a Cozy Mystery Book Club book mark, as a thank you for participating and sharing your photo.
Kelly: And Angela has the best swag for cozy mystery book club, like I just want to put that out there. Like I know I'm drinking ice coffee tonight, but usually I have my cozy mystery Santa mug that I just love and I have stickers like oh gosh, she is the best swag. So if you don't have anything cozy mystery or hell, it's almost Christmas time, it's almost holiday, it's time who needs to shop for somebody in their life support local businesses that includes cozy mystery book club and boobies the newbies but I don't have as much, I don't have as cool swag as she does.
Angela: I mean for me, I don't really think of it as a shop or anything. I made all of the royalties as low as humanly possible and then every time there's any royalty, I'm always buying the new sweater to just send you guys stuff for free.
Kelly: I know you're so good.
Angela: I never want anyone to feel like I'm trying to utilize like the group or something. I'm like, I don't want this to be a business; I don't want you guys to feel that way and I never wanted to come across that way like this is just meant to be a happy, positive place. I'm not going to exploit you for a profit, like a promise. You're probably going to notice that on I think at Zazzle in society stakes, because you can set your own royalties. So there is a very good chance all of my prices are lower than anything else.
Kelly: Oh, so I see somebody else new tonight store storm bug.
Angela: That is such a cute name.
Kelly: That's awesome I love it, I love that everybody is here. I'm kicking myself that I don't come as often to this club as I should I definitely should come more often; I it's just scheduling, you know but I'm here and I'm so excited because I told Angela before we started, I actually really liked this book.
Angela: I am so excited to talk about books can be deceiving; so I have my notebook I have so many things written down, I mean we started mentioning Sully randomly, we might just want to start there at some point. I was very impressed with this book and so again, I mentioned at the very beginning as Kelly and I were talking before doing the official introductions, I actually read it as the eBook first and then I listened to it in audio, and then because I'm me and I want to do the best job possible for you all; I was listening to it again on audio. So I technically two and a half or two and you know, four four-fifths thread I don't know how you want to refer to it, but I was listening to the audio and I noticed something different each time I'm going..
Kelly: Oh my God.
Angela: I know I am not a first, so I am ready to talk about this book. I am pumped. I can't wait to, I want to know what you guys think. I want to know if you enjoyed it. I want to know. I want to know your thoughts. Where do you want to start? Do you want to start with Sully?
Kelly: We can we totally can, I was just going to say Lady Gizmo said Jen McKinley. I will say, I think this is my first read of one of her books and I know that you guys focus on the first book in a series in the club and normally first books in series are not necessarily my favorite book in a cozy mystery series because there's so much time spent like introducing everyone, and maybe not as much time spent on like the mystery itself; but I actually found the pacing of this book to be pretty good like I was kind of marking it as I went and the first murder happens like right at 30% in and I was like, okay like I mean, compared to when we did the chocolate chip cookie murder and it happens in the first chapter, well hello Maxie.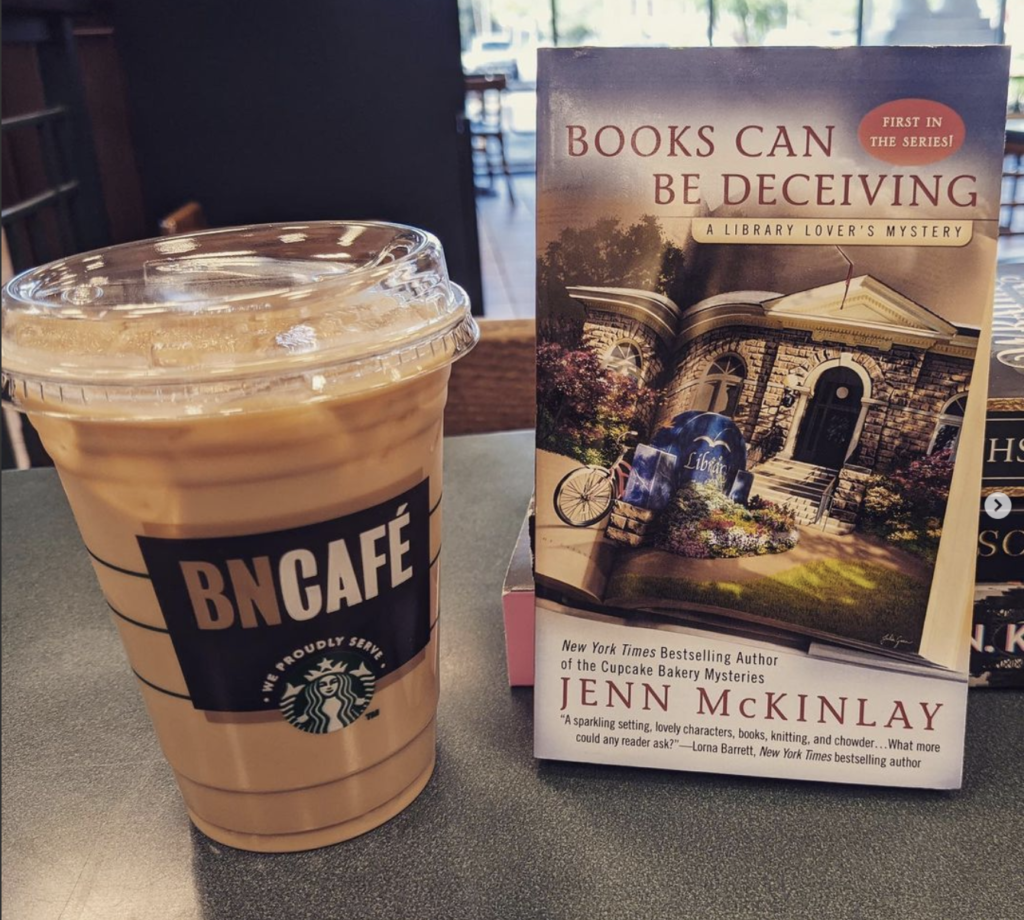 Angela: He is been on my lap, he just decided to make his appearance; I did an Instagram live story, I didn't do the live video, but I was posting the stories earlier and he was on the floor, like running through my legs like a cat, like he didn't realize he was a dog and now he want the attention so our little sleeping companion.
Kelly: He deserves our attention he's gorgeous.
Angela: My little man.
Kelly: Yeah so that's all I wanted to say about that was just, I really, I see a few people who have said like, they are already reading like the next book or books in the series and I totally get it. Like this is one where after reading it, I'm like I would totally read more in this series, like I would totally read more books in this series.
Angela: You are hitting the nail like on the head with me; so one of my notes was I kind of started doing this thing afterwards, after I kind of do like my little recap, because I make my notes as I go, I am like oh that's an interesting part, oh this and one of my reflective notes for this particular read was looking at it from a reader perspective versus a writer perspective, because I think she did a really great job focusing on who her target audience was; she thought about the readers and so setting up the rest of the series, I could see that in this book and from a reader perspective, I thought that was great because writers always, oh every single scene needs to contribute to the plot. So for instance the scene was great Sully and Lindsay, I don't know if you just heard him burp.
Kelly: I did not, oh no Angela's frozen on my screen, is she on anybody else's screen? Angela am I frozen, who is frozen? Okay she's coming, she will get here, and she probably just had a lot of really insightful, wonderful things to say too that we missed the whole time.
Angela: What's going on? I'm so sorry, can you hear me?
Kelly: I hear and see you now it was you froze and I was like telling them, I'm like she's probably having this wonderful conversation and talking about the book and we will never know what she had to say.
Angela: I am sorry all of a sudden, I think the internet just did that little thing like reconnecting, I'm like I never disconnected what's going on, I am so sorry.
Kelly: Technology, no, no, no you are all good.
Angela: I'm like oh because I didn't know if stream here I'm like, because I invited Kelly and I was like, oh please let her still be able to talk to them. I was like; I don't want to have the whole conversation go away.
Kelly: I'm here don't you worry, girl I host things all the time and let me tell you, it is never smooth so it is perfectly fine I just feel bad because I'm sure you were saying wonderful things.
Angela: I don't remember where I left out because all of a sudden, I am going on my gosh what's that?
Angela: I was saying something oh, the perspective that is what it was. So Sully and Lindsay save Nancy the landlord and so technically speaking that scene didn't really contribute to the mystery or anything else other than doing their characterizations. But we already see beforehand Sully's thoughtful and caring when he helps Beth; then when he takes them home and same thing with Lindsey, I mean she paid for a meal, even though Mary said hey, it's on the house don't worry about it. She put the money in the tip jar so we had already seen those characterizations, but we get the backstory with Nancy. And so you are like, this is going to come back with her, maybe not in book one, but you know later on the series and when Sully tells Lindsey and Beth, the story about the island with the family and the fire, we don't see that island again, but I know it's going to come back and say,
Kelly: Yeah, it's better because otherwise I would be very upset, because the whole let me tell you I watch a lot more mysteries than I read, but I do read them. And the minute he pointed out the island with like the burnt down house and like the family died, but they never found the dad. I'm like, oh somebody murdered, where is the dad he is the murderer where he, okay; who in this book is old enough to have been the father twenty-something years ago? Who could it be? I kept trying to like tie every story into this one and I think it's just because I'm a very greedy reader like I want every loose end to be tied. I want to know every single thing and if you set something up and it doesn't pay off, I'm going to be pissed. And so I just, I had to tell myself like, you know what? I feel like there still has to be a reason that this is being set up and I'm going to believe that that's going to be answered in future books. So somebody is going to have to tell me all you all who are on like book number seven or eight. I just, I don't need to know the answer, I just want to know that there is an answer, like because if there is not, I'm going to be very upset.
Angela: I will admit, I didn't want to spoil I when it comes to book one in a series, I learned this book inside and out. But when it comes to the rest of the books, what I'll do is, I'll look at the good reads pages to see how many there are in the series. So I looked it up and so next up is book 12 and I could not believe I'm going, she is a very talented writer to be on book 12; so I am very impressed by that first of all, but I was reading the different summaries so; I don't want to do the spoilery because we are going to have to talk about Sully. Because they put a pin in their relationship at one point, I'm going; I might have to just pick back up when that pin has been taken out. So I might end up starting a book five or something, but there are going to be 12 books right now. So she has been pretty prolific because she raised multiple series, so I'm giving Jen a little high five praise there. So I am thinking of somewhere in these 11 other books, these other storylines,
Kelly: There are people in the comments saying that there will be answers later on. Thank you, Jesus like that is literally, all I needed to know is just that there will be answers because I would be very upset if there wasn't. So that's more of the writer in me is like, why are you giving us this like storyline and this isn't going anywhere like that would just, it really bothers me. It's like if anybody watches American horror story, every season of Ryan Murphy is American horror story, he just tosses half of the script out the window. But yeah, so no I'm with you I think the character development was great. I loved everyone, like, well no I hated the mean people, but I love.
Angela: Just lemon.
Kelly: But she gets a great ending like..
Angela: I loved that I was so happy.
Kelly: She gets the perfect ending.
Angela: I was laughing out loud, yeah that was great.
Kelly: But Nancy, love her; Violet, the like old actress that lives there who volunteers to take over Story time loved her; Sully, obviously fantastic, even and I feel like maybe I know women tend to be a little bit more judgmental of female characters in books. Like this is something we talk about on boobies the newbies all the time, but I really liked Lindsay. Like I found her to be very competent, I found her to be fun and smart, like and she was a good friend like I really enjoyed her.
Angela: I have to admit, I think she, I had already been enjoying her, but I think she won my heart when she called the ex-fiancé, whom she spoke to never call, like she said, I'm never going talk to this guy. I want all connections severed and she puts her friendship with Beth first and says, I'm going to call this guy, I don't want to talk to him, but I want to find out who the best lawyer is to help my friend and I'm going to do that. And I'm going, I love you, I'm here for you, whatever happens I'm on your side. I don't know what happens in future books, but moments like that, I'm an ally and you are not going to lose me.
Kelly: Yes I think the fiancé is going to come back at some point too and like other books. Yeah, Stephanie, I liked the friendship between Lindsay and Beth too and is anybody else hoping Beth hooks up with like the hot naked art professor from the college?
Angela: That was in my notes because she seems really into this guy.
Kelly: I mean, you and I are both romance readers too so it's hard for me to read a book and not try to fabricate a romance if it's not already there.
Angela: Well I saw again, I only read the book blurbs for future books and it said that Beth got married and I am going, to who? And I'm going, but I don't want to know, I want to know, I don't want to know. So I'm trying to figure out, but I kind of want it to be him because this again, a little spoiler here; he gets shot and I'm going, this guy needs a good happy ending himself like he needs to find love and comfort because he was awesome. This guy had zero qualms about anything and when it comes to mysteries, sometimes you will have those characters of I'm not going to be helpful. He's like just ask me a question, I'll tell you whatever you whatever you want to know. I was like, thank you are moving the story along [inaudibe20:05].
Kelly: Oh, and Milton, I liked Milton a lot as the old, okay wait, you know what? I marked it in the book because they mentioned that this dude is well into his eighties and he's doing freaking like yoga on his head, in like random places and then she also says that like any woman over the age of 50 is like, has the hots for him. I'm just like, how hot is this guy? Like, this guy is 82 years old, is he like he must be like a young 82, like a very like fit buff, but he's also short with a wire rebuild and no hair on his head. I just, I have questions, I have a lot of questions about Milton.
Angela: I have to admit, I kind of, I didn't know what to make of him at first because I'm going you' are in a public library doing a handstand okay. But when she came to him at the end of the day to ask for his help in regards to finding out who owned the island and doing the backstory for Rick and he brings the food in to help to feed her going, I know you had a lot from, you just came from work, you want to have dinner? And she even said, oh you didn't have to go through all that Charlie is like what? Putting food on a plate, that's nothing. I'm going, you are sweetheart I liked this cozy community, I like that you're in this cozy community and you cannot be a murder victim or suspect at any point you are a little angel Milton. Again, one of those moments I don't do those random moments of she called you want to say Milton gave her food. Like, those are the details where I'm going, I'm here I'm in the series now, I'm staying.
Kelly: Crystal Tea Knits and Colleen C both said Cary Grant melt, which is so funny because my mind was not there. But now that you've said it, I'm like Ooh damn if that's the case like I can get on board with Milton, but..
Angela: Your visual description but in your head, I mean he seems like a doll. I mean, you just want him to be grandfather? I mean again, I don't really play chess I haven't played it in years. I'm like I will relearn for you Milton.
Kelly: Yeah that's why this book gave me like Shitz Creek vibes was the fact that like, this is a small town on the coast that clearly is mostly older people. Or like people who grew up there and they just like, kind of stayed as adults and I don't know, like they talk about how the restaurant is the only restaurant in the whole town. So like, this is, it's a very different picture of like the small town that I feel like we usually get in cozy mysteries, like most cozy mysteries I read are like, you know the quaint small town that has like the coffee shop, the bakery, the restaurant. But I thought this was like a little bit different just in terms of the setting of like, it's a lot of fishing and boating and there's like the Wharf with the one restaurant. Like it makes me wonder like in future books, like where things take place and like what other things happened in this town. So I don't know, like I'm definitely intrigued, like it was different for me in it compared to like a lot of the other cozies that I've read.
Angela: I have to admit, I got the kind of idea that it was a very small knit, small place in regards to that. I mean, it definitely gave me sort of home feels because I'm from Massachusetts and I always loved the water. I love the boats. I love everything about that area and so it kind of made me a little, not homesick that reminiscent of, I remember going and doing whale. And so I think I really appreciated the setting and when you mentioned other places for murders and well, technically there are other little islands out there, so we have all these other seasons for murder.
Kelly: And that's cool. Like I don't, I don't think I've ever really read a, read a story, you know, not just cozy, but like any kind of story that's like set on a series of islands. I don't even think about that being a thing because I have never lived there, I've never visited that so like I'm like oh, this is a real thing in like Connecticut and Massachusetts, they're like there's like all these little islands.
Angela: I never really thought of that either and again I'm from the north shore. I wasn't a member and I mean, it was one of those yacht clubs; all the high schools had their proms their sort of place. Like it's not like a yacht club yacht club, but the local town one. So I mean I grew up near the water and stuff, but I never thought about the little islands and other things like that and even then I think of Gloucester and other places like that, and they're much larger. And so the fact that it's sort of a small town, part of the coast, I liked that it was separated from the tourists and it was its own little kind of entity and it had their own little, I don't want to say they were isolated or insulated, but there was definitely a vibe.
Kelly: But you're right yeah and there is something inherently spooky about that like something very, like I think I get kind of like Stephen King vibes, like just he's the one from Maine, right? Where it's you know, it's so isolated that you're like, oh this is like a beautiful picturesque place but also like if somebody gets killed or screams or something, nobody's going to hear you sort of thing. So I think that's what I liked about it is that just based off the setting, there's already something kind of spooky and mysterious about that one murder per Island.
Angela: This is amazing because she [inaudible25:50] all sorts of dozens of islands going this series is me very long if that's the case, but I like it and again I'm here for it right now.
Kelly: Regina said, I think the thumb islands are based on the thimble islands off of Connecticut, which again I had no idea that was even a thing and oh, forgive me if I get your name wrong. Aiko said like Washington, Seattle area has the series of islands. I do know that I live in Portland right now so I'm familiar with that yes; and actually, I don't know if you know this, but I'm from the San Francisco bay area and I'm actually from an island, like it's technically an island in the San Francisco bay, but like it's not, I think island I think tropical that's absolutely not the case and it's not the case in this book either.
Angela: I loved, I thought it was so cute though, because this is it's unique when it comes to cozies, I don't really see this as the typical cozy mystery in a way, even though it hits the cozy check marks because we had our food, we had the clam chowder, we had our hot cocoa by our maybe Navy man Sully, then we had the, you know, quirky characters with Milton on his head doing yoga, we had our librarian, there are all these check marks the cozies, but we're a different vibe to me and I like that.
Kelly: And I agree, I liked that a lot and also I like have this expectation now that when I read a cozy mystery, there better be at least one recipe in the back of the book, because I don't even care if it's about food or not, like this one's not about food. You better believe. I was like, if there is not a clam chowder recipe at the back of this book, I'm going to be very upset and there was, and hot chocolate and it was really clever they had like discussion questions, but not for this book for the book that they read in the book. So if you wanted to like create your own Crafternoon you have like a schedule already ready, you have got what you're going to drink, what you're going to eat, your discussion questions, the book there's a knitting tutorial pattern fit, I mean, it's really clever all the things that Jen McKinley put in here to include.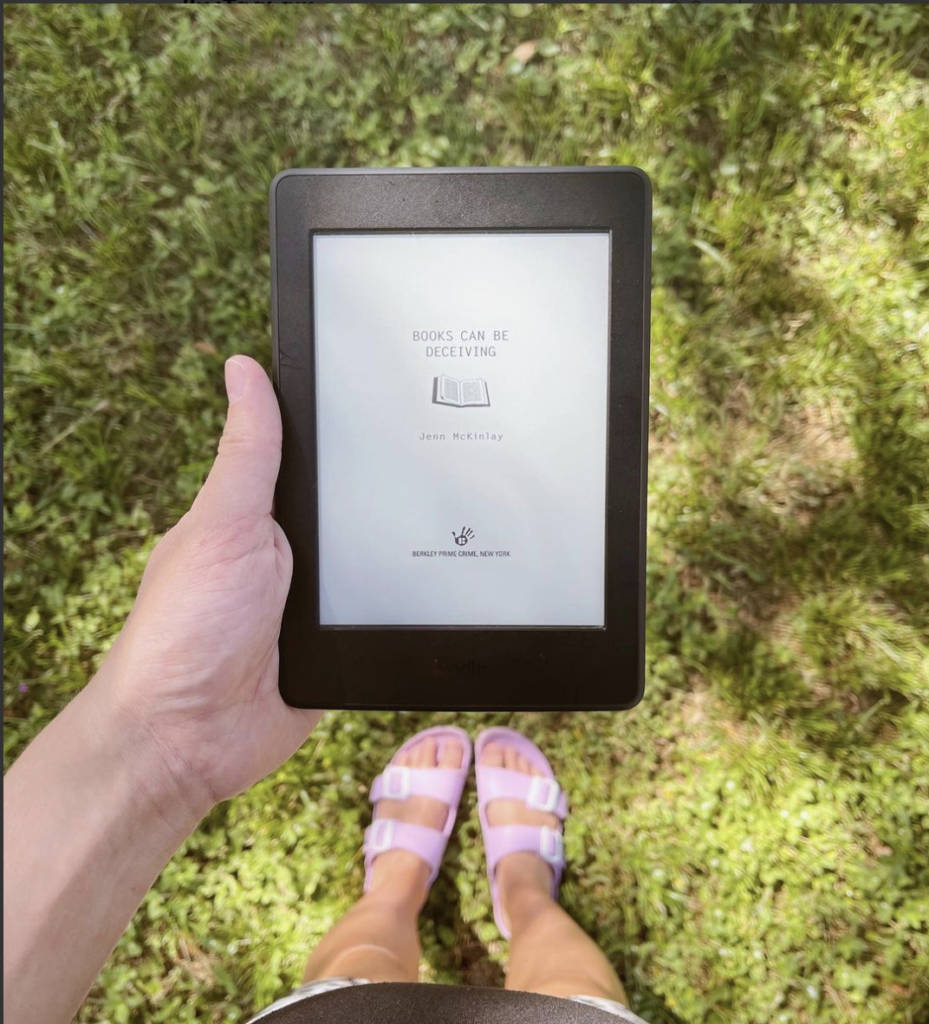 Angela: I had to go back because I wanted to get all of the literary references that she included, because I think that also broadened her sort of reach because she has all the different genres. She has, again with romance; she had Jerry Awards, Black Dagger Brotherhood thrown in the mix. And then she had Harlan Coben, again our favorite leading man he reads, there's a reason he's the favorite leading man. Then we have Amanda Quick and we had CJ Box. Then we had the children's authors, I mean she really went down the list and she even had true lies [inaudible28:44]. I lost it, I loved it.
Kelly: I was like that is, I love that they came in to rent a movie, which by the way, I forget that you can do it libraries and she recommends true lies to them. I was like, that just shows our age first of all, that we like no true lies because and she is, I think she's like 35 in the book and that's 32. So I was like okay, this is in my age range. True lies God, if people here haven't seen that movie, you need to go watch; it is so good, it is like the best, my opinion, best Arnold Schwarzenegger movie and Jamie Lee Curtis is like a fox in that movie, like that woman. Oh my God so hot.
Angela: I always, because I grew up with her with like Freaky Friday and so I always thought of her as the mom, even though iconic for her, teen horror movies, I grew up with her in a different capacity. And then I think I probably saw that on one of those stars, or epics, or one of those panels and I'm going, this is a very different movie and she's amazing in it.
Kelly: Smoking hot.
Angela: And I saw what's her name Elijah Dushku, she was Faith on Buffy, she is the daughter.So I am getting all the references and then the book that they read was, The Last time I saw Paris" and the other option was the "Cedar Seed" by Iris Murdoch and these are again real books, sometimes…
Kelly: And Rebecca, Rebecca is the one that they're reading at the very beginning.
Angela: I mean sometimes when it comes to just books in general, they'll have fictitious movies and fictitious social media platforms. I liked that she included real titles because you're going, oh I read that, oh I know someone who reads those books, oh yeah I saw the Harlan Coben on Netflix. So I think she kind of kept me going and feeling, not invested because I was already invested, but she kind of gave me those little reader feels like oh, I get this oh, so you would have these little happy moments.
Kelly: Like if you don't get the reference, like if she says Harlan Coben, and like that means nothing to you, then it's like, she still goes on to say like, he loves a good like thriller or whatever, but what I liked and I saw a couple of people mentioned this in the comments is like, it was a great way of us knowing what she knows about. Like she basically is like, you know like a baker romance how they can like see somebody and be like, Ooh he is like an apple pie, like this guy is everything that an apple pie embodies, like in this case, the books that each of the characters like, and the fact that she knows that these are the books that they like, it tells us so much about each of the characters as well as about Lindsay. Like, she clearly remembers everybody based off of like their reading interests and that's kind of what's in the back of her head like, Ooh, he likes mysteries. Ooh she loves historical romances and nobody knows but the two of us and it's, I loved that she knew that about each person like; and it I mean also tells you what a small town this is the fact that she definitely knows every person.
Angela: I'm just nodding like exactly, exactly, exactly; I loved the moment when I forget what the checkout girl was, but I might've been when she was buying the muffins and she asked the girl oh, did you enjoy the hunger games? And the girl perked right up and says yes I have been reading, I am on book three and her entire disposition and I'm going, I'm reading this book. This wasn't when I listened to audio, I was just, again reading the book the eBook version and her character came alive; I'm going, you just made this character's voice change in my head, hello, great writing and that was because she asked about her being a reader and I also love the reference and I think everyone here being readers, guessed it; she was like yeah, I stayed up way too late reading. I was like high five right there with you I know how it feels.
Kelly: So true.
Angela: I love how she made them all feel special though, same thing with the woman going, nope the book's not in yet even before she asked the question, she made the readers and the people who visited her library feel important, like they mattered, it wasn't just oh, you're another visitor, which is what I think the lemon kind of does. Like, everyone's the same with the fines, oh you're going to have to pay, regardless of the fact that this poor kid is working on a, I think she said it was a school project at school. I mean, if you should probably have someone bring books for school. You're going to hurt his grade, the GPA, everything else and so I liked the fact that these were real visitors with the library and she referenced them as you know, real people, not just the numbers, I love it.
Kelly: She didn't like, she didn't just like roll over either like, even like both with both with the lemon and then also with like, when people start coming at her like that awful reporter, oh my God. I was almost rooting for her to die but she, I mean she doesn't back down. She's like, no, no, no I support my employees like, and also nothing has been, no accusations have been like formerly made like nothing has, you know, she was just she was so strong, but not mean like she was such a well-balanced like real person. I think that's something that I have trouble with both in cozies and in romance sometimes is that because the cozies and the romance that I read are usually contemporary they are set in our times. And so, I just think about our times as reality and so when I read a cozy or a romance that like something just goes against that, like whether it's a character flaw or something that happens in the story, I'll be like, and that's not how it wouldn't happen.
Like this is a 35 year old woman, then it bothers me because I'm just like, you're asking me to, like, you're telling me this is fiction, but at the same time it is set now. And so there are things that like, if they don't fall in line with what I'm used to in 2021, and I know this is from about a decade ago, then it's just going to feel false to me and this one felt very current. This one did feel very current to me like I mean, they I know that they're not a gay couple, but like they would go to investigate at the apartment and the old landlady is like, oh are you a couple, are you roommates? And I'm like, great. I love this we were acknowledging the fact that like, there are same sex couples who exist in this world. So there were just so many things that felt so now that I would have believed this was a book written in like 2019, 2020.
Angela: I also have to appreciate the fact that, I mean we only had one black character and well, her daughter was black too. So we only had the two presentations, but I'm going, at least you have some representation because sometimes with cozies, it does lead very, very pale.
Kelly: Connecticut, like that and no shade to anybody who's from Connecticut or live. So I'm just saying like what I think of Connecticut, the demographic I envision is predominantly white. So, I mean, it's, it doesn't surprise me that like, in this small town off the coast of Connecticut, that like, that happens to be like the majority of the population. However, I'm always looking for more diversity in my reads. So there was at least an acknowledgement of it in this book because you're right it's often missing from cozies, so I do appreciate that.
Angela: I mean, again I always feel, it's so funny that we're talking about this, I was going to surprise you all with something that I did. I one of my latest things is I deal with insomnia and I have, yeah. So I've learned procreate and so what I've done is I've learned how to I've learned it's an app. So I learned how to do the designs and so I was going to surprise you all with the future posts. So when you guys see this, you will be like oh, I remember she actually showed us. Because I wanted to show support for diverse sleuthing. I don't know if you guys can, I don't know how to make the string go.
Kelly: I can't.
Angela: So maybe if I can like make it darker.
Kelly: Oh, there we go.
Angela: So when you guys see it, I use procreate to do the design; I wanted to do the LGBTQ plus flag we are sleuthing to say you know, sleuthing and supporting diversity. So I just something I've been working on too, I like how this kind of just dovetails right into there.
Kelly: Well that's awesome and you know what, maybe you know, it's probably a whole different conversation, but between you and everybody who's here that reads a lot more cozies than I do. I would love recommendations for any LGBTQ book in cozy mysteries. So I mean, if I haven't read one, I haven't read one where they focus on predominantly like LGBTQ plus characters. So if people have them and they want to recommend them to me, please do; if we don't know about any, I think we need to find some or write some.
Angela: I will give Victoria Gilbert a shout out because I can't remember his name off the top of my head, but she has a very, I love her character. I think what his name is, but she does have a gay male friend and one in her series, who is reoccurring. I remember saying to her in person was like, you cannot kill him I love him. But so there people are getting better so I'm going to give Victoria Gilbert a shout out and she's the first one that popped into my head, but I want to give you guys, I made the exact same note with this MapQuest, I wrote that down because printed MapQuest directions. I remember my mom doing that when I was in middle school [inaudible38:26] popping up. I'm like, I know this is a totally different conversation, but I was reading these I'm like, yeah same wavelength, I thought that was hysterical.
Kelly: There was little things like that definitely reminded me like oh, that's right this isn't 2021. Just like, you know, as a reminder there were like a few words that use that. In fact, I think it was just ones that aren't technically like PC terms today. So I was like oh okay interesting. But again, things change over time. I totally get it. I will say I loved when they would go on like their little like short road trips to find out information. And she says road trips required a couple of things, a well-balanced diet of caffeine, self and sugar and an excellent selection of tunes. And it made me wonder what yours and what everybody else is like go to like road snacks and road music is because I have like a very specific road snack that I get.
Angela: I actually done road trips, I wrote down that, I thought it was funny that an hour drive was road trip. I'm like [inaudible39:33] traffic like I mean, I thought that was hysterical I'm going, that's not a road trip.
Kelly: That is funny, like they get snacks and everything.
Angela: I thought that was hysterical. I'm like, that's not a road trip. That is just you know, I thought that was funny because I'm going, what's your usual commute I mean, you must be very spoiled.
Kelly: Yeah for real.
Angela: You got to love how I'm doing this because I remember being stuck in work hour traffic for two plus hours [inaudible40:03].
Kelly: Oh yeah, no I mean, I lived in LA for five years in Chicago for two years. So I mean, I definitely know like the city commute for sure. I will say when it comes to road trips, I am like a go to bugles and mini donuts fan. Those are like; my two must have eats on the road.
Angela: I mean, I can't really remember if I've done road trip, road trip. Because I don't think I've ever been the driver for one also you probably don't want me as the driver for one. I just wan to leave it at that, I know my parents when they were driving me, I used to play my country music, I like country. I don't know if you guys like country music, but I love my country music. I remember Luke Bryan playing when I was stuck in my work hour or traffic, I remember that.
Kelly: Oh good somebody else likes bugles, awesome, good. I'm loving all the snacks people are sharing by the way.
Angela: I think I would go with pretzels or you know something.
Kelly: Yeah so I will say..
Angela: I like a sandwich or like a snack.
Kelly: No that's like, why would you bring a sandwich,
Angela: You don't want something, you are not going to be like eating a four course meal sort of thing, you want like, you got to have that sort of like drug store; I run to CVS and bought my bag of Lay's potato chips, like that's where we at.
Kelly: Yeah, gas station is like the place to go to for food when you're hitting the road. Like that is the best snacks right there, I will say as much as I love the fact that they have the clam chowder recipe at the end and the hot chocolate recipe at the end. Let me bring up what I thought was the dumbest meal I've ever read in a book before you ready for this? Here we go, spinach salad, with hard boiled eggs and mushrooms with a drizzle of raspberry vinaigrette; what is this combination of food? What is going on here?
Angela: I think it sounded good minus the mushrooms?
Kelly: But like with raspberry, I don't know this egg mushroom raspberry to me, these three ingredients do not go together.
Angela: I actually thought it sounded good minus the mushrooms. Because I go to sweet greens all the time, I get my balsamic vinaigrette and it's not like you just throw in a hard boil egg, you cut up the egg. So it's not just like an egg sits on top of the salad.
Kelly: I don't know there was something about.
Angela: [inaudible42:27]
Kelly: No, no, no, I love egg my salad, but I'm saying like, do you like egg with like something fruity? Like that just seems weird, I don't know. There was something about the combination where I literally had to like reread it a couple of times; I was like, wait a second, she's eating what.
Angela: I've never had raspberry dressing, but to me that sound really good because I used to like, I don't even think they made it, but like they used to have like a champagne sort of vinaigrette and that seems similar to me. So like I kind of want to try it, but maybe they should include that as a future recipe for the secret meals.
Kelly: It's one where I was like, I kind of want to make it just to try it, but also I don't like mushrooms. So like already we're at a loss; but it's the combo of the egg and the raspberry that just throws me off. I'm sorry to like derail the conversation with this.
Angela: No this is what clubs are really, we are supposed to talk about our responses and this was your response.
Kelly: It was like, it was a visceral response too like I was outraged, I don't know why it's just like bothered me so see just not mushrooms okay cool.
Angela: I'm not a mushroom person, I also don't eat meat so a lot of times when it comes to some of the recipes, I think it was, I love how many of the Lee Hollis title in my head, but Krista Davis her diva series, they had recipes in the back and they were meat related. I'm like; I can't appreciate them like I wanted to. So I think I just appreciate that, I mean again, clam chowder I'm not really, I used to always just eat the broth like I would never actually eat the actual [inaudible44:09] clam chowder.
Kelly: Girl what are you doing? That's not how you eat clam chowder.
Angela: I know but that would actually sounded fine to me and I'm a very nitpicky, strange eater so yeah there are other times I have responses to food and cozy's. But I usually you just, I know I'm peculiar with my little habits. Because I feel like a five-year-old sometimes I'm like, if I don't like the way it looks, that's not going to my mouth.
Kelly: That's really well and if anybody else watches top chef like I do, you know that, like they always tell them we eat first with our eyes.
Angela: [inaudible44:42]
Kelly: And it's like yeah, because they will be like, well it tastes good, but it looks like garbage. So we're not going to have you win I'm like, okay.
Angela: [inaudible44:54] what is it? Style over substance of the great British baking show.
Kelly: Yes and that's a lot more calm and you know what? I love them both. I love "Great British bake-off", I love "Top Chef" one is a lot more angry than the other one. And sometimes you need that, sometimes you need that. But yeah, the food great, except for that salad really bothered me. But other than that I did, let me tell you who's our, who's the guy that dies Rick, right?
Angela: I know, I didn't even looked at him I don't even know, I'm like crossing stuff out like we talked about this, and we talked about.
Kelly: Oh my goodness, the minute he is introduced, first of all.
Angela: There is room for this guy to die.
Kelly: Oh God, for real let me just, let me read you this small section and this was the moment I think it was like the second page that we see him. And I was like, yep he's got to go; "he just slumped by their table and took Rick's order, he was one of those on the side types, he wanted his salad with dressing on the side and a baked potato with butter on the side. When his meal arrived, he tucked into his steak after sending it back once because it was too rare and perceived to chew with his mouth open". Oh my God like she was with this guy for five years, which just goes to show one how bad, the dating pool is. Not just in Connecticut, but like in general, like she was willing to stay with this guy for five years, just so she did not have to go date again.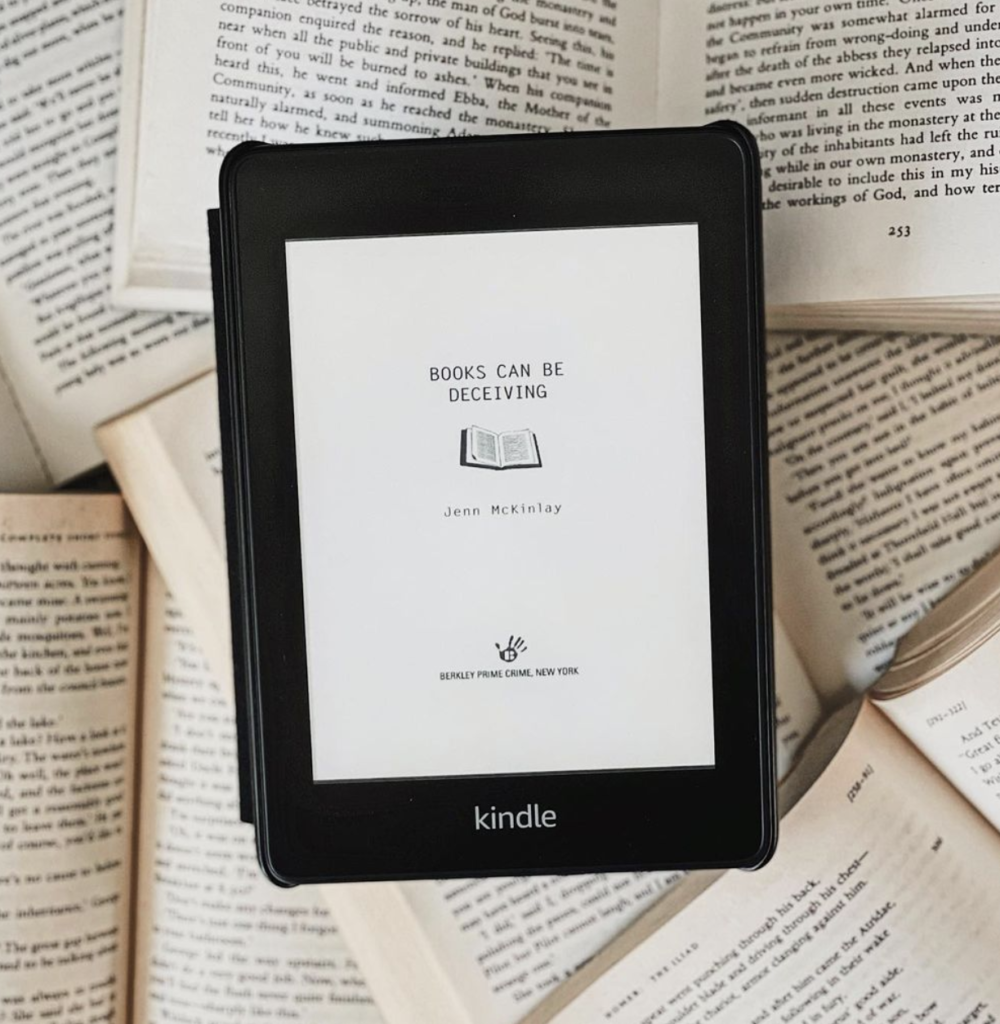 Angela: I have so many questions about it being a five-year relationship.
Kelly: Oh no you froze again, Angela. Okay while we wait for Angela to unfreeze, I will just continue talking about what a piece of crap Rick is. Is she still frozen for everybody else or is it just me? She's coming, gas lighting, glad someone had mentioned that, because he, this guy he clearly, I think he did like… Are you there? Okay, Stephanie could see me, we'll wait for Angela to come back; but I'm assuming he must've done some like real emotional damage for Beth, with the gas lighting and just constantly berating, because…
Angela: Okay, I'm back hopefully.
Kelly: Okay.
Angela: I don't know what just happened.
Kelly: It's okay I just continue talking about what a piece crap Rick was and the fact that he was gas lighting Beth so much like that must've been one of the reasons she was like stuck with him.
Angela; Yeah I mean, I don't know what just happened; so my apartment building, so I lost internet access for a day and a half and I thought something was wrong with my modem. I'm literally cleaning everything out around the modem, I'm just connecting everything, I'm trying my different devices and like three days later after I've been doing this, the apartment buildings, like yeah Comcast has been having problems. I'm going; I thought it was me like you didn't tell me this before, so…
Kelly: Good to know that it's not just you like, I mean I know it sucks, but like at least it's not just you it's like everybody is having to deal with.
Angela: After I thought it was me and I'm going crazy [inaudible48:35].
Kelly: They were gas lighting you.
Angela: I'm so sorry that happened, I'm so glad that you're so, see this is why, I mean I love you as like a human being and everything else, but I'm like, she is talented as a hostess because she goes, there's tech problems; I'm just going to keep going. So I appreciate that, instead of you being like a deer in the headlights like, oh my gosh, what do I do now?
Kelly: I got to put that theater degree to use, you know? But no I'm with everybody in the comments who saying that, like he had to go, like he had to go. And that's why I kept thinking the reporter might die too, is like she kind of sucked. But I'm glad we got rid of him and I'm glad Beth is free of him, Ooh treats.
Angela: He dropped his treat into my purse, he tried to bury his feet but then he couldn't get back.
Kelly: Oh.
Angela: He was barking at my Michael Kors purse.
Kelly: What an attention seeker.
Angela: Yeah.
Kelly: I definitely did not see it coming though with like the actual solving of the crime of like where things were going. And I think it's because I kept thinking about all this stuff that we had learned about like, well we didn't really learn, but just like the mention of like the family dying in the fire on the island and I just, I kept thinking like, oh, like what is it going to tie into that? Like, I didn't know where it was going to go and so when they started like investigating his past, the minute they mentioned, oh yeah Renee said five years and you've never been to his place the minute they mentioned that and then also the fact that his books didn't have a picture of him in the books. I was like oh, something's shady like he's not writing these books; he's taking something, like I knew that he was stealing, like because if he's done it once from his girlfriend of five years, she will do it again.
Angela: I have to admit, I love how I'm trying to flip through my notebook to find where it, because that was my little going back to piece together, the clues that she integrated. I didn't really think much of it at the time when he didn't have the book blurb. It wasn't until later I'm like, oh, that makes sense now; whereas before you get that, before they go and investigate and find out about everything else that was supposed to be that little clue of that little nugget, that's going to grow into the everything else. I have to admit the one problem when it came to the five-year relationship that probably either shows Beth's lack of agency or just his complete manipulation control was he doesn't have a family. So how did he explain, not spending Christmas with her, not spending the birthday with her? How did he explain? Not having [inaudible51:27].
Kelly: She doesn't even get to go to his house like I didn't really understand, five years and she's never been in his house. Like that is red flag number seven, twelve and eighty seven, like I mean that is all the red flags right there.
Angela: I don't know what to do with that because I'm kind of going, it wasn't really addressed. I mean, there wasn't a, oh, his go-to of, I'm working in the creative process and they transferred me, there was never any explanation of that. And so I was kind of curious how he accounted for the loss of time, because you think your significant other you're going to spend Christmas Eve or Christmas day or any of the other major holidays with them.
Kelly: Yeah, Regina said, I felt like she really didn't resolve the plagiarism. I mean, that's totally true because when we find out Sydney isn't Sydney and real Sydney is dead, but we've never actually met real Sydney. I'm like okay, well that to me means like his book is probably not going come out. Like, just because like the author and the like editor attached to it are now gone, like I would assume that means the book would be shelved but I don't know.
Angela: I actually have questions about fake Sydney, that's actually how I wrote about in my notes too. I actually wrote that in my notes, fake Sydney because I didn't know what to call her at a certain point, because this might have been, when I was doing the reread portion of this, it is sort of a diehard 2 when you realize, why didn't they just go to a different airport? Hold on, like you can't really talk too much about it when you do the little threads fall, but there was no reason for her to attend to be Sydney because no one in town knew Sydney, so she could use whatever name she wanted; so why did she even pretend to be Sydney? What was the point in all of that?
Kelly: I don't know, because like I assumed it was just like her trying to like get in touch, because she kept saying like, oh he won't come meet with me, like he won't come see me and I'm like, is she trying to just like tell him that she's there as Sydney and like expecting that he will come meet her. I don't know because that was the same question. I see a few people have had that question too is just sort of like, why masquerade as Sydney, when you could just be like this stranger staying in town, like who cares?
Angela: I was kind of confused about that because we also, again this was probably a very nitpicky thing, but we never actually find out how she killed him, how did she get to the island? How did she get away from the island? Was she on the island when the police were there? I mean did they not notice her? I mean I wasn't entirely sure how that played out, because..
Kelly: Me neither.
Angela: Maybe this is going to come up in book two, maybe this is just me being overly analytical because that's what I do. But her entire sort of, as soon as you start pulling at it, it's like the knitting you're going okay I'm pulling this and we're losing the road.
Kelly: Whoa way to connect back to the story with knitting. No, I'm with you though because like there's like the brief mention that like his boat isn't parked where it's usually parked the night. The night before, they find his body and so I'm like okay, did she kill him that night? Because that's the other thing is like the cops, there's like the one useless police officer and then there's the female police officer who kind of like disappears after a while and then there's the detective from the state that is like actually doing work, but also never tells anybody anything useful. Like they they're like, oh did he you know, the time of death he's like, yeah and it's like, okay. So like we never get to find out, like if he died the night before, if he died moments before they arrived on the island, you're right it isn't very interesting that it's like, in some ways I love this book because it ties up a lot of things, but also there's all these things put into motion, which everybody thankfully has told me happen in future books. However, I don't think they're going to come back to this particular murder in future books; so I'm just like, do we ever get the answers to these questions?
Angela: I think the only, I don't want to call it a saving grace, but I think the one bright spot is the fact that these are very, I don't want to call them nitpicky, but they're minor things in comparison to the motivation. Everyone, the means, motive, I mean, she has all the big marks; so I think that's the main thing.
Kelly: I want juicy details.
Angela: That's the thing like when you love something you want all of the stuff, right? I think that's actually saying how good the book is because we're going, but I want more, I want more that's exactly what good writing supposed to do. It's supposed to make you want more because if you're going I want less, that's the problem.
Kelly: Yes very true, I will say, I think my only complaint other than all of these questions that we will probably never know the answer to is that when I read a book, whether it's a cozier or romance, because I feel like those are like the two things I read the most. If it takes place in a bakery, in a park, in a library, whatever it is that like the character is like that is like their world. I usually want to see them use the skills that they use in that world to solve the crime. And I feel like that wasn't done to its full potential like, I mean it's because I'm like, she's a librarian like she is all about research and organization and books. And so I was like, is there no way for her to incorporate these things into solving the crime? Like, and maybe that'll come in future books I mean, but I just, I don't know. I kind of, instead of her asking all these people like Milton or Sully, about things that like they can find out the information I wanted to find, and she does go find out more. Yeah, exactly like Stephanie said, she does leave to go find out things but I was like, I wish there was like a way to incorporate her using the library more into solving the crime.
Angela: I was like English Oxford Dictionary did come in handy.
Kelly: Yes and actually I made a note of it, I was like, you know what? She knows all the things about everybody and like what they like to read and at the end I do think the Oxford English dictionary is like the one thing that really does tie in to the world of the library and it's a great call back to earlier when they mentioned getting rid of the Oxford English dictionary is like a joke. I'm like oh, well now they can never get rid of it like hello.
Angela: [inaudible58:24] around having wrench in something and then bringing it back home, that was great. I think the, for me the skill with her is this is my perspective with this because when I go to libraries, again I write in my books. I mean, if I pull those books out, there's a post, there is going to be the highlights, I don't really use libraries for the books. I would use them for the community element and I feel like that's kind of what happened in this book rather than using her librarian, you know knowing this sort of tactical thing, when it comes to reference materials, she used the library community as her sort of network, so that's kind of fair [inaudible59:00].
Kelly: Yes that's fair; I do like Elle mentioned he probably would have known how to check property records for the owner of the island for example. That's exactly what I mean is like, and that's what I thought of too was I was like, there's got to be like records, right? Like there has like about this town, this small town, they have to have like public records or like history of our town or something, you know like..
Angela: Who owns, what house is public record? My whole writer versus reader perspective, a writer goes like no, this is public record, but a reader is like hey, we just got to have an I dream of Jeannie reference in here; so I [inaudible59:41].
Kelly: That's right, see and that I was like, I love this lady that's you know, in the assistant care facility, I'm just like I would love to see her in more things but I don't know maybe she owns the other island, she owns like another island or something and somebody else will die on that island, I don't know I just I do. I want to see these characters get more of their own stories in future books. Like I mean, we have violet, who is like retired actress; I'm like, you better believe there has to be a book at the theater, like if there's not a community theater production,
Angela: I looked up the book worms, that's one of them and she's staging a production.
Kelly: Thank God.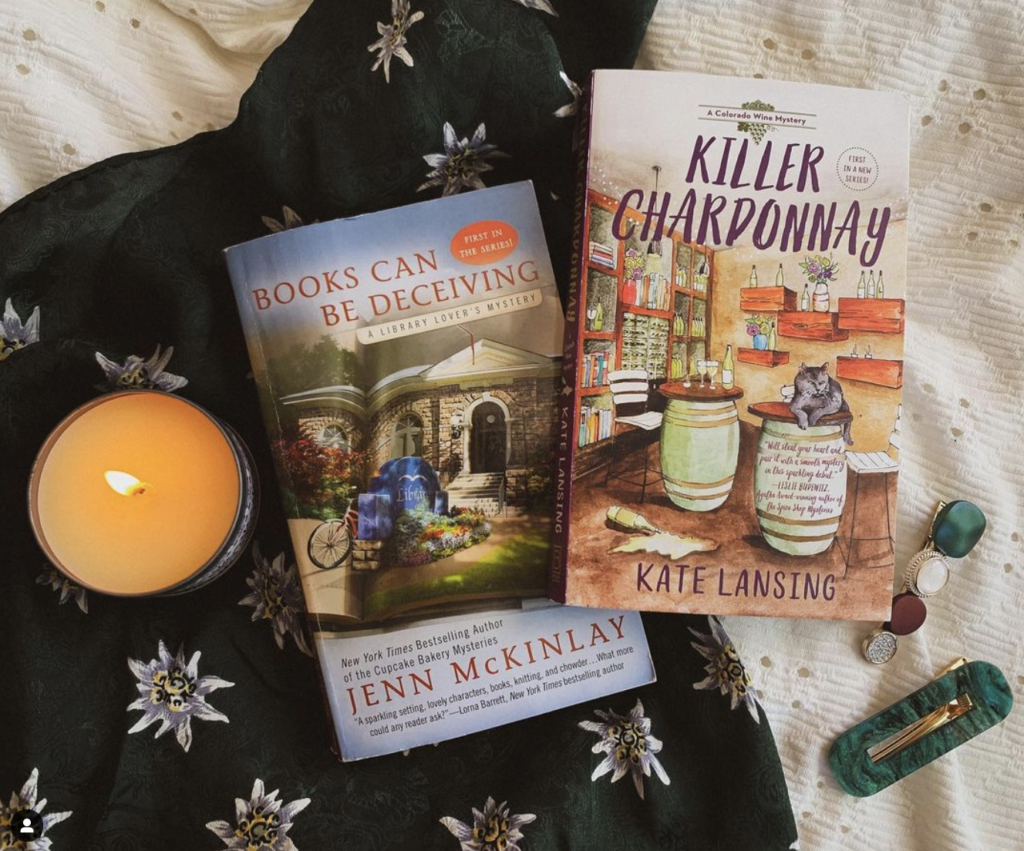 Angela: That's one of them and another one apparently is set; it has to do with the library itself being a character. I didn't read the [inaudible01:00:53] okay. I don't want to spoil it, but someone mentioned in the book I think, because it shows who your friends are and let their reviews are and I didn't, I scrolled a little bit too far and someone, I just thought like the first couple of sentences and so I went no I don't want to read anymore. At the library was setting, comes back around and I was really glad she did that because one of my notes, you got to love how I have my highlight. It's like, it just says library it's just [inaudible01:01:02], I was writing down the setting that description, because it sounds so cozy. I wanted the library to be described more so I loved that the [inaudible01:01:13] utilized more in future books, so again..
Kelly: And also this is a huge library for such a small town like they mentioned that there is a children's desk, a circulation desk, a reference desk and I'm like, this is the largest like place in the entire town is the library.
Angela: I was very intrigued by this because I don't mean this to sound bad, but they had a very large staff for a small town library with all the part-time employees and volunteers and having multiple directors.
Kelly: There were so many people that worked there. I was just like is this like the only this in the restaurant? Are they the only businesses that make money like in this, in this town? And it's a library, it's not like it's making money, like it just feels so happy.
Angela: Well [inaudible01:02:05] coming to them we know that.
Kelly: Yes, that's true and then I mean obviously I love the Crafternoon things so I'm worried, like maybe there's like a Crafternoon murder and then she mentioned like, there potentially being like a garden club coming in; so I'm like okay that could be a book. We could have like a garden club murder which by the way, on the topic of garden club murders, if people here are not watching why women kill? I think that's what it's called on paramount plus you need to, oh my gosh it's so good. There's two seasons, they are completely separate, they have nothing to do with each other, but the second one…
Angela: I thought you were going to say the flower shot mysteries with Brooke Shields.
Kelly: No, the only reason I mentioned is that the second season is all about this woman who's dream is to join this elite garden club and it takes place in like the forties or fifties. But oh my God it's so good, both seasons, so good.
Angela: I mean I have to admit too with the library, it's not just large and has a lot of people who has any employment it's very well stocked. And the children's area that three did it, I had to write it down. They have the parrot that they can teach like phrases to, they have the Palm trees, then they have the couches that look like sand dunes. They have the pirate treasure chest, and then they have the blue carpet that they had redone, they have all these elements in the library. So I don't know what the taxes are, but a lot of money is being allocated at the library.
Kelly: It is all going to a library, like any money in this town is going to the library because we know it's not going to staffing the police department. There are two police officers and one of them is completely incompetent and so I'm just like, I don't know, you know what there should be another book too, where it has something to do with like the water taxi or like the ferry system. Because I was really into like all the guys who work with the boats; I was like ooh, I want more on that.
Angela: I mean, the more Sully the better, I'm all for some more Sully..
Kelly: Oh my gosh, there need to be more like young, hot sea captains in general. But I need them more in books, because that's what I do with most of my time. But between this one and the Tessa Bailey book, I'm like, I've had an overload of hunky sea captains in the past month and I'm just like, where are they? Where are they? Like I'm clearly in the wrong, I'm not by the ocean that's why, but…
Angela: I have to write it down because he just sounds too good to be true, so we have captain Sully, who's a former Navy; he was in the Navy, he was simple, a square jaw, mahogany curls, blue eyes and he's tall with broad shoulders and he's, well-read.
Kelly: He probably wears like a beanie, off the back of his head, not too far back like a hipster, but like enough to see some of his curls like peeking out, I can see it.
Angela: I mean, and he's also kind and thoughtful and makes the best hot chocolate.
Kelly: Yeah, which I was reading the recipe because I was like, what makes us hot chocolate so good. Like what is so different about this hot chocolate? So I'm going to have to make his hot chocolate and see like how it measures up to like other hot chocolate.
Angela: I mean when it comes to hot chocolate, I'm just usually a packet person, so this is just effort. [inaudible01:05:53] actually making hot chocolate, so the fact that he put in the effort is also very telling to me.
Kelly: That is the sexiest thing; let me tell you as a single woman, the sexiest thing is a smidge of effort on their behalf. Literally, that's all I'm looking for, I don't care if you have a great job, I don't care if you own a house, I just want a smidge of effort; I feel like it's not too much to ask, but apparently it is.
Angela: I love how it's one of those when it comes to again with the whole single woman idea, Lindsay is smart, she is capable, she has her own job. She doesn't need someone to support her and thank you, hello we are living in a certain day and age year. And so, it is very much about his personality and who he is, if you want to trying to marry up, trying to establish whatever. So I love the fact that she is placing emphasis on the characterizations.
Kelly: I'm a fan, like I said; I am definitely interested in reading more in this series. So if people want to do it, if people want a buddy read, like I'm here for it.
Angela: It's funny too, because I think someone had mentioned or asked about how does this work? Because you guys read the first book in the series and so we had done a couple of follow ups with live streams, but I can probably figure something out in regards to doing a buddy read hash tag or something. So I mean, I'm all for it if you guys want to do a buddy read, I mean, there are more books in the series it is rather large; so I would have to figure out the timing of it, but I am all for trying to figure something out if you would like me to.
Kelly: We'll just do one a month for the next year.
Angela: I was going to say so the second Tuesday of the month is officially cozy corner chat night where you get to ask your favorite cozy authors, all of your questions. So, I've been trying to do things across platforms so no matter what you utilize, if you can't watch any YouTube live, but you can do this, I'm trying to spread things across. So in my head, I'm trying to figure out is there a way to utilize Instagram and make that the third Tuesday of the month? I'll have to brainstorm and figure something out for you all.
Kelly: What's one more Tuesday, right?
Angela: Or at least come up with a hash tag or something in regards, so you guys can post a class on Instagram and Twitter and we can all follow the same thread; I can work on it, I can do that.
Kelly: I'm game, I'm definitely game.
Angela: I mean, I will also have to have a hamster detective for you all because you know as a homage to Beth.
Kelly: That sound like a cute book too, I would totally buy that book for like a friend's kid, I liked the idea of that book.
Angela: Again, I don't tell you all everything I'm working on as I'm working on it. There's a lot on the back, going on behind the scenes that I reveal. So Casey, our latest addition to the sleuthing family, I don't know if you saw him, but he is on Twitter, we now have a slew thing penguin dressed as Sherlock Holmes and he's named Casey. So technically my mom kind of named him because I was going to have another vote off; this is a total tangent off of the book, but this pertains to the book club. So you all created the names perlock for our mascot and you guys named it, Moriartea, tea moriartea, the logo.
Kelly: Which both are ridiculously clever, so kudos to anybody who came up with those names.
Angela: I mean, I was so impressed because with perlock, what I did was I put up the four ones that were most repeated or most commented on and then did a vote off with the Twitter. And then when it came to Moriartea, it was a little more organized, so I kind of did the brackets and so I kept watching that one go the different rounds. [ [inaudible01:09:44], he's going to make that name is going to make it to the end one I was so happy; because otherwise I was going to be like, I'm going to create something else because we are going to need this name. I loved it, I was going to do the same thing with Casey, but my mom was so excited and she goes, oh you should name him Casey, oh you solved the case and I'm kind of going, I feel as if by naming Casey it's paying sort of respect to all of our friends and family who support us and our side. I kind of thought that was more of an inspiration for what he would represent in the sleuthing family because people will buy us books or give us gift cards or leave us alone for hours to go read. So our little, you know thank you to our friends and family for supporting us in our cozy community [inaudible01:10:23].
Kelly: Well see if my mom watches this, she's going to get mad then at me because she's going to be like, listen to Angela doing all these nice things for her mom and letting her name stuff Kelly, what are you doing for me with boobies and newbies? And I'll say mom, you are the one who turned me on to reading romance in the first place, so just the idea of Boobies the Newbies is tied to you.
Angela: Oh, that's so sweet.
Kelly: Not quite the same, I don't have cute characters named after her, but…
Angela: Well, it's so funny though, because when I mentioned it, she just got really excited and came out with it and she got so happy with it. I'm going, I have to use this and I just loved the idea of kind of having a character named in honor of the friends and family who let us be who we are. There is something to people leaving us alone to read or leaving us to go do what we want to do with our bookish world. So I kind of think it's more of a, we are adding something to pay credit to them so that we can see. But again, there is another detective animal that I have been working with another artist on and again, I have a list of things that I'm working on and doing. And I had this moment of oh, thank God, I didn't choose the hamster, because I had a hamster on my list.
Kelly: Oh my God, how funny.
Angela: I had a hamster, it was one of my favorite animals.
Kelly: I like the penguin, I like the penguin and if there's a hamster someday great, if not….
Angela: Well if we can do the hamster it's going to have to be an honor of our buddy read for this book. So it's going to have to do exactly with this. So now if there is a hamster detective it's for this and there's a reason, but I have another animal in addition to our penguin, I don't know if you guys want me to tell you what kind of animal or not, but I had a list of animals and I was slowly weeding them down and there's additional ones after this next edition. And so there is a hamster on the list and I'm so glad I didn't have it randomly.
Kelly: Oh my goodness.
Angela: Because I felt so bad thinking I'm stepping on toes, someone had this idea. So I'm just very glad that I did not do the hamster and that timing wise.
Kelly: I think you made the right choice because Casey is very cute also we're coming up on the holiday season. Penguins are like super, not holidayish but cold; so I associate cold and thus penguins with holidays, I don't know.
Angela: I don't know, I pictured it as a penguin, but for some reason I cannot explain, I pictured a penguin for cozy corner chats. I don't know why, but I kept thinking of a penguin detective, I don't know why.
Kelly: People want to know though in the chat they want to know about the other animal.
Angela: So technically I don't know if there's a screen share that it is an Otter. He looks really cute, it's an Otter.
Kelly: That is very cute, I have a special attachment to otters because my uncle who was basically like my nanny growing up would sing me the song he made up about Herbie, the sea Otter and then I had a stuffed animal that was a Sea Otter. So that became like Herbie the sea Otter, and so we send each other like Herbie gifts not Herbie, Sea Otter gifts and everything. But yeah, anytime I think of sea otters, I think of my uncle Chris and Herbie, the Sea Otter.
Angela: I just kept thinking how otters tend to make people smile and that's what cozy mysteries do. I have my list of animals and it's so funny that we're talking about this. Because I literally hand wrote a list of animals and I Goggled, you know list of animals, animals [inaudible01:14:13] I mean, I even went through like different types of horses, different types of bears; I mean, I really got into this. When I tell you all I do research for you. I am not kidding, I really go, I deep dive, the librarian kind of components you know, this is why I relate to them, but I have my list. There's the bunny on it, I have the, what is it, there's the Hamster, there's the Guinea Pig, there was a Porcupine, I mean I was making the look.
Kelly: I love Porcupines, so I will say you know what, I'm not usually somebody who watches like cute videos of animals probably just because I'm dead inside. But the one that I've been watching videos of lately are baby hippos.
Kelly: I don't even know if the hippo made the list, but that's really cute.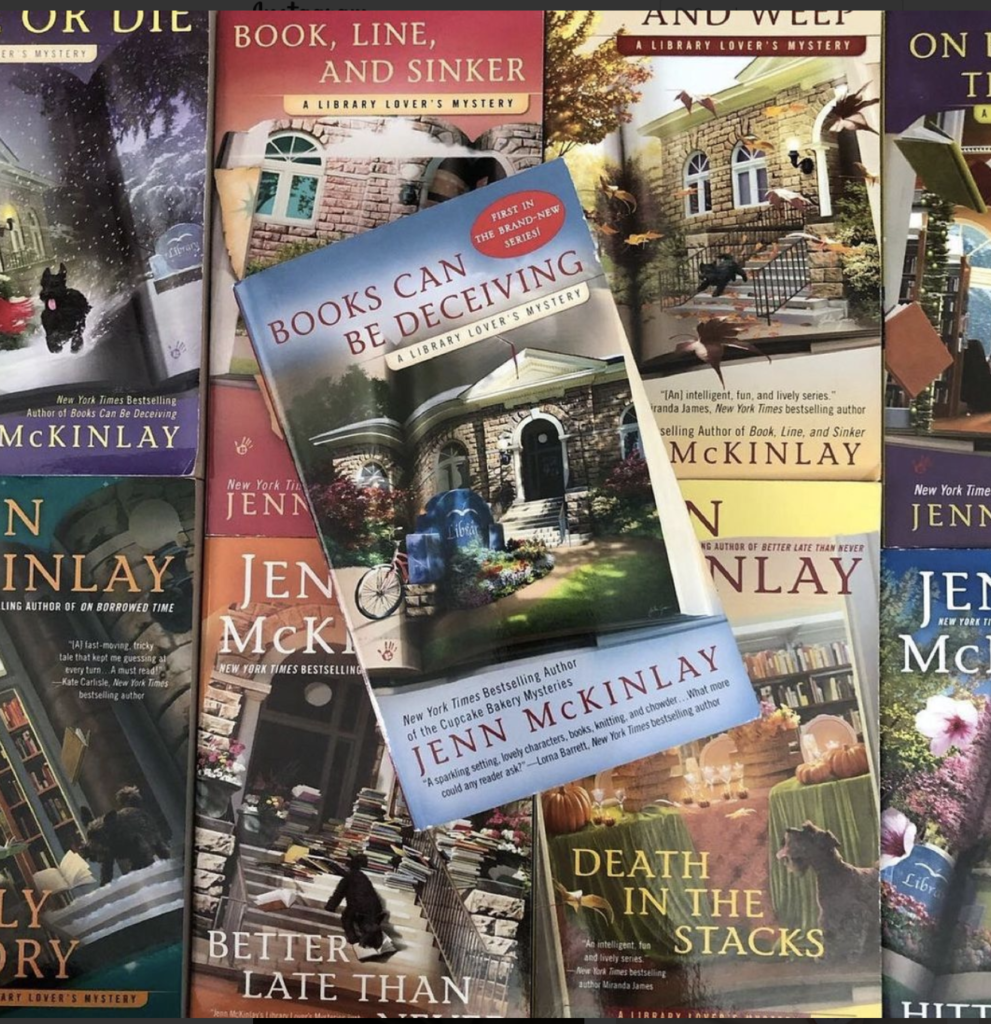 Angela: They're so cute and I mean, yes, I know in real life hippos will like take your head off, but at the same time they are so cute.
Kelly: I might have add that to the list baby hippo, because I know I had the list of things and I just thought the Otter because that's the animal that people always go, oh that's so cute.
Kelly: It's cute, yeah very cute, no I agree.
Angela: Can I [inaudible01:15:18], I put this sloth for my classically cozy conversation. So we have a detective sloth. We have max, in my own little head, I know when it comes to cozy companions, it's usually the cat and the dog. So I have the secondary Twitter account celebrating cozy and max he's dressed up as Sherlock, so we have the dog for celebrating and then we have the cat perlock for the book club. So we have our cat and dog; I made sure I was very particular with that so we will soon be getting animal kingdom.
Kelly: It's almost like you are creating your own cozy mystery menagerie.
Angela: Because if she wasn't fictional, we would be friends.
Kelly: Yes, no for real, I feel like I've also like shared all my notes that I have for this book. So I mean, if you have anything else hit me but I just overall really liked it and she better get together with Sully, otherwise I'm going to be very, very sad and I hope there's more hot naked art teacher in the future.
Angela: I mean, so I'm just trying to figure out where I want to start with the notes. So I just want to mention, I thought that Lindsay having her academic studious side come out when she was upset about her knitting, I thought that was an adorable detail.
Kelly: That was fun.
Angela: And the part that I appreciated was that it wasn't just a quirk; it was something they all knew. So I think that was what really tied it and made it important and gave it that sort of fun component. Because same thing, when she went to visit our, I forget her name off the top of my head, but the woman living with the dementia in the assisted facilities home, when she went and visited her and she came home, the Crafternoon ladies are all freaking out. Where have you been? What's going on? I loved that she was a part of their group and they cared about her and they knew her. And I like them knowing that quirk shows that it's not just a matter of, we just hang out together, they know her and for some reason that just really kind of gave me the warm, fuzzy feeling that they knew that.
Kelly: It pretty much a profound family story, like I mean, and that's not to say that they don't each have their own families like outside of this group, but like this town is very much like a found family. Like the whole Crafternoon group really cares about each other and Nancy is like a mom to her. I love Nancy's son too, who like plays like the rock music, but only on Saturdays or whatever, like he is willing to like, he's not a bad kid either. Like he's very good to them and so yeah very much a found family story, which I love seeing different family dynamics in stories because I don't only idle, I don't get.
Angela: [inaudible01:17:57]
Kelly: Yeah and so we don't have that experience of having like the sibling relationships and so I love to see when that is explored.
Angela: I have to admit too with when you mentioned Charlie; I love the fact that A she called him, because she knew the police would not be able to help her.
Kelly: Yes, smart.
Angela: But I love the fact that he actually answered the phone and he, didn't just hang up like oh, I don't know who this is, I can't figure this out. He got up, he tried to help, he ran after, he confronted the person. He wasn't just standing by he actually tried to help her and protect her. And when she didn't want to go to the police, he wanted her to go to the police, he wanted to have her back, but he respected her wishes too. So I'm going I'm on your side Charlie I like you, you cannot be a victim.
Kelly: I liked, I mean we have said it, but I would really enjoy the characters, they felt real, they were very respectful except for like the three mean people, two of whom died anyway. So I'm just like, I'm here for, I feel like this is going to be a very like Cabot Cove kind of series where it's like instead of killing off people who live in the town, they're going to bring in like outsiders from like outside of town and like they are going to die. Because everybody we have met so far is wonderful and I don't want them to die.
Angela: I wrote down, so again this is me I love Jane Austin. This woman jumped out at me from the beginning, her dog was Mr. Bingley, I thought this woman was adorable and I related to her so hard because she bought food for her dog and I do that with Max sometimes because if he's not eating his dogs, then I'm like, fine. I'll buy you a hamburger and I don't even need a hamburger. And so this lady is bringing home food to the dog and I thought that was great; I'm like you please, you got to come back in another book, I got to meet Mr. Bingly.
Kelly: I highlighted it I was like, excellent choice.
Angela: I thought that was great I'm going, you need to come back I need to meet Mr. Bingley in person because he sounds adorable; her little rescue and Chihuahua and I also wrote down with Beth, I thought this was an adorable introduction, the first time we meet Beth, she's dressed up as a giant teacup, this is how we meet her.
Kelly: Yeah and it was amazing to me that she was not like the theater person in this book, like I was like, oh yeah, she must have a theater background. But no, she works with kids; I'm like, okay, like that's basically the same thing. So , she's adorable, what a great character introduction.
Angela: I think again, I have to give Jenna Kinley all the writing credit with this because as I'm looking down at the notes to you brought up Rick, the first time we meet him is in the restaurant and he's not exactly, you know, Mr. Respect, chivalry, whatever you want to call it, he's not exactly, you know, 10 out of 10 and I loved [inaudible01:20:45].
Kelly: Two out of 10, like he's a negative out of ten.
Angela: He wanted free food and Mary said no I'm gone; you rock Mary. But the first time we meet all these characters, I don't want to say first impressions are the best they're spot on. But every time she introduced a character, that was how the character portrayed and it stayed kind of consistent throughout the book. So the first time we met Beth she's the teacup, when I meet Ms. Lemon face there she's got that scowl. So every time someone was introduced, she did it in a way that was memorable and represented the character throughout the remainder of the narrative.
Kelly: Yes, that's what it was, because I know that this is something just from having been here with you before that we have talked about is that in cozy mysteries, we love that there's like a tribe of characters, but also there's usually a lot of characters and so the more you introduce these people, you can lose track of certain people and be like, who's that guy again, who's that person. And this was one where I was like, she gave each character such a memorable introduction and something that was so uniquely them that you were like, I can't mix up violet with Nancy. I can't mix up Charlie and Sully, because like they each had their very specific things about them and that's, that's hard to do. Like I think that's something that even just as a writer, I really appreciated and was like, ooh, this is something I can work on in my own work.
Angela: I was very impressed with the fact that every single character to me felt different and very developed, I was very impressed by that. I always look at good reads and some people said they reminded them of stock characters. I'm going, you're entitled to your opinion, but I didn't let it sway me because for me, I was impressed how we had Charlie, we knew he was the musician, we knew he had all the tattoos. We knew everyone's subscription and you remembered it. And again, I like the fact you didn't also overkill the Crafternoon group was small and it was manageable for you as the reader; sometimes people will give you oh, we had all this group, we have this and you're going, I cannot remember all these character names [inaudible01:22:57] they all have S names, why are you doing this?
Kelly: That is one of my biggest pet peeves is when everybody is named with like the same letter; I'm just like, why was this a choice? Why was this the choice? Like you could have picked any name in the world.
Angela: I'm not going to mention the title, but we had a book, it was Shiloh, Shannon and I can't remember the other name, Stacy and there was another S name in there and I'm going [inaudible01:23:26] the cousin, the woman in town, I couldn't remember the names; I just kept referring to them as their titles.
Kelly: Which is funny because at the beginning of this book, they are reading Rebecca and they're like, what's the name of the main character? And they're like all flipping through their books and I'm like, that's for sure me, like every time I do a podcast, every time I do an interview, I could have finished the book 20 minutes before we started recording and I guarantee, I will forget some of the characters names. So it is no dis whatsoever to the book or the author. It is just very much like such a real thing, I'm sure I'm not alone in this.
Angela: No, that's why when I say, you know I try and do my research. I try and read the book multiple times because I know, even though I am prepared and I get my notebook, I know I'm going to be going I can't remember the character's name, I can't remember that place so it might happens. Basically we all know that too, because sometimes we will just remember the feeling of a book or you remember the one character. So it has nothing to do with liking or not. But I actually really love the title of this book because it was one of those I realized it upon the reread; I'm going the book that he wrote was deceiving because it was Beth's work. And I'm going, this title is actually brilliant when you think about it in context, it's not just a fun little pun. It is actually reminiscent of what goes on in the plot; I thought that was so dull.
Kelly: Well, and books can be deceiving as opposed to like, looks can be deceiving. Ha, ha, ha, we love puns, but because also like, I mean with the photograph like between, you know, that she finds that has the real, what's her name, I already forgot Sylvie? I don't remember anymore.
Angela: I was just reading the comments; I was trying to catch up which one?
Kelly: The picture that Lindsey finds that ends up having a pic it's Rick, and then it's the two women and what are their names?
Angela: Astrid.
Kelly: Astrid and who is she pretending to be Sylvie?
Angela: Sydney?
Kelly: Sydney, oh God I was so close see its right there. But I mean, even the picture, she's like oh, this is what this is and this is who this is. And when she meets who we think is Sydney in real life and it's not, but we believe she is because she says her name is Sydney. Why would we not believe that? So, yeah, I think it definitely ties in because, and you know what I'm sure some people are like, well of course it ties in, but there are plenty of books that I have read where you are just like, why is this the name of this book? Like, did you just pick this name because it's cute, like it has nothing to do with the story.
Oh no, Angela froze again, third time's the charm. I'll give her a second, Astrid yeah. Part of me loves the name mastered and part of me is like, that's an evil name. Angela is frozen, deceiving all around yeah. If anybody has any questions or anything at this time or something that we haven't talked about that you wanted to bring up, I would say pop those in the chat and then when Angela comes back, we can like hit on those. But otherwise I know I have covered everything that I brought; but I did really enjoy this book, oh no she's gone it's just me now.
I'm sure she'll be back in a second, but yeah, we are still live okay cool. Well at this time I will say I'm so glad you are the person hosting today. Well, if people don't know me, I do host a podcast called boobies and newbies; I guess I should have said that earlier oh, Angela did. But I do a lot of hosting and interviewing and stuff regularly. So this isn't too far out of my wheelhouse, but if you want to hear me talk about romance, check out boobies and newbies I'm at, oh no it's over here wait, oh my God it's all turned around; I'm trying to point to this, there it is. I'm at boobies podcast on Instagram, Facebook, Twitter, all that jazz, there she is.
Angela: I don't know what happened, all of a sudden I got the spinning wheel and I'm going off.
Kelly: Spinning wheel of death, it's all good. I was just telling everybody, while you were gone, I was doing shameless self-promo where I said, come listen to boobies and newbies and if you like hearing conversations with authors, I do a lot of author interviews, both on the podcast and on Instagram, on IGlive.
Angela: I saw you have been doing those, I wanted to be able to join some of them but I always oh, I missed them or [inaudible01:28:19].
Kelly: There is a lot of good stuff too if anybody here is like a writer, just like nailing, sort of like the behind the scenes, like writing process, like it's really fun to talk to writers and just kind of see like what goes on in their heads. So yeah, I do have a YouTube channel, I barely use it, but it's there; I'm not as gifted with the on-camera as Angela is so it's [inaudible01:28:45].
Angela: I have listened to the podcast since the beginning, her podcast is hysterical. I was on, I was a guest during her Christmas extravaganza, which made me so happy, I was still honored to be a part of it. She does a great job with the podcast, so you have to listen to her new, like the Instagram videos you also have to check out the podcast.
Kelly: Yeah and go listen to the episode with Angela because it was a fun, it was a holidayish one. It was a pretty like PGish romance for the most part. So I mean, if people are like, I don't really want to hear anything that's like graphic or whatever, like it's a great episode to start with and we talk about all the cute holiday stuff.
Angela: I actually, I love how we're talking about this because I actually just bought one of the other books in the series, it was on sale. There was one of those 99 cent sort of sales going on; I get all the emails in the morning, hey, today's deal is this and I saw the Highlander in his kilt and I'm going, I recognize that book cover and I'm going oh, we got book two in the series, yes; so I have not on my TBR right now too.
Kelly: Yeah it's a cute one, it's a cute season oh, Colleen says love that episode, I'm glad yeah, it's a fun one. And I know when you do the 12, is it 12 days of cozies? And I do the twelve days of boobs mess and so December between the two of us is just way too much fun.
Angela: I have the best time at being this, I felt so honored. That was the very first podcast I've ever been on and so, you know, I get to give her the credit; so now no matter what I do, I can always say she was the first call. Which is awesome, I mean, usually I have been doing the cozy mystery book club enough where I feel comfortable with how life treating me, even though this technology, apparently tonight is not my friend, but I have been through enough where I know how this works, how to maneuver things, how I can now show comments and when it comes to new technology or doing something different, know I'm an anxious, nervous person, but I trust her so much when it came to doing a podcast audio, I trusted her to, leave the conversation to do the editing. I feel perfectly fine and confident putting my trust in her, I believe in Kelly and all of the things she does.
Kelly: I believe in you, I believe in us.
Angela: I feel so honored to be a on it and so I it was one of those, I had never done a podcast before I'm going, but I'm going to be doing something, I trust her. I'm fine with this, I was not nervous and usually I'm nervous about everything.
Kelly: I got you and somebody asks, what the 12 days of cozies is and I will tell you if you don't find out about it now you are going to hear a whole lot about it in the upcoming months, because it is quite the event. And there are so many giveaways, there are so many like fun books and author talks and like, oh my gosh, it's so much fun.
Angela: I have been working on it, I have actually been working on it since literally the last 12 days ago because I kid you not. I wanted to have all the content ready because I do the morning newsletters and I wanted to have unique content for every single day. So there's going to be adult coloring with pages, there's going to be word searches, I have been working some graphic designers and I was doing all this before I even said authors, you know hi, you want to sign up? So I had all these things already ready to go and so far there are our 15 cozy mystery authors. And I am so honored and happy to have a lot of people returning, I know she was here earlier, Jackie Layton, she's going to be one of the returning authors and Marta she, I think she's still here; I don't know if we lost her or not. I saw her pop up in the comments before, but she's going to be participating as well and there are so many great people. Winnie Archer, she's joining Melissa Bourban AKA, she's got the two names, Cynthia [inaudible01:32:26].
Kelly: Melissa Bourbon? What an amazing name like that's I mean..
Angela: That's her second name so right now I believe there are 15, but I'm always adding more. So basically every single day again, this is me trying to make sure that no matter what platform you do, no matter what capabilities, there's going be a giveaway for the email newsletter, a giveaway for Twitter, a giveaway for Instagram and so I'm trying to make sure that every base is covered. So in the morning there is going to be the email newsletter, then there's going to be the Twitter giveaway and this time around I'm offering Instagram live TVs. So cozy offers can pick the time during the day to go live and hold their own chat. But again, I will incorporate it and add it to the.. I have already been designing everything; I already have like a sort of layout that I want to use. So every going to have the time slots of what's happening so we have to [inaudible01:33:21].
Kelly: Oh my God, you're an organizing nerd like me I love it so much.
Angela: But the highlight is there is going to be the reading sprints every evening from five to eight, so they're going be increments of 20 minutes. I even worked out like the breakdown so that you got 20 minutes of reading, you can chat, you can post, you can go get a treat, you can stretch and then you pick right up on the half an hour mark. And then after that we have the evening author chats, so you can ask your favorite cozy authors, all sorts of Christmas and cozy questions. And I'm pulling up day one, right now, we have for the Twitter chat, we have Jackie Layton, Wendy Kendall and Alan Byron for the first night of 12 days cozy.
Kelly: Twelve days of fun festivities I mean, you make the 12 days of boobs mess sound like an amateur hour because it's nowhere near as fun as that. But I will say I do put out 12 episodes, 12 podcast episodes in December.
Angela: [inaudible01:34:17] I mean, this is just again for, for me when it comes to this, I just, I want to try and offer as much as I can, first of all, because I want to be able to, to, you know, do giveaways for everybody. I wish I could do everything for everyone all the time. For me, when I do something like this, the more giveaways, the more chances I can spread the joy, the more chances people have of winning so you can kind of spread that out too. And I always feel awful when someone's like, I'm not on Twitter, I'm not on that; so that's why I wanted to make sure that I have different platforms covered, so again, that's why I've been planning this since January.
Kelly: Yeah, I definitely don't do as much as Angela does for the 12 days of Boobs Mess, but I do do giveaways. I love sending mail. I love sending mail to people so yeah, if you're not following boobies newbies, come on over and it's all holiday romance that we'll be talking about in December and I'm not talking about just like Christmas. Like there's also, I think I have done at least one Hanukkah or like non Christmas romance every year for Boobs Mess; so I hope to keep that going, there's just not enough of them out there.
Angela: So for me, with the 12 days of cozies, what I did was I incorporated winter themed books.
Kelly: That is good.
Angela: I don't want to mispronounce his last name because he's so sweet [inaudible01:35:34]. So he has a [inaudible01:35:36] she is a skier. I included that I have for the Instagram challenges, one of them I'm going include the same one again, this year of a non-seasonal colored cozy mystery book cover. So you got the blues, right now I was looking at plum putting murder, because it has the blue book cover. Other covers Lauren Elliot, I believe she has a winter themed cozy so I was trying to think of other ways so that it's not specifically related to the holiday itself, but you could celebrate that's why I call it 12 days of cozy, the cozy Christmas extravaganza, but in my own head, like sometimes I will be like the cozy extravaganza in my head. That's how I call it yeah, so sometimes Christmas is in there times I just think of it as like a holiday sort of celebration,
Kelly: Some people don't want like the over explosion of holidays, my mother included who I saw pop into the chat at one point tonight. I do not know if she's still here, but this is a woman who doesn't want to listen to Christmas music until Christmas Eve. Like she, and see me, I'm like get of it all to me. I want the tinsel, I want the food, I want all of it and so but if you just like the winter and like the snow and like the cooler tones and hot chocolate, like I can see where that would be like really appealing for a lot of people, so I think that's cool that you do that.
Angela: Again I try and the it as inclusive as possible last year, I started trying to look into Hanukkah related cozies. I am having a little bit of trouble with that. So if anyone wants to write one, I'd appreciate it. Yes. I want to try and incorporate as much as I can because I want to again, I think of the cozy community as a place to just be happy and so if I can make people be happy, that is exactly I want do with this. It's just meant to be something fun. When I think again, that's why I did the Otter for this cozy corner chat. I want this to be positive, I think of things that want make you smile so [inaudible01:37:26].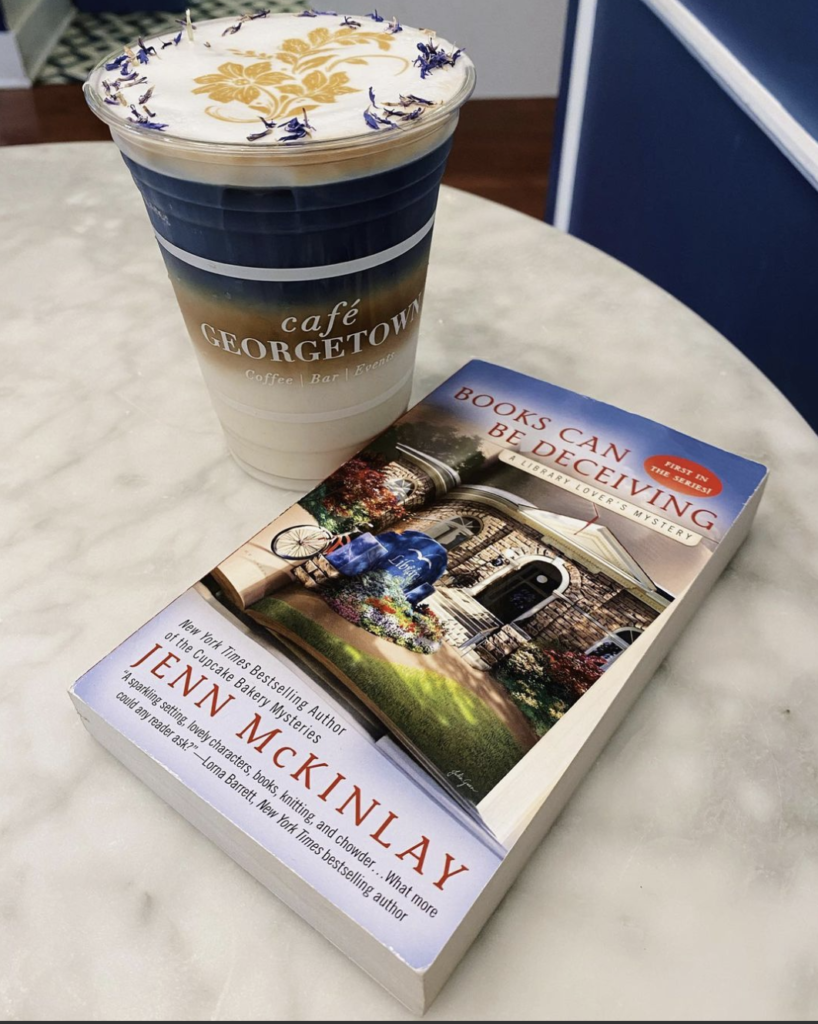 Kelly: I'm excited for the next like few months, like October through January are like my favorite months of the year for like all of the holidays and all of, I like colder weather, I like the hot drinks, I like sweaters. So I'm excited for all of that and I am loving all the picks of books for the upcoming months, so I'm super jazzed.
Angela: I am so happy to see people taking part in this book club. I posted the instant stories, with Instagram I never know how you want to call the terminology because there are the highlights, there's the IGlive, and I'm going. So I just wanted stories and recorded it and I was getting emotional going you guys made me so happy and they are all happy tears because you guys mean the world to me. I was just grabbing the cozy, you guys voted so for December we don't a live stream, November is going to be the last live stream of 2021 and that live stream is going to be "Death at the kitchen Table by Lee Hollis, food related for Thanksgiving. Again, I organize stuff I take your titles and I'm going here of all the food cozies here for the paranormals for Halloween.
Back to school ones for September and so I had the, I believe there was another winter read in the mix, but the Christmas one won, so this is going to be the buddy read and so I kind of thought in "Peppermint Perri" by Joy Avon. And so because its 12 days of cozies and everyone's traveling for the holiday season and obviously everyone has so much going on; I don't do the livestream. My birthday's January 1st, high five. So I know people are dealing with new years and everything else and so there's no livestream, but because there's 12 days of cozies, I don't feel too bad, I don't think you guys are missing out in December, but there's the buddy reads. You guys can talk about this on Twitter and Instagram and still enjoy some cozy; you know book club fun with that.
Kelly: Yay, I'm also going to check out this book that Marta just mentioned. She said Denise N. Wheatley is a black writer whose "Love at the Icicle Café" from Tool Publishing with a huge hit last year and she has another holiday romance coming out, that's awesome. I am for sure going to check that out because also I have done a lot of books from tool publishing for boobies and newbies before I love the books that they're publishing so yes give it to me.
Angela: You guys are I didn't mean to just start talking about 12 days of cozies, but I'm so glad you guys are excited and you are so welcome. I'm seeing the comments, I really enjoy doing this you know, I really look forward to working on the content and the book club has really become my positive place.
Kelly: Yes.
Angela: As sad as it is a lot of other readers.. my dissertation is on the romance genre fandom, so for me, romance has sort of become work and..
Kelly: I get it.
Angela: I have not had the most positive experience for dissertation. So the cozy community and cozy history reading has really become my safe place. So it is my absolute honor and I enjoy doing this, so you are welcome, it is my pleasure. So I really just hope you enjoy what I'm working on and doing for you, that's my hope though and it just makes you smile and brightens your day.
Kelly: It makes me smile.
Angela: I was just as I look down at the notes, I'm pretty sure we've covered a lot. I know this live stream has gone longer than like most of them.
Kelly: Well, that's what happens when you invite me, because I never shut up. We all know this, anybody who has seen me here before knows it.
Angela: I mean I love you, I love the conversations; sometimes you know you are looking at your notes, you are going okay, and we are going to talk about this. We're going to do this, but it's so much fun when it's just a free flowing conversation because it's not meant to be literary. Let's talk about point A and point B and let's do this, let us highlight this passage and take it apart that's not what we're doing, this is just meant to be fun and again, positive.
Kelly: We are going to complain about the ingredients of this character salad, that's what we do here.
Angela: I mean, that is part of what you responded to though, that's the whole point of book clubs What jumped out at you and if that's what jumped out at you, let's talk about it.
Kelly: And I've never made, I have never made clam chowder, but I will say I'm very tempted to give it a try after seeing the recipe. It looks simple; it looks simple enough for somebody like me. Who's not the best chef to take it on so if I do give it a try, I will absolutely tag you and then, well I will tag you if it goes well and then you can tell other people, if it doesn't go well I am never mentioning it ever again.
Angela: I love having smile on it, I am thinking for some reason, I thought that recipe sounded more simple than a hot chocolate one. I just wanted to throw that out there, I honestly thought that that one sounded simpler.
Kelly: Yeah but thanks everybody who has hung out tonight. I see people heading to bed and everything because I know it's later for other people, but I'm so thankful to be here again it's always fun to hang out with you guys.
Angela: You guys are the best, the only other random notes I had; had to do with the fact that I loved the pun, a sure thing with Bethany naming her house that is a sure thing", I thought that was cute and then I thought Ava, the waitress at the very beginning was going to come back around and be Rick's love interest or something like the ring on the finger. I thought she was going to be the other woman and because Beth and her had lost touch and he was not bringing Beth around. I was thinking she was going to be the other woman that was his ring. I thought that was going to be something, but we never saw her again. But I really thought Ava was going to come back around and be a part of Rick's back story.
Kelly: Maybe we will have a wedding in a future book, maybe we will get to see the 22 year old waitress get married, but I'm with you that was a thought that crossed my mind as well and I think it was kind of like the age gap that made me realize like oh, I don't think this is going to tie in, I don't know.
Angela: I have that down and then I had two other random, well they are kind of, well I love how capable the women were in this book. I loved that Emma was the best cop for the local hometown representation. She was the smart capable one, once we had detective Tremble come in and look at the case. But I saw in a book blurb that she becomes the Sheriff and I was so happy when I read that.
Kelly: Oh good.
Angela: I was so excited and I loved that she was the strong for email officer and she respected Lindsay. It was not, sometimes when it comes to cozy communities and cozy mysteries in general, with this they have the sluether and the police officer butting heads, but she was nice to her; there was this sort of camaraderie, but there was definitely a familiar element. And I appreciated the fact that it wasn't us them; and I just wanted to throw that out there. But I also thought it was interesting with the levels of cheating with this book, because again, the two out of the three here because of Rick, but we had Lindsay who was cheated on, we had Beth who had her creative work stolen and then we had fake Sydney, AKA Astrid who was cheated on and had her work stolen. And I thought that was really, really interesting to show the different ways that you could experience hurt in a relationship and how it would impact you. I mean again, I don't think Sydney's impact is normal I'm not going with that, but [inaudible01:44:46].
Kelly: And notice that all of the offenders are men like, so I mean it is, I would have maybe liked to have seen like a little variation in that just because I don't want the story to always be, men are the bad guys and women are great. But I will say the women in this book are painted in a very positive light for, for the most part and with the exception of Rick and the ex-husband or ex fiancée, all the men are actually painted in a pretty positive light too. So I don't know we will see moving forward, but you're right, there is a lot about cheating in this book in different ways.
Angela: I thought it was interesting because it shows the different elements of relationship and how you can hurt someone in a different way. I thought it was interesting in regards to having your work stolen and why your work was stolen because Beth was thinking maybe he was the artist who was having writer's block, but then it was a level of deception that was different and that caused more hurt than thinking of him that, so I just thought it was kind of interesting from that kind of psychological perspective, but I just randomly throw like those two notes in there because there was so much with…
Kelly: Oh no, Angela okay Angela's froze again and it's me. Let's see I feel like I should perform something for you at this point because I have gone through my notes.
Angela: Okay so I am just going to end up saying goodnight [inaudible01:46:30].
Kelly: This is our sign to call it a night, this is it.
Angela: I was going to say my only other notes were on the sheriff and so we do not need to talk about him because he is not positive. That was why I was put putting down.
Kelly: He sucks, period.
Angela: I was like we don't need to end the conversation on him, we don't, and we can just end on saying how brilliant of a writer Jen McKinley was.
Kelly: And we will read more books in this series, that's it, that is all anybody needs to know.
Angela: I will look into figuring out the buddy read, I saw someone mentioned, it said #sluethingtuesday. I thought that was really cute. So if that's available, so I'll do a little bit of research on that to make it happen. But if you guys want that, I will do it so I okay everyone seems interested that is all I needed to know.
Kelly: Yeah, sounds like fun to me and I will totally read more of these. So I am down even if it's just like three of us, I am there but thank you guys all for hanging out tonight, it's been super fun.
Angela: You guys are so amazing, I really am so honored that you guys are taking time out of your day to celebrate cozy mysteries with us to talk about books and just, I am so it blows me away that you read a book with us that was chosen and you take part in this and I am so honored as I get emotional. I think every single time I talk about how much I love you guys and [inaudible01:47:54], I start crying happy tears.
Kelly: Every book club ends with Angela crying.
Angela: Because I just, I appreciate you guys so much. I love that you comment and take part in the conversations, it's not just Kelly and I talking back and I love that you guys are posting your thoughts and responses and every single time every single time I go back to do the giveaways, because every comment translates to a giveaway entry and next month is we are reading classrooms or murder and tonight's book club giveaway is beauty expose our murder, which is the six book and the same series. I always get to read comments and see the things that I missed during the live stream and I'm always, it just touches my heart, it really does. So I look forward to going through the comments for the giveaway. So I am going be reading your comments again for the giveaway and I know I'm going to get all the feels you guys just mean the world to me. And I just want to give Kelly again, a shout out, subscribe to her podcast, check out those Instagram TV videos or live chats it has very interesting terminologies so I'm like do what you do on Instagram,
Kelly: I'm also having trouble like realizing because everything is like backwards for me on video. So I am like at boobies podcast, there it is.
Angela: She is also hysterical, I have noticed this with your Instagram; she's been posting her tweets and other tweets that she finds that are relevant to genres and reading and romance. So her Instagram's great, her Twitter's great just follow her across all the platforms because she's amazing.
Kelly: [inaudible01:49:25]
Angela: And I also want to give her the virtual hugs, because I am so apologetic that I had the in the internet issues tonight. Totally out of my hand, but she handles things like a pro so I am giving you all the shoutouts for not, you know for dealing with this in the most positive, sweet and entertaining way. So thank you for keeping your head through the little glitches; so more shoutouts and loved love to Kelly for that one.
Kelly: I feel like if the pandemic has taught us anything, we have all become a lot more patient and accepting of technical issues. So I will never judge anybody for having technical issues ever so from this point forward.
Angela: I got to love how it's during the live stream, the highlight of month and it happens during it, of course timing.
Kelly: Of course you handled like a pro it's all good, you came back, we did it and yeah, it was fun.
Angela: We talked about our book the month; so next month I am going to grab the book. Next month we will be talking about "Class Reunions of Murder" by Libby Lovett.
Kelly: Love it.
Angela: So please mark your calendars, the last Tuesday of the month is always book club night and the second Tuesday of the month is cozy corner chat night. I believe this time we have four cozy mystery authors for September and I will be announcing those tomorrow in the newsletter email. So be on the lookout for that, so September we have two more things coming up and it sound as if we might have a buddy read going as well for this series. So I am excited and thank you guys for joining, I love you guys so much. Please continue to stay safe and healthy during this time and happy reading and sleuthing guys are amazing.
---
This is also the book that inspired our buddy read! Please visit the Buddy Reads page for additional information!