WELCOME TO THE BOOK CLUB
Founded in 2017, The Cozy Mystery Book Club has developed a tried and true formula for selecting and reading cozies. In order to make it easy to join (at any point in time), we only read the first book in a series. Book one and only book one in series. In this way, no one is left out or confused having missed a previous read or livestream. Someone can miss one month and not miss a beat the next. And, as you probably guessed, we only read cozy mysteries 📖🔎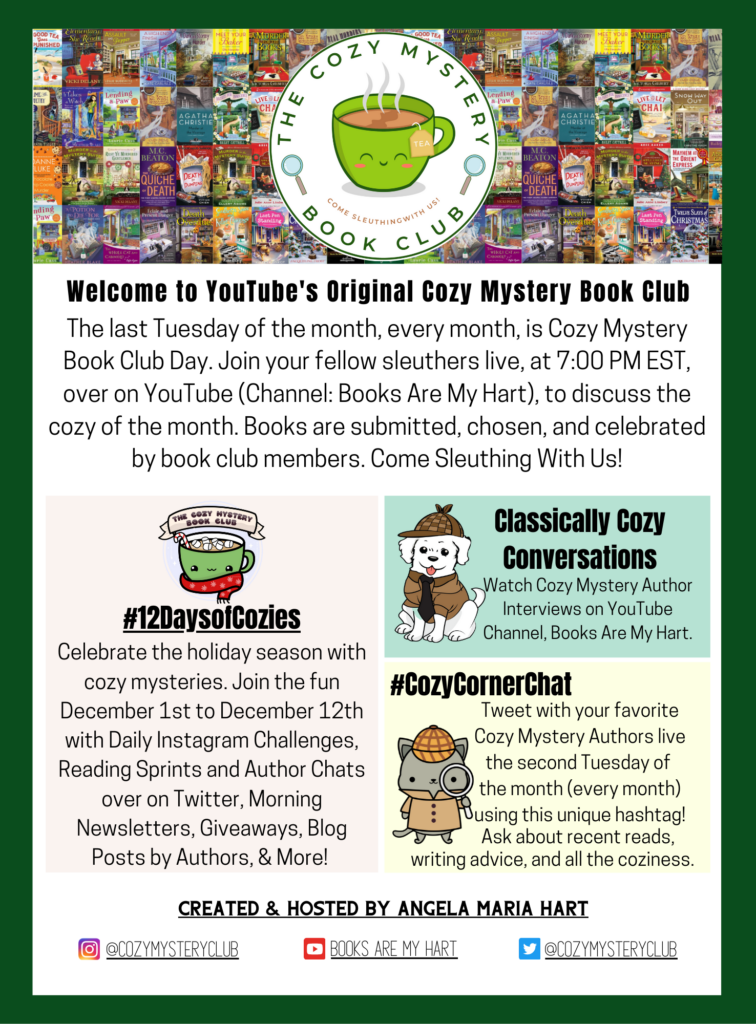 🔍 WHEN & WHERE 🔎
The last Tuesday of the month (every month) is always Cozy Mystery Book Club night: 7:00 PM EST over on YouTube channel, Books Are My Hart.
---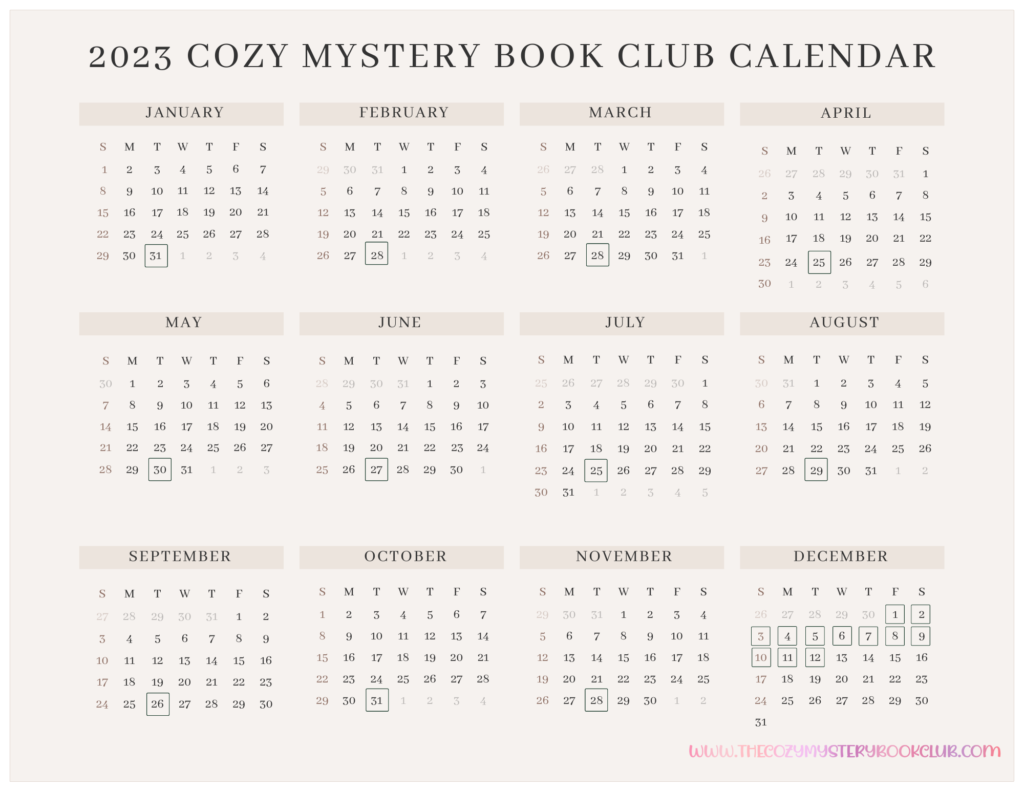 ---
Each month, creator and hostess, Angela Maria Hart will be joined by at least one guest host. She attempts to have a range of guests from book club members to popular cozy mystery authors. If a book club member is interested in guest hosting, let her know! To make things easy, Angela created a Google interest form for interested sleuthers to submit.
🔍 WHO 🔎
Angela and the guest host(s) of the month will discuss the cozy mystery and interact with the sleuthers live! Guest hosts will be given a private link with all sorts of livestream advice and how-to tips. They don't need any previous livestream experience, only a love of cozy mysteries.
During the evening, book club members are encouraged to comment during the YouTube livestream. The hosts will read and interact with the posts, answering questions and responding to comments. Book club members also comment back and forth with one another.
As an added bonus, there is a giveaway for each livestream. Once the video renders, Angela converts each comment to a giveaway entry. Then the winner is randomly selected.
🔍 EXTRA, EXTRA 🔎
Every so often, we **really** love a cozy mystery. If this is the case, an additional YouTube livestream or a Twitter buddy read may take place. Otherwise, it is always the first book in a cozy mystery series.
Cozy Corner Chat
The second Tuesday of the month, every month is #CozyCornerChat night over on Twitter. Sleuthers are given the opportunity to chat with cozy mystery authors live. If a sleuther can't join the event, they can submit their questions in advance. Angela will post the questions on their behalf and credit the person/account.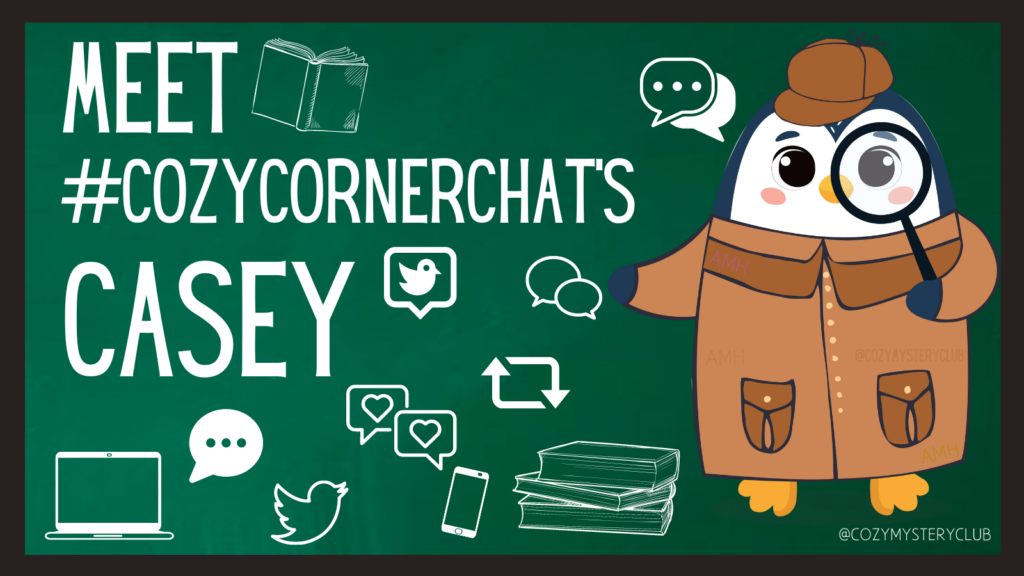 Featured cozy mystery authors will be live on Twitter (from 7:00 to 8:00 PM EST) to answer all the cozy questions. Sleuthers can ask about their writing lives, cozy mystery writing advice, upcoming releases, favorite characters, etc. This event is a great opportunity for readers to learn more about their favorite, and soon to be favorite, authors.
Also, if someone can't join the YouTube livestream that month, they have another chance to celebrate cozy mysteries with The Cozy Mystery Book Club and their fellow sleuthers.
12 Days of Cozies
December 1st to December 12th is 12 Days of Cozies. The Cozy Christmas Extravaganza that celebrates cozy mysteries across social media platforms with readers and writers alike. There is a morning email newsletter, Twitter & Instagram giveaway, nightly reading sprints on Twitter, Instagram photo challenges, Instagram story challenges, evening author chats, and lots more!
🔍 SELECTING THE BOOKS 🔎
The Cozy Mystery Book Club used to vote on the next book club read each and every month. In the middle of the month, Angela would take suggestions, narrow them down, and then have readers vote. By the time the livestream occurred, a brand new book was selected.
Now, we vote for four months at a time. This method has become more popular due to a reader's ability to plan ahead; for instance, sleuthers can request books at their local library weeks or months in advance and make a list for their future book hauls.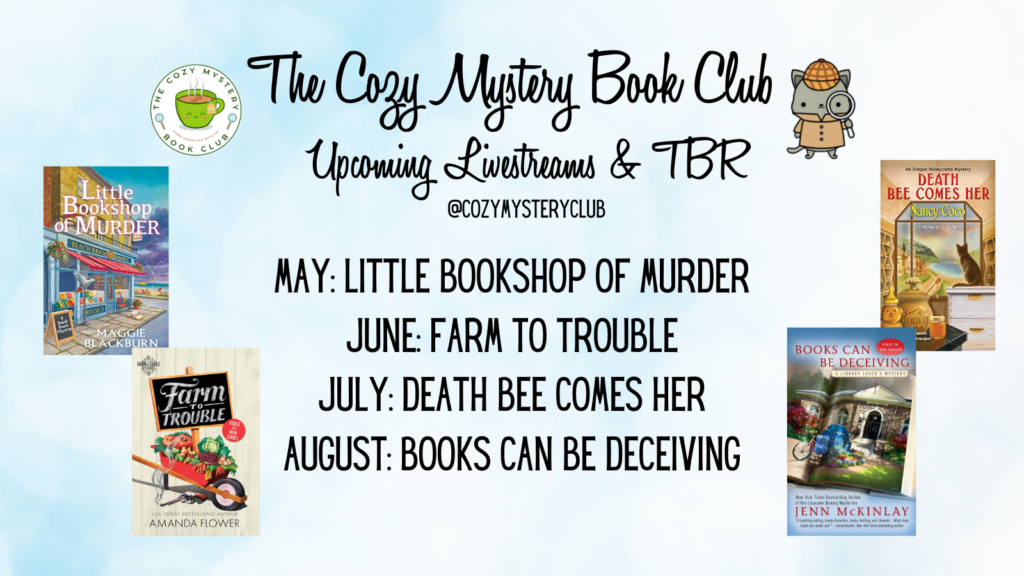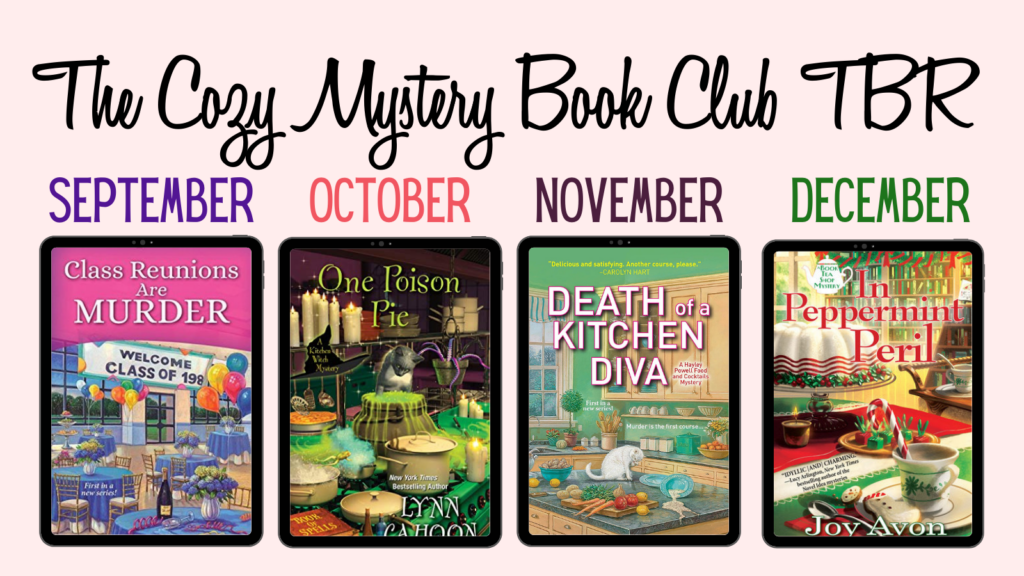 The cozy mysteries that are voted on are submitted and chosen by book club members. Authors, publishers, and creators can't request that their title be the book of the month. This is a book club for readers. Angela periodically asks for book club members to submit their recommendations across social media platforms. She will post tweets, Instagram posts, mention submissions at the end of YouTube livestreams, and via the monthly newsletter. This way, no matter the outlet, everyone can participate. Similarly, if a sleuther is not active on Instagram or Twitter, they should feel free to email ([email protected]). Angela then organizes the titles based on themes, holidays, and availability.
There are certain requirements for a book to be eligible for our yearly TBR voting; the title must be the first in a (cozy mystery) series, available across platforms (not just via one website/outlet and local libraries won't have any issues requesting the title), and readers can access the story as an ebook, paperback, and or audiobook.
The 2024 Cozy Mystery Book Club voting is being held via Google Forms. There are several reasons for this decision. Instagram is not anonymous. Creators can see who votes for what. While Angela won't judge someone's vote, this may be a deterring factor to some readers (knowing someone can see what they like or don't like). Furthermore, Instagram stories are only live for 24 hours, which is too limited of a time frame for substantive voting.
Twitter is free, completely anonymous, and polls can be live for 7 full days. However, more and more sleuthers are choosing not to use this platform. To honor their preferences and keep the rather unstable nature of the social media outlet in mind, Google Forms became the 2024 voting method. Regardless of platform, book club members can vote. The voting form url was shared the email newsletter first then shared via the Instagram bio, Twitter profile, and various other posts.
There are certain requirements for a book to be eligible for our TBR voting; the title must be the first in a series, available across platforms (not just via one website/outlet), readers can access the book as an ebook, paperback, or audiobook, and the novel must be a cozy mystery. The books must also be recommended by active book club members. Otherwise, I will promote additional cozy mysteries regardless of these livestream regulations in the feed/via photography.
---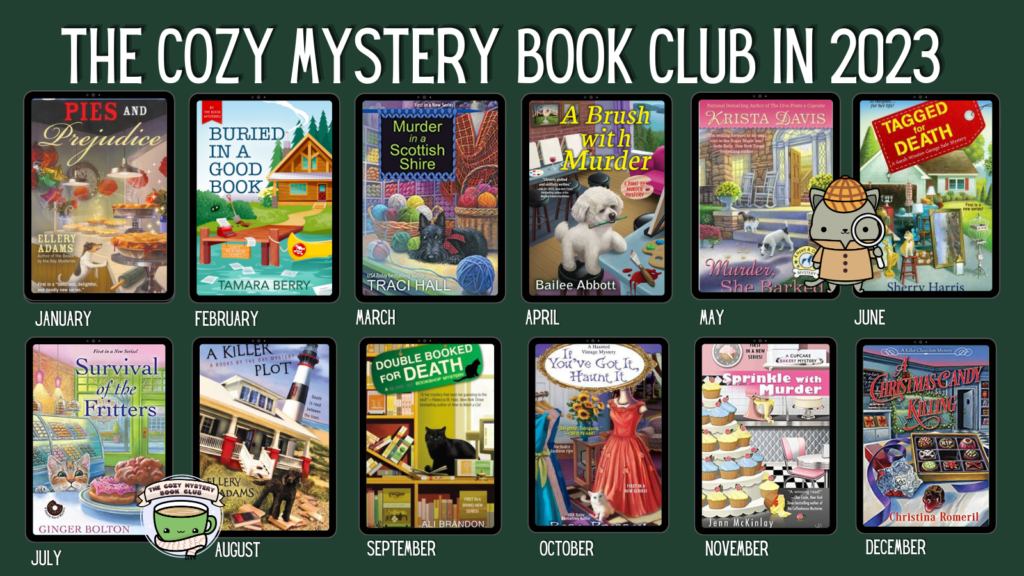 ---
HOW CAN I GET A SLEUTHER BOOKMARK?

There are a number of bookmarks that are exclusive to The Cozy Mystery Book Club. 1) You can take a photo of our monthly title to receive a bookmark as a thank you. 2) You can purchase the bookmarks via Etsy.
WHERE CAN I FIND THE NEXT BOOK CLUB READ?

The book club titles are selected well in advance so that readers can plan accordingly. Readers can find the TBR in a number of ways.

First and foremost, there is a running list of cozies under the heading "Books."

Twitter

Once a TBR is organized, a pinned tweet displays the yearly reads. Reminders will be posted throughout the months about upcoming and future livestream discussions. Angela shares photos taken by herself and book club members, the YouTube livestream link, as well as additional information to keep sleuthers up-to-date.

You can also find the current book club title in the Twitter bio.

Instagram

The main Instagram feed also displays the book club's TBR. Plus, the Instagram highlights feature future reads (with the upcoming book club titles as the highlight's name).

You can also find the current book club title in the Instagram bio.

YouTube

Readers can also hit the bell over on YouTube (channel, Books Are My Hart) to set reminders. Livestreams are scheduled in advance so that readers can save the URLs, bookmark the links, and or whatever else they do to get organized. The YouTube thumbnails, video titles, video captions, and dates are another method to access information.

Newsletter

Similarly, the monthly newsletter includes reminders, updates, and relevant links.
CAN I SKIP A MONTH AND STILL BE A PART OF THE BOOK CLUB?

Absolutely! Life happens. If you need to skip a month (or two…or more) you are still a part of The Cozy Mystery Book Club. Take part in the coziness however you can, whenever you can.
I CAN'T PARTICIPATE IN LIVESTREAMS. IS THERE ANOTHER WAY TO JOIN THE BOOK CLUB DISCUSSIONS?

Of course! We discuss cozy mysteries all month long on social media. Join the Twitter and Instagram fun any time you like! There is **always** something going on. You can also get the coziness sent right to your inbox with the monthly email newsletter.

Not everyone can join the event live. Sometimes sleuthers didn't have time to read the book or have a family event that night. Life happens. The YouTube livestreams are archived and left open to the public for future viewing. Also! The Cozy Mystery Book Club has several blind sleuthers. To help, Angela created The Cozy Mystery Book Club Podcast. Previous YouTube livestreams are archived as podcast episodes to spread the coziness in a different way. Furthermore, we also have several blind sleuthers in The Cozy Mystery Book Club. Transcripts of the livestreams can be found here online. This is a work in progress and transcripts are being uploaded upon completion.
I DON'T HAVE A TWITTER, HOW CAN I VOTE FOR THE TBR?

Send Angela a message (via Instagram or email [email protected]) with your selected title and she will vote for you via one of her personal accounts.
WHERE IS THE COZY MYSTERY BOOK CLUB LOCATED?

All of the events are held online. Angela (the creator and hostess) attends in-person book conferences and events. You may have the chance to meet her in person! Visit Angela's personal website (www.AngelaMariaHart.com) to read over her shared calendar.
I ALREADY READ ONE OF THE UPCOMING BOOK CLUB TITLES.

Good for you! I hope you enjoyed it! You can either read the book again, with the book club, or skip that month's discussion. The choice is yours.
WHAT IS THE NAME OF THE COZY MYSTERY BOOK CLUB'S MASCOT?
WHAT IS THE NAME OF THE COZY MYSTERY BOOK CLUB'S LOGO?
WHAT IS THE NAME OF THE PENGUIN COZY COMPANION FOR COZY CORNER CHATS?

Casey. (Get it? He's on the case 🤣)
HOW CAN MY COZY MYSTERY BECOME THE BOOK OF THE MONTH?

Each book club title is submitted by readers. Cozies can be recommended via Twitter or Instagram direct message or email. Once a title is submitted, Angela organizes them into categorizes for a future Twitter poll. Then sleuthers vote via Twitter. The winning title becomes an official TBR book.

* for a book to be considered, the title must be available via multiple outlets and platforms as well as available via print, audio, and ebook.
WHEN IS BOOK CLUB DAY?

The last Tuesday of the month, every month is Cozy Mystery Book Club day. We always have our livestreams that last Tuesday at 7:00 PM EST.
WHEN IS COZY MYSTERY DAY?

Agatha Christie's birthday! Cozy Mystery Day is September 15th.
DO YOU ONLY READ COZY MYSTERIES?

We may mention other genres during the livestream discussions. There will also be movie and TV references. However, we only read cozy mysteries for monthly discussions. After all, we are The Cozy Mystery Book Club!