by Tracy Donley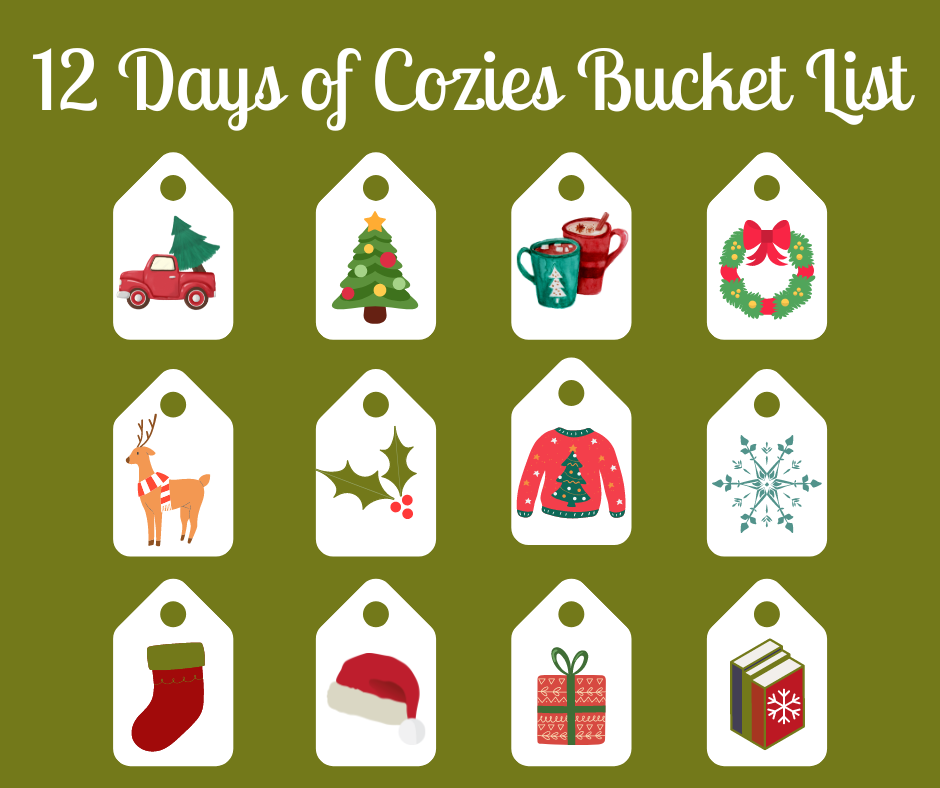 Here's your official 12 Days of Cozies Holiday Bucket List! Remember, you can customize this list—just be sure to fill your "bucket" with all the things that make you feel that holiday spirit!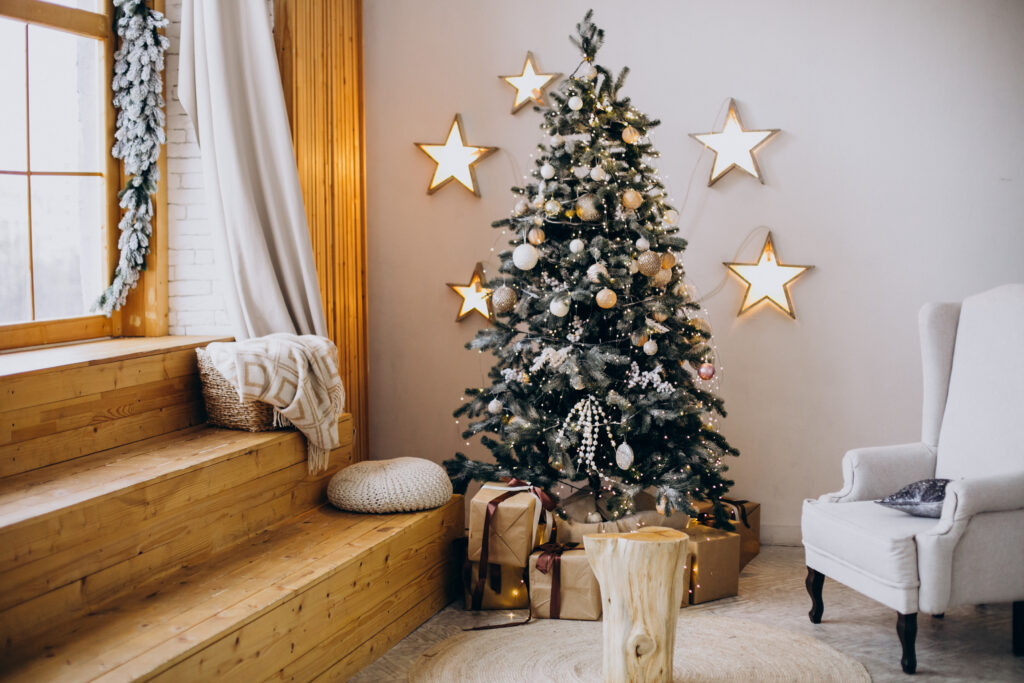 1. Visit a Christmas tree farm or lot. Breathe in that fresh piney goodness and take lots of pictures as you walk through the trees! Then go home, turn on the holiday music, and decorate your tree, whether it's tall or tiny—make it your own! Add lots of twinkling lights! Already got your tree? Why not add another small tree to your porch, bedroom, study, or desk? Or come up with fun new ways to display your favorite ornaments. Fill a bowl with them, string them on a pretty ribbon, nest them into the greenery on the mantle, or add them to a wreath.
2. Make a donation to a food bank or toy drive. Or look for a random act of kindness you can do to make someone's day. It could be anything from paying for the person behind you in the drive-through to baking cookies for neighbors. It feels good to do good!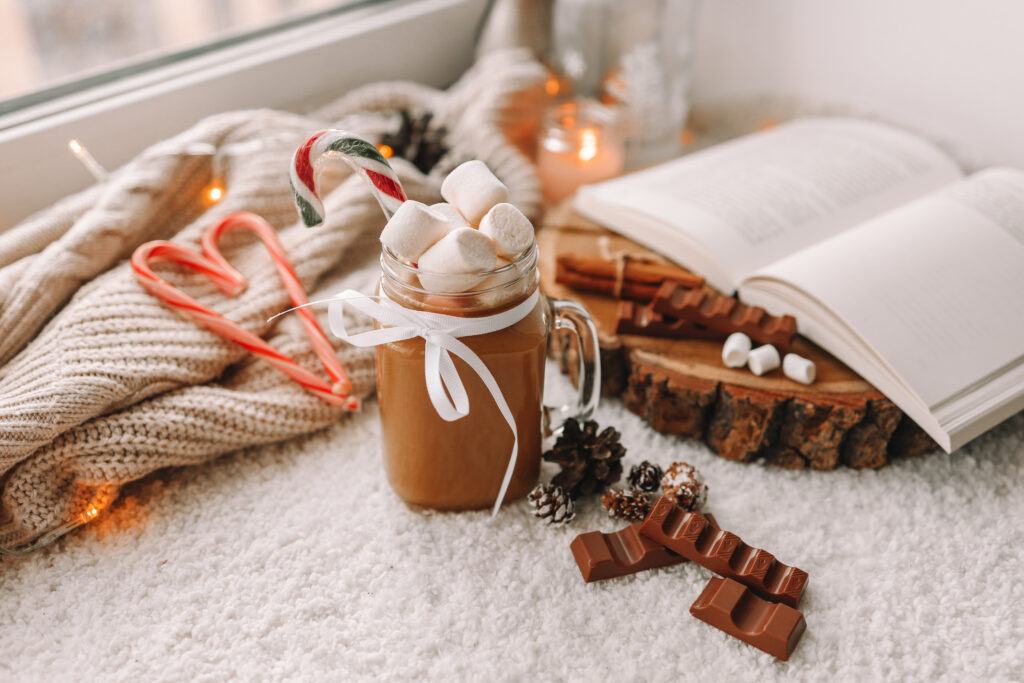 3. Sip your favorite hot holiday beverage. Spice it up with whipped cream, marshmallows, peppermint sticks, cinnamon, sprinkles—whatever feels festive! Snuggle up and enjoy!
4. Decorate your front door or porch! Hang a wreath, add some garland and lights, or set out a new welcome mat. Find fun ways to make guests feel welcome before they even come inside!
5. Pet a reindeer—or a puppy! Buy or make a small holiday gift for your favorite fur baby! (They've been very good this year!) Offer a donation of money, food, or pet supplies to your local animal shelter.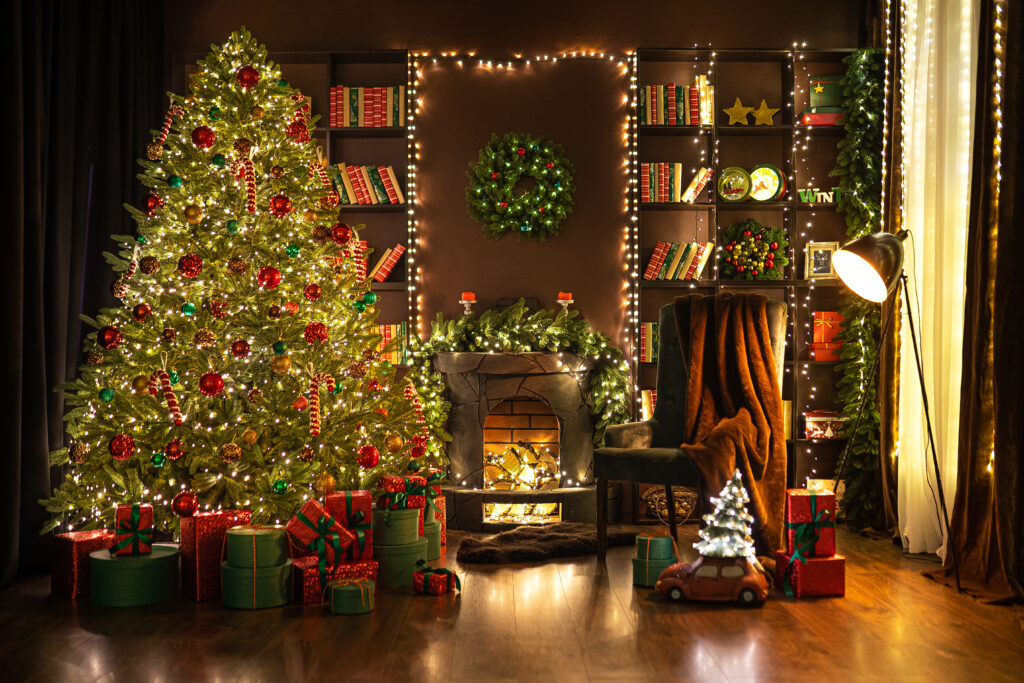 6. Deck those halls! A few candles, a swag of garland, a bowl filled with pinecones—it's up to you! Try stringing popcorn or crafting a new ornament. Light a candle that smells like the holidays. Hang the mistletoe and make your space feel special!
7. Don your festive clothes! Break out your favorite holiday wear—that crazy sweater, those dangly snowflake earrings, your fun, colorful scarf . . . Maybe add a gorgeous lipstick or pair of mittens to the mix. It's funny how good you feel on the inside when you take care of the outside—and vice versa! 'Tis the season!
8. Get outside! Take a walk, do a little stargazing, get a breath of fresh wintery air. Or hop in the car and drive around town looking at the lights and decorations. Notice all the big and small ways the weary world rejoices at this time of the year, and let that joy surround you!
9. Hang those stockings with care! And while you're at it, buy or make a few fun stocking stuffers. It's the little gifts that sometimes mean the most!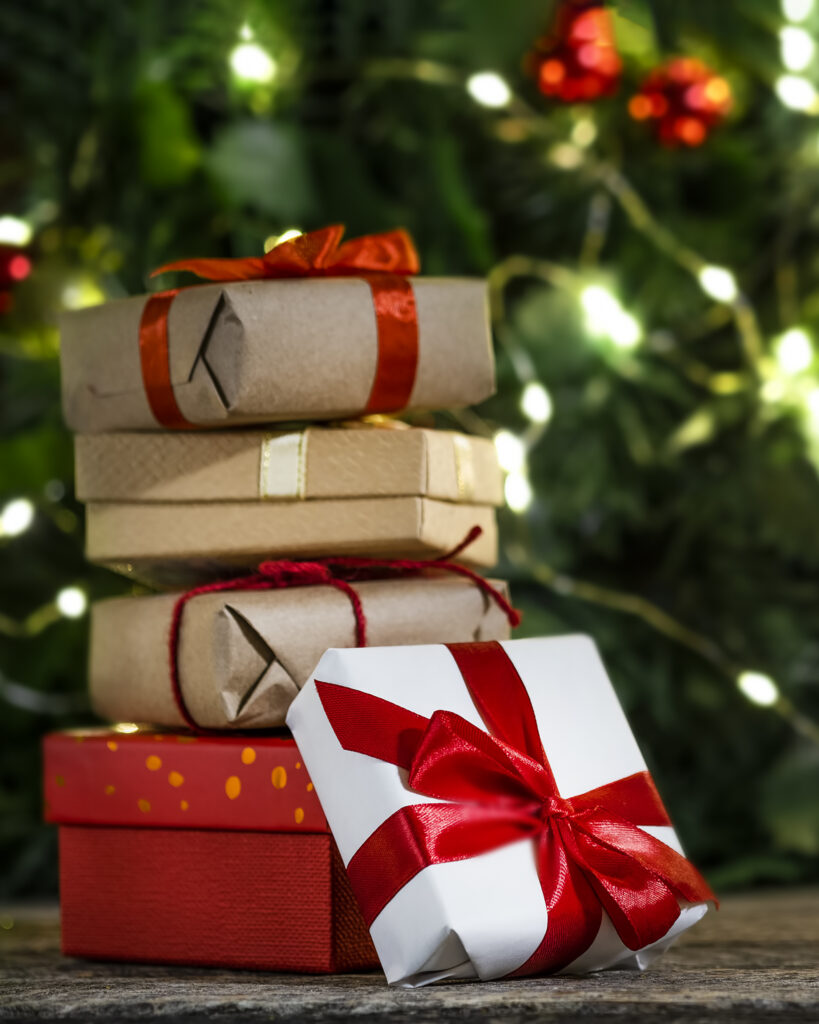 10. Movie marathon! Make a list of your favorite holiday movies, settle in by the fire, and catch the spirit! Ho, ho, ho!!
11. Wrap the gifts, and take extra care to add nice little touches this year: pretty ribbon, a cute tag, a heartfelt note, a sprig of mistletoe or holly! (It's also fun to watch the aforementioned favorite movies and sip that hot beverage while wrapping gifts!)
12. Read as many holiday-themed cozies as you can! Fill your imagination with visions of dancing sugarplums . . . and a touch of murder. 😊
The holiday season can get crazy busy. Resolve now to take a little time each day to stop and do the small things that fill your heart with joy! Tell us what's on your holiday bucket list this year!
ABOUT TRACY DONLEY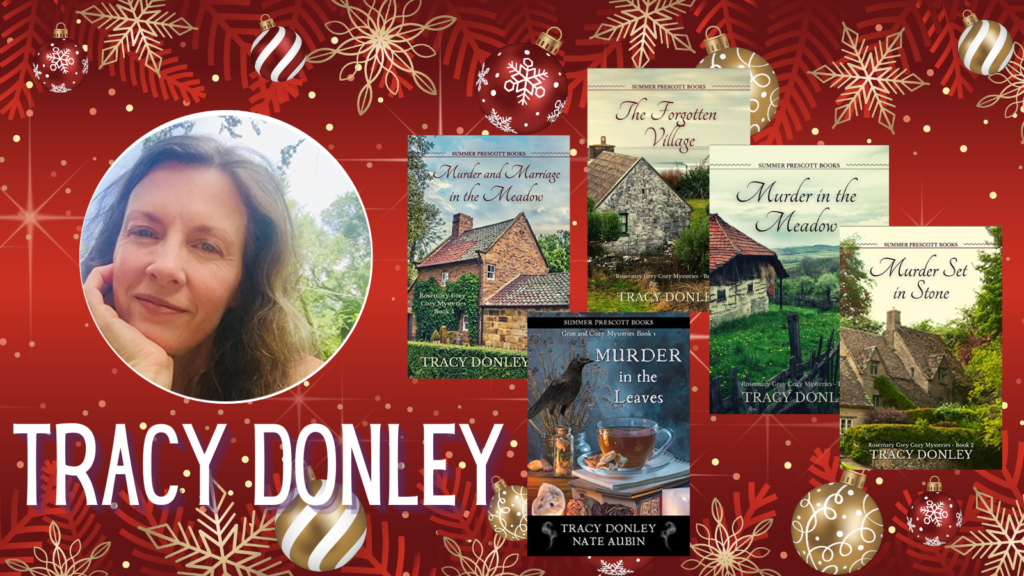 I'll never forget the first time I picked up a cozy mystery at the library as an adult. I was a busy mom with two young children, and just wanted a book that was light and funny . . . with a well-plotted mystery and maybe a hint of romance. That was countless cozies ago, and as an avid reader, it was very natural for me to start working with cozy mysteries as an editor and writer.
I am part of the Cozy Cat Press editorial team and am very proud to have edited for many fantastic cozy authors. One big accomplishment was editing A Map for Murder: A Mystery by 24 Authors, as well as Patricia Rockwell's Zoomed in her Essie Cobb Senior Sleuth mystery series.
While I've ghostwritten multiple cozy mystery series, the Rosemary Grey mystery series is the first to be published in my name, and I couldn't be prouder!
You Can Learn More About Tracy on her Website!
Instagram: @tracydonleywrites