by JD Griffo
Tradition is a thing of the past.
When I first started writing cozy mysteries, I was new to the genre. Like brand new. I freely admit that I wasn't an avid reader of this type of novel, and although it will probably sound blasphemous to anyone reading this blog, I didn't even know who Joanne Fluke or Laura Childs were. I know. Such a comment is shocking. But take a deep breath and let's continue.
It wasn't that I didn't like this particular brand of fiction, I just wasn't aware of it. Somehow, while I was devouring classic literature, young adult novels, memoirs, sci fi, thrillers, and even the occasional historical romance by Philippa Gregory, this category never caught my eye. That changed when my editor suggested I write one.
At first, I balked because I never thought I could write a mystery novel let alone an entire series. Then I realized that a cozy series is the paperback equivalent of a soap opera. One main setting, one main protagonist with a cadre of recurring supporting characters, and many bizarre situations that often include murder. For those of you old enough to remember the '80s, my inspiration came from Edge of Night, a daytime soap opera that is my all-time favorite. For some of you youngins, think Grey's Anatomy if Meredith had to solve a murder every episode instead of a life.
Since I love soaps and have been watching them for decades, I knew I would be able to create a series within the cozy mystery world. I had fought back my fears, came up with a theme, submitted an outline, got the greenlight from my editor and was ready to write. Or so I thought. Not so fast, there was still one more decision to be made.
Even though I had christened my two leading protagonists, the sleuthing duo of Alberta Ferrara Scaglione and her granddaughter Jinx Maldonado, I had one more character to name: Me.
That's right, I had to pick a new name for myself.
I assumed I'd publish under my real name, Michael Griffo, which I had been doing for my last two supernatural trilogies, but I was in for a surprise. I needed a new name because I was the wrong gender.
The cozy mystery audience is overwhelmingly female. As a result, publishers and book sellers have developed the mindset that cozy mystery writers should also be female. It's sort of the inverse thought process from the early days of publishing when mysteries were considered to be fodder for male readers only and men wouldn't read a detective story written by – gasp! – a woman. At the time, women were thought to only understand matters of a frivolous nature like romance and gardening. What on earth could a woman know about crime or mysteries or – gasp again! – murder? Fast forward a few decades and it seems that the only gender who could spin a cozy yarn was female.
There was – and still is – truth in the thinking that most cozy mystery readers are women. But where was – and where is – the research that said a woman only wanted to read a book written by someone of the same gender. Maybe it was conducted by the same marketing research firm that uncovered the important kernel of accepted truth that women wanted to be paid less because they weren't the head of their households?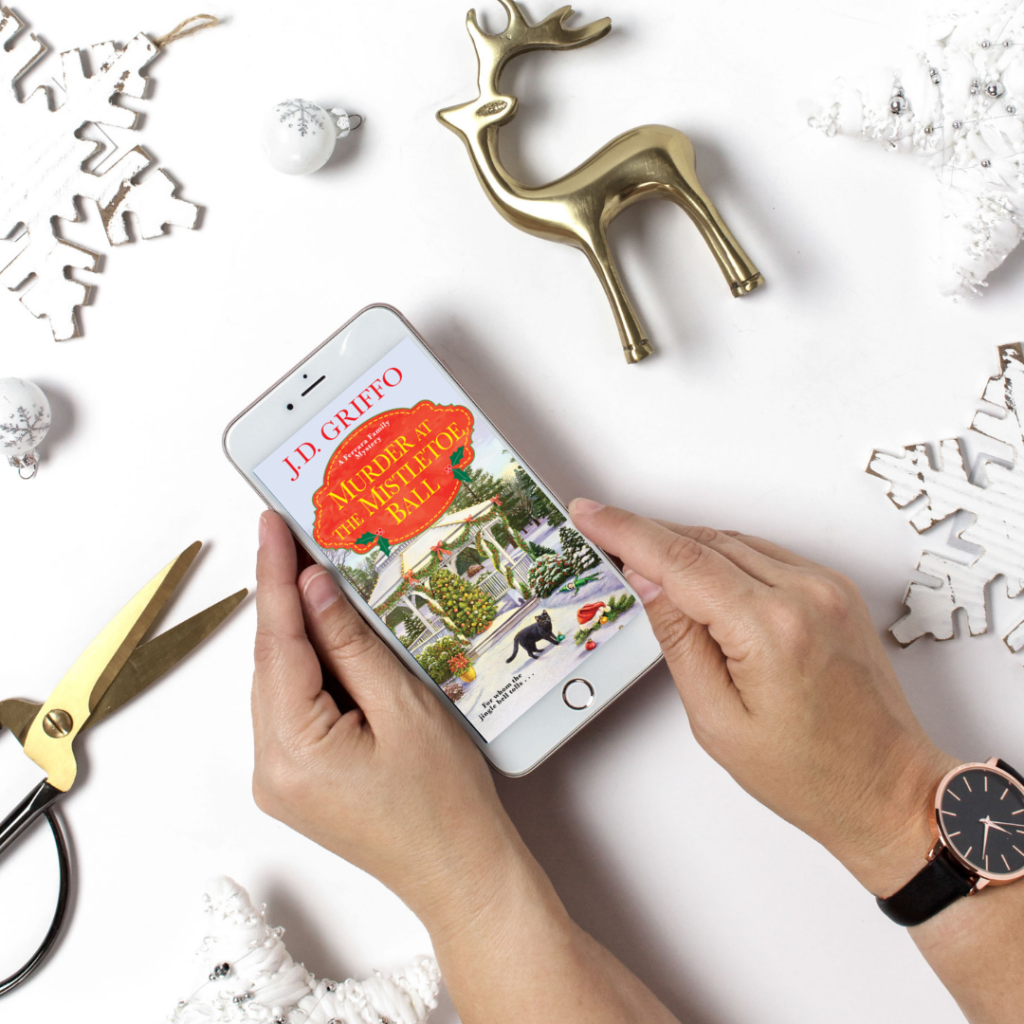 Real empirical evidence notwithstanding, the norm was – and largely still is – that cozy mystery writers must either have a female name or at least one that is androgynous. It is a grave mistake if they are overtly male. So, if male writers aren't willing to abandon their testosterone, they must at least acquire initials.
Hardly a new concept, initials have been used for centuries to either hide completely or disguise slightly the true gender of the author from their audience. S.E. Hinton, L.M. Montgomery, and arguably the most famous, gender non-specific mystery writer of all time, J.B. Fletcher. Better known as Jessica Fletcher of Cabot Cove, Maine, and even more widely known as Angela Lansbury, the acclaimed actress who portrayed the character on the long-running TV series, Murder, She Wrote. While J.B. Fletcher might not be real, she is the perfect example of this tradition of the nom de plume.
Even though Jessica was a woman, it was perceived that a genderless name would appeal to both genders. Thus, garnering a bigger audience. It kind of makes sense if looked at through a traditional lens. But all around us traditions are being broken. Norms are being questioned and social rules are being rewritten. It's time we looked at cozies in a non-traditional way as well.
When it was first suggested that I come up with a pseudonym, I rationalized it by thinking that because cozy mysteries were different than the young adult supernatural trilogies I wrote under my real name, I needed to adopt a new persona whose name would grace the cozy mystery covers. And from a marketing perspective, that is sound and logical advice and I thank my editor and agent for guiding me in that direction.
Initially, I was going to use a female name – Vincenza Griffo – the feminine form of my father's name. But then I realized how odd it would look at a book signing if they announced "Vincenza" and I walked up to the podium. In the end, I decided to go with my mother's initials – J.D. – which I thought was a nice personal nod to the woman who inspired me to be a writer and ignited my love of books.
When I was a young boy, she would help me write my book reports and would use sound effects for grammatical terms. I'm not sure if this technique was wholly original or if she picked it up from Sesame Street which I watched religiously as a child, but wherever the inspiration came from it worked. There was chicka chicka for quotation marks, swoosh for a comma, pooh swoosh for a semicolon. Even though I still question why a second grader needed to use a semicolon, I can still her voice making those sounds when I bang on my keyboard.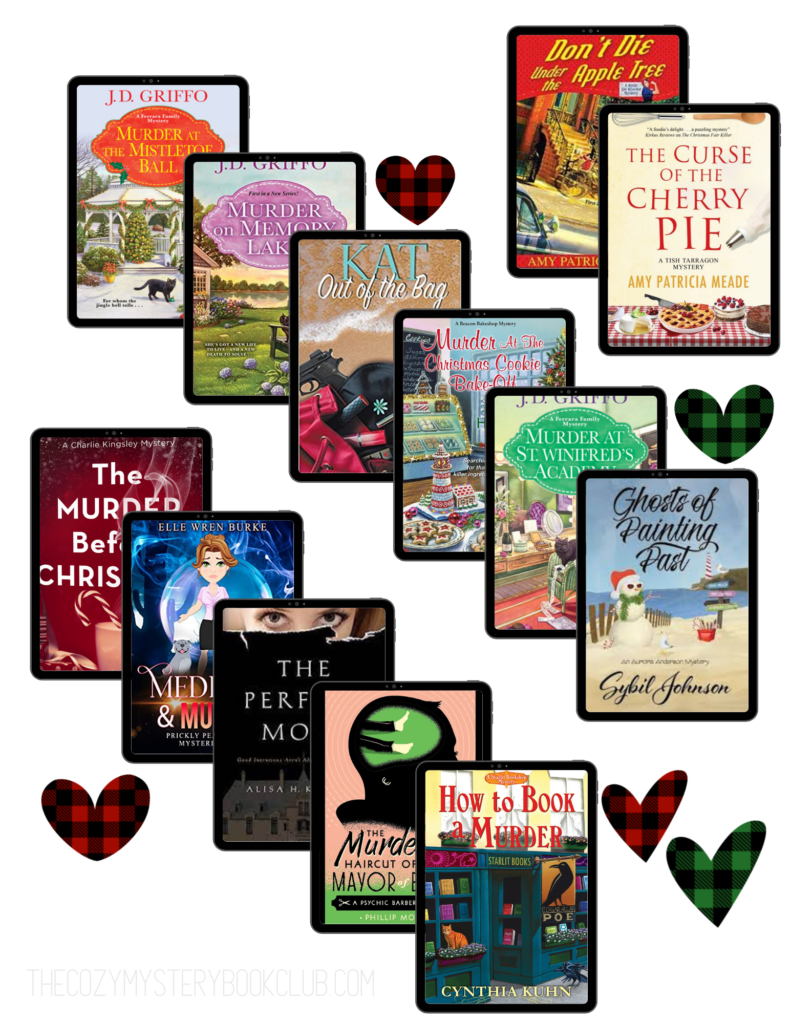 And while I'm delighted that my mom – Jean Dolores – gets to have her name posthumously attached to a series of books, I wonder if the tradition is outdated.
Why must cozy mystery writers be non-male? Why can't books about typical masculine subjects be written by women? The current social climate is pushing us toward rethinking almost everything that we've ever thought about so why not books? We're embracing, honoring, and putting the spotlight on non-binary and gender non-conforming individuals, different voices are being heard in film, on stage, and on the pages of novels of all kinds. It's time to tackle the covers.
Does it really matter if Michael, Vincenza, or J.D. Griffo is the author of MURDER ON MEMORY LAKE, MURDER AT THE MISTLETOE BALL, or any of the books in the Ferrara Family Mystery Series? Aren't the characters – Alberta, Jinx, Helen, Joyce, and the other residents and visitors of Tranquility, New Jersey – more important? And aren't the mysteries and murders and outlandish escapades they find themselves in the real reason someone will crack open a book?
I love tradition. I love that each cozy mystery whether it involves a hilariously funny Italian family, a frazzled veterinarian, or a kooky baker follows the same basic tenets of the genre. And I love that readers love to curl up and get cozy with their favorite amateur sleuths whether it's the first book in the series or the tenth. But some traditions are worth updating.
Initials are fun and I enjoy writing as J.D. Griffo. I actually get a kick out of being introduced by a name other than the one I've had most of my life. But for the person sitting at their laptop typing the first chapter of their first cozy mystery series, initials shouldn't be a mandate. They should be a choice.
If being a J.D., a B.D., or even a J.B.D. feels right, that's terrific. But if putting Thomas or Ben or David feels better, then put those names on the cover of your book. It's your choice.
Because tradition should never stand in the way of progress.
ABOUT JD GRIFFO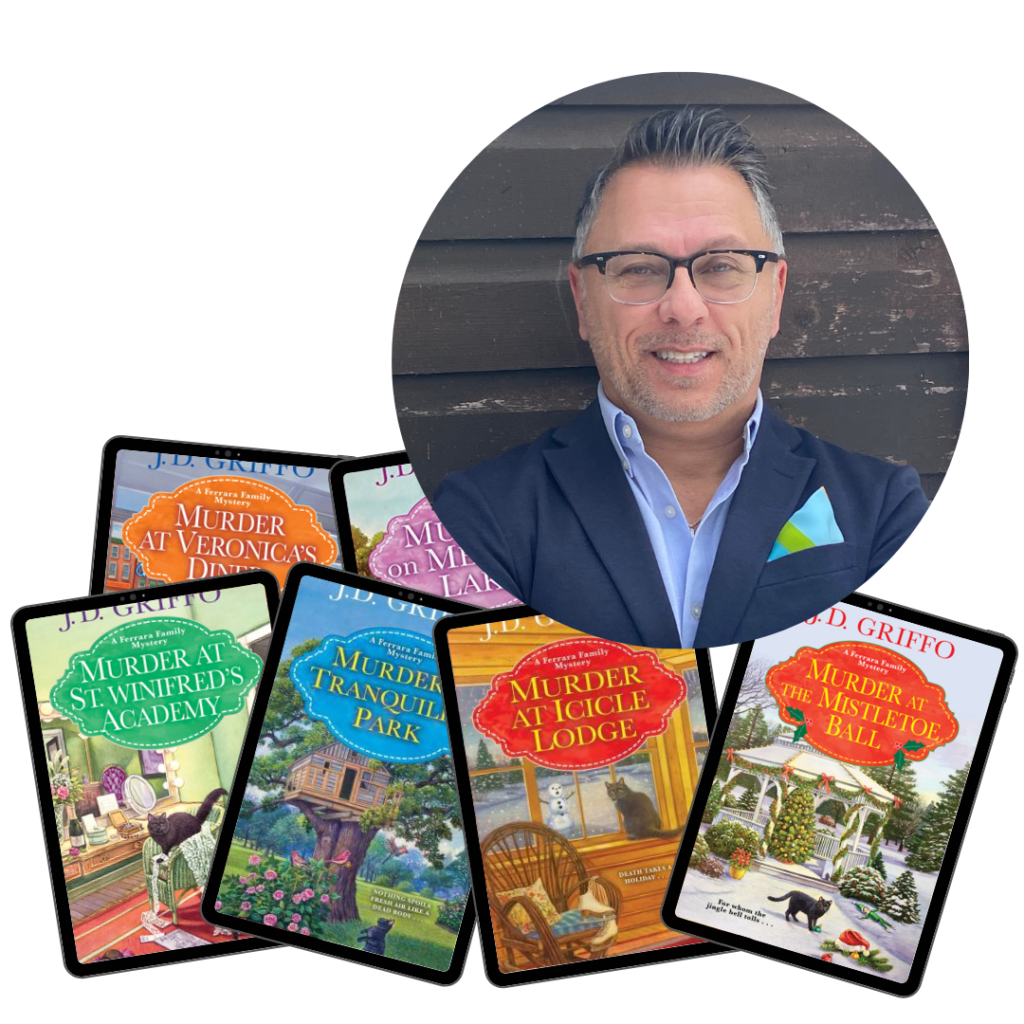 I was born in Hoboken, New Jersey (home of Frank Sinatra) and until my family moved to Secaucus when I was in the sixth grade, I truly thought everyone was Italian Catholic. Sometimes I still do! Ironically, I'm allergic to garlic, which to an Italian is a venial sin. But I digress. After high school – which I absolutely loved and would do over in a heartbeat! – I went to New York University and majored in Journalism, but I never really felt like I lived up to my magna cum laude status. Yes, I've worked as a magazine editor, but I also did time as an actor, a waiter, a salesman, and even a legal assistant. Like most twentysomethings, I had to experience the New York City lifestyle, but after a few years of living in an apartment the size of a shoebox the luster faded, and I made the trek back to the suburbs. Culturally and aesthetically New York cannot be beat, but nothing is better than coming home to my own backyard and being able to hop in my car to drive to parts unknown. And the pandemic has taught us that life can be lived anywhere.
For More Information about JD aka Michael Griffo, Visit His Website!